What Channel Is Lifetime On Dish?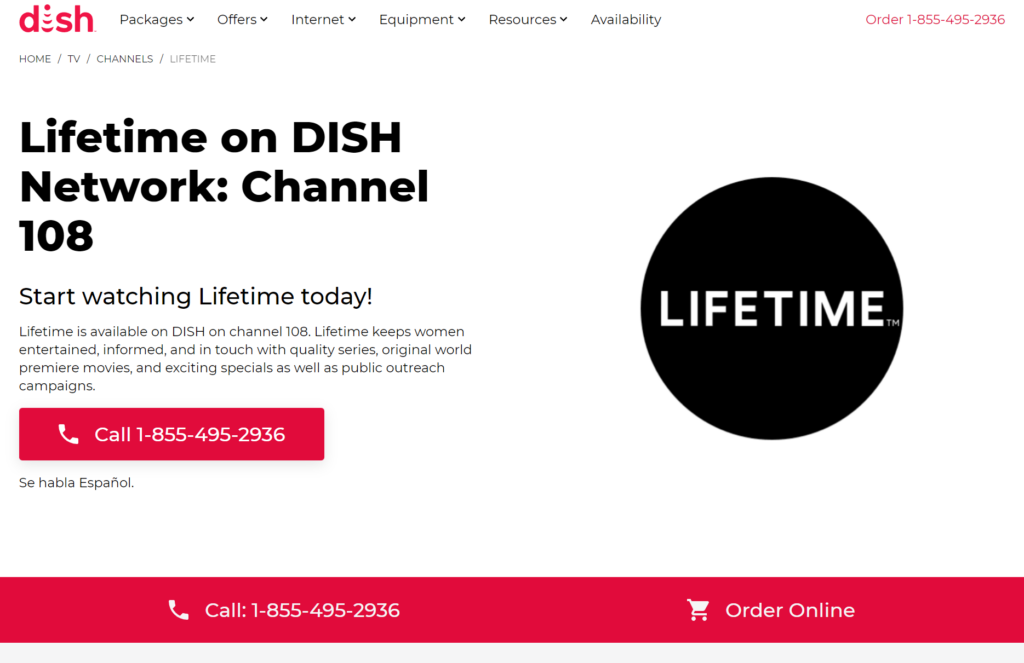 The Lifetime Channel is on Channel 108 for Dish customers. Lifetime Movies is conveniently next to the Lifetime Channel on Dish on Channel 109.
These will be the right channels for Dish subscribers no matter where you are in the country.
That's one of the benefits of being a satellite provider – the channel numbers are the same vs if you have your TV with a cable company.
In this article, we'll go further into Lifetime's current programming schedule and other ways you can watch the Channel like on your phone and by casting.
Want to save money on your Dish bill?
Click the button below to sign up for BillSmart. We save our clients $352 on average and our negotiations are free if we don't save you money.
Dish Lifetime Channel
Here's a list of some cities where you can watch Lifetime on Dish. The channel numbers are all going to be the same – Channel 108.
| | | | |
| --- | --- | --- | --- |
| Lifetime/Dish | | | |
| Location | Channel | Location | Channel |
| San Diego | 108 | New Orleans | 108 |
| Sacramento | 108 | Boston | 108 |
| Los Angeles | 108 | Baltimore | 108 |
| San Francisco | 108 | Detroit | 108 |
| Denver | 108 | Minneapolis | 108 |
| Washington DC | 108 | St. Louis | 108 |
| Orlando | 108 | Charlotte | 108 |
| Tampa | 108 | Omaha | 108 |
| Miami | 108 | Albuquerque | 108 |
| Atlanta | 108 | Las Vegas | 108 |
| Honolulu | 108 | New York | 108 |
| Chicago | 108 | Columbus | 108 |
| Kansas City | 108 | Oklahoma City | 108 |
| Seattle | 108 | Portland | 108 |
| Dallas | 108 | Philadelphia | 108 |
| Austin | 108 | Nashville | 108 |
| El Paso | 108 | Memphis | 108 |
| Houston | 108 | San Antonio | 108 |
Current Lifetime Programming
While Lifetime and Lifetime Movies are on Channel 108 and 109 on Dish, the Lifetime Real Women channel is currently not available on Dish.
That's a shame if you want to watch shows like Little Women LA and The Rap Game.
Currently, new shows on Lifetime air on Wednesdays at 6 pm. It's mostly Married at First Sight running from 6 pm to 3 am on Thursday.
Movies start on Lifetime on Friday at 8 pm and continue throughout the weekend.  Some of our favorites are Pride: A Seven Deadly Sins Story and Escaping My Stalker.
For the rest of the week, there's going to be mostly reruns of shows like Castle, Rizzoli & Isles, and Major Crimes.
Lifetime Movies Dish Channel
Dish customers can watch Lifetime Movies on Channel 109.
It's called the Lifetime Movie Channel and it shows Lifetime Movies from 6 am to 4 am on weekdays and weekends.
New movies are usually released in the back half of the week around 8 pm.  Some upcoming ones include Home, Not Alone and My Landlord Wants Me Dead
If you go to the LMN schedule, you can see if the movie you want to watch is available to stream online.  Only a couple of Lifetime Movies can be watched online when we checked.
Lifetime movies are great.  It's so much cheaper and easier than going to theaters and unlike a lot of cable channels these days – they actually release a lot of new content.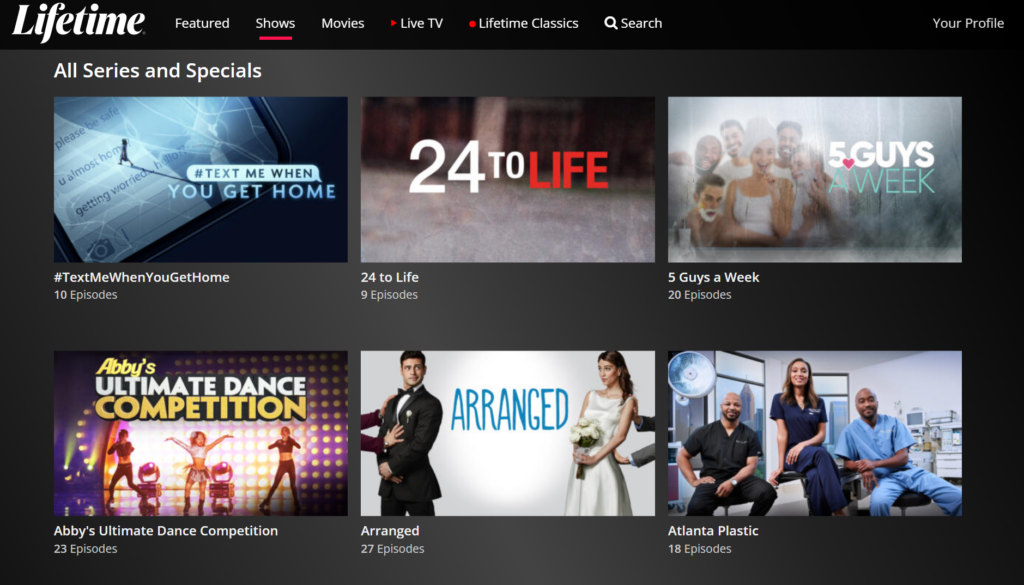 How To Watch Lifetime Outside Of Your TV
Besides watching on your TV, you can watch Lifetime on your phone and computer.
Because Lifetime has so many channels, movies, and shows, it's kind of hard to figure out what you can and can't watch online.
The first thing you need to do is to turn your adblocker off.  Unfortunately, you can't watch anything on Lifetime if you have an adblocker plugin installed.
That's not much of a problem on mobile, especially in the Lifetime App but if you're having problems on desktop, just set up another browser different from your primary browser like Microsoft Edge or Firefox.
Much of the Lifetime library is free to watch. Lifetime has a section called Lifetime Classics where you can watch shows like Dance Moms and Married At First Sight free without a TV subscription.
A hidden feature is that if you go to the shows section – you can usually watch all the past seasons of your favorite Lifetime shows.
The only time when that's not the case is for the most recent season.  The newest episodes are generally free a day or two after they air.
Finally, for Lifetime movies, you're generally going to have to log into your Dish or other pay tv account.  It's pretty easy and if doesn't work you can just try to watch on Dish's on-the-go solution Dish Anywhere.
Lower Your Dish Bill With BillSmart!
The Lifetime Channel is one of the best channels on Dish and cable television period.
It's absolutely necessary that they needed two channels and in case you forgot those channels on Dish are 108 and 109.
Save time and money on your Dish bill and watch more Lifetime.
Sign up for BillSmart by clicking the button below. We've saved our clients $1.5mm+ to date and we treat your bills like our own.