Learning how to lower your Xfinity bill isn't hard but a little knowledge can save you a lot of money.
At BillSmart, we've negotiated thousands of Xfinity bills and saved our clients hundreds of thousands of dollars. Our success rate is 82% and we've saved our clients $325 on average on their Xfinity bill.
Cutting your Xfinity bill every couple of months is annoying and we're happy to do it for you.
If you'd like to have the experts negotiate your bill for you, click the button below.
Steps to Lower Xfinity Bills
Download your latest statement online
Review Xfinity's website for current promotions in your area
Call Comcast at 1-800-934-6489
Negotiate a loyalty discount or other promotion
Change plan lineup to lower your bill or agree to a 1-year contract
See what one-time credits you're eligible for
Get a confirmation number from the rep to make sure changes went through
Xfinity Loyalty Discounts
Most Xfinity plans have introductory pricing. From the get-go, your bill is scheduled to increase $15 to $50 a month after the 12-month intro offer ends.
Comcast banks that you'll accept this price increase once you're off the promo price. Xfinity thinks you'll be too lazy or too scared to negotiate a better deal with them.
One popular option is to get that lower price again by canceling and signing up again with another person's name. This works well if you have a lot of roommates but it's pretty inconvenient.
You'll also run out of roommates eventually.
There's a better option – asking and getting the loyalty discount you deserve with Xfinity.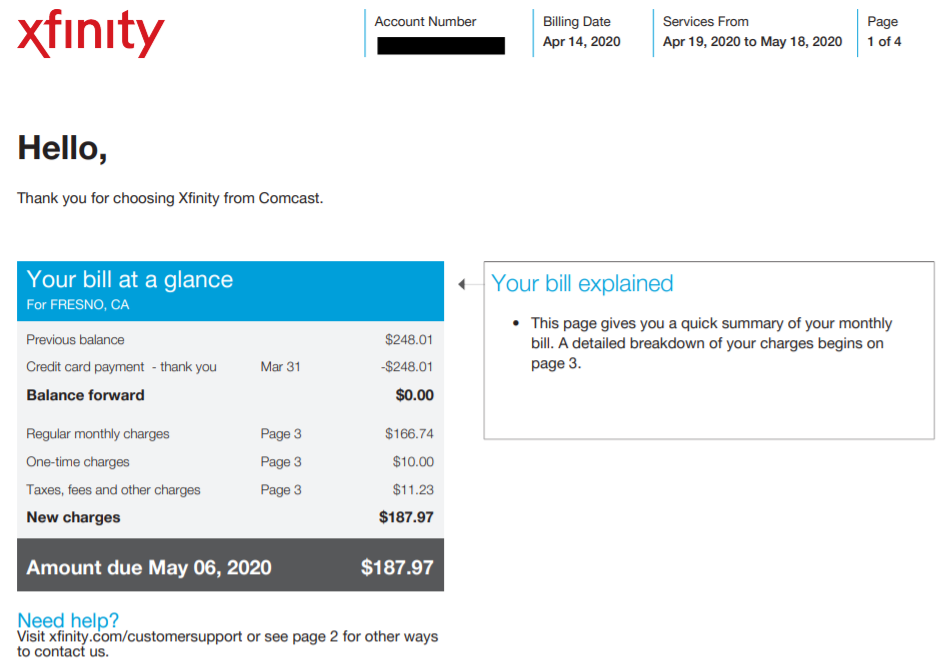 If you know how to ask, that intro price can be made available again. Comcast assumes that most customers won't ask so the first step is to ask.
For this, you don't need to wait for your bill to go up. Try a month or two before your intro pricing expires.
If you're lucky, a discount will magically appear. However, the Xfinity representative will often say that there's no promotion available and nothing they can do about it.
They're right – you need to say the magic words to unlock the discounts they have but can't access.
It's time to ask if there's any promotion available for a loyal customer.
Comcast doesn't care if you're a loyal customer or not. They spend their time and money getting the most subscribers and money possible.
Threaten their pot of money and doors open up. We find that most of the time the representative will then be able to find you a deal.
But if they still say there's nothing available, you still have some options. Speaking to a supervisor or asking to be transferred to the retention team often gets you the results you want.
This put the agent on the back foot to see if they can solve your problem or not.
If they're being especially difficult, you can say you want to cancel your Comcast service. Ask them what the steps are and ask them a final time to lower your bill.
If you don't want to go through with your threat, you can always say that you need to talk it through with the other members of the household.
If this doesn't work the first time you try, try again after a week or two. Xfinity's policies change all the time.
Xfinity Contracts & Plans
Comcast tosses and turns at night wondering if you'll leave them for another cable company. You can take advantage of their fears by committing to them for a year or two.
If you agree to a one or two-year contract with Xfinity, you can get a sizable discount of between $20 to $50.
If you're not planning to move out of your house or apartment in the near future, this could be a good option for you to save money without really giving anything away.
The one catch is that Comcast expects you to keep your end of the bargain. If you need to cancel your service, you're on the hook for an early termination fee which could be up to $400.
However, Comcast generally waives early termination fees if you provide proof that you're moving.
The best way to get this discount is to call or chat with Xfinity online. We generally suggest that you call Xfinity as phone agents generally have greater latitude to make changes to your plan than chat agents.
Find out how much you'll save with a one-year vs a two-year contract. You should save more with a two-year contract.
You can generally revert the plan and get out of a contract during the first 30 days if you decide later you don't want to make a multi-year commitment.
Want to find ways to save on other cable bills? Learn how to cut your Spectrum bill and save on your Cox bill here.
Comcast One Time Credits
Besides lowering your monthly bill, you can get one-time credits for your next statement.
There are two main categories of one-time credits: courtesy credits and outage credits.
Xfinity can give you a courtesy credit on your next bill with no questions asked. All you need to do is call or chat with them and ask if you can get a discount on your next bill.
If you haven't asked for a discount in the last 6 months, your request will get approved pretty quickly. These discounts range from $10 to $50.
Comcast wants to keep you happy and off the phone so they give these pretty quick. You can also get refunds if you've had problems with your internet service over the last couple of months.
Xfinity is billing you for a full month of service but if your internet doesn't work for a couple of hours or days, you shouldn't have to pay for that.
However, Comcast won't refund you your money unless you take action. You need to call or chat with Xfinity and complain about the service outages that you've experienced.
On the Xfinity website, there's a tool that allows you to see service outages that you've had in recent weeks.
Outage credit savings are generally greater than the pro-rated amount of the time your service was offline. Outage credits range from $50 to $150 depending on how much your bill is and how severe your outage was.
You can get more credits if you can describe the problems that you suffered because your internet was down.
One other way to get one-time credits on your Xfinity bill is to see if you've had any fees over the last couple of months. This includes late fees, equipment fees, and activation fees.
If you ask, these too can be waived most of the time.
Ways to Save with Comcast
There are some other ways that we've found to save with Xfinity.
One key method is removing unused features. Remove premium cable channels like HBO or Starz from your plan or ask them to be waived for a couple of months to save money.
You've also got to think overall if you really need 1,442 channels. If you can live without the Oxygen channel, just get basic cable to save a bundle.
Xfinity has a bunch of features that it offers and you pay for but that you might not really use.
Examples include the Xfinity Assist program and the Xfinity Mobile service.  This is basically tech support and wifi.
These services are not on all plans but if you don't use them, get rid of them to save money.
A final way to save money is to reduce your equipment fee costs. Xfinity charges you monthly for tv receivers and to rent a modem if you don't provide your own.
If you have TVs that you're not using, return the receivers to lower your Comcast bill $6-$10 a month per box .
For modems, you can generally find a compatible one for less than $60. Xfinity charges between $5-$10 a month so you'll come out ahead the longer you stay.
If you need help using the modem, call Xfinity technical support.
Lower Your Xfinity Bill With BillSmart
There are many ways to save on your Xfinity bill but we've found these are the main buckets of savings.
To get these savings, you need to do your research and set aside some time to wait on hold and have the customer support representative look up any discounts and process any changes that you want to make.
We generally find this process takes around 1-2 hours. If want to save time and get the best results, we're happy to negotiate your Xfinity bill for you and save you a bunch of money.
Best of all, our negotiations are free if you don't save money. Get started by clicking the button below.