How To Lower Your DirecTV Bill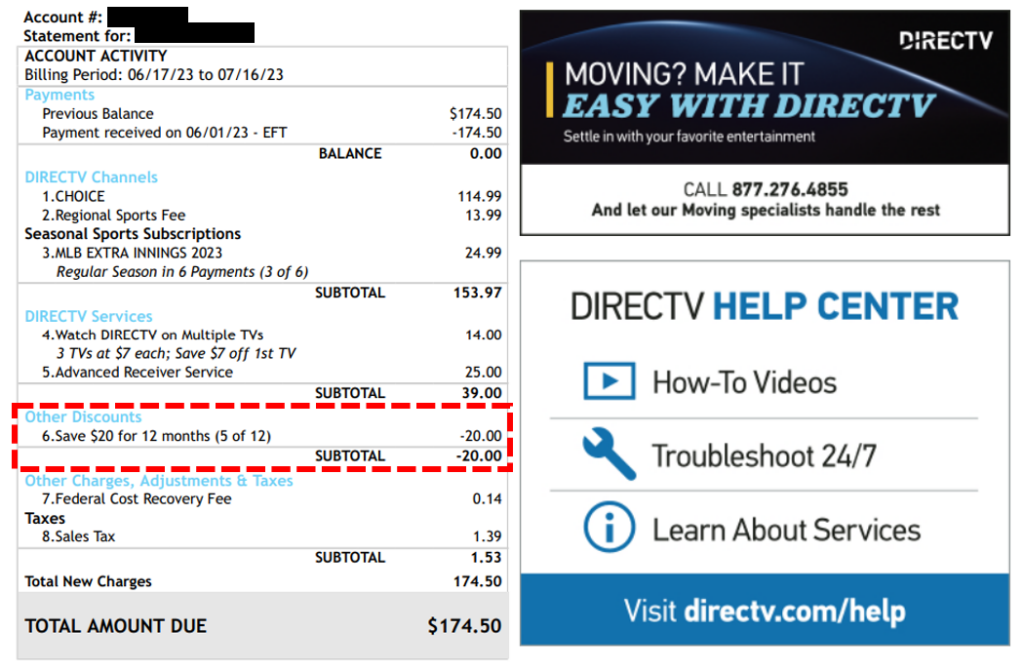 The steps to lower your DirecTV bill aren't hard. Making sure that you get all the potential discounts can be tricky though.
At BillSmart, we've negotiated thousands of DirecTV bills over the years. We've learned the latest strategies to maximize your savings.
Our success rate is 83% and we save our clients $352 on average on DirecTV.
If you'd like us to negotiate your DirecTV bill and save you money, register an account by clicking the button below.
Steps to Lower Your DirecTV Bill
Get your bills for the last 3 months
Review your bill for un-used services
Analyze the biggest parts of your bill that you want to lower
Call DirecTV loyalty department at (800) 531-5000
Ask the representative for ways to save on your bill with the same level of service
If there's nothing available, try saving by downgrading your plan
Ask for one-time credits and past fees to be waived
DirecTV and AT&T Discounts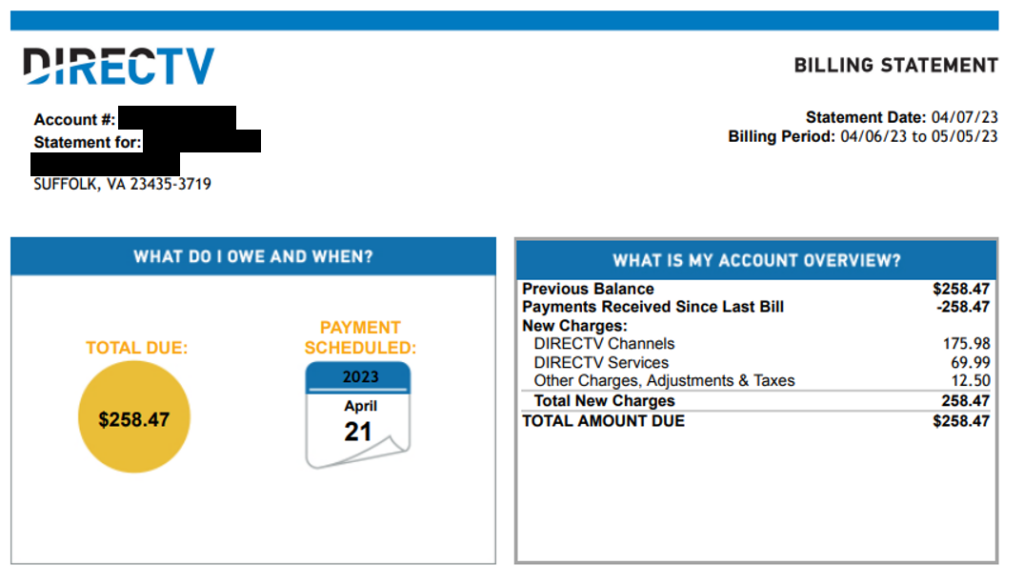 AT&T bought DirecTV in 2015 for $66bn and it's been a disaster ever since. Satellite is in terminal decline due to the rise of broadband.
DirecTV did so poorly that AT&T recently sold a large stake in DirecTV to a private equity firm for $16bn. It's been a pretty impressive accomplishment to lose $10bn a year!
DirecTV has been doing so poorly that they've been sued for not closing accounts when asked to.  Given that, they're desperate to retain their customers and will give large and recurring credits.
It was easier to get extreme levels of savings from DirecTV in 2018-2019. Many DirecTV bills that we negotiated were able to get huge promotions that seemed to ignore the starting bill amount.
AT&T also had bundling promotions with DirectTV where DirecTV customers would get discounts if they associated their accounts with ATT. Since AT&T also owns HBO, you would also be able to get HBO for free.
It's sad that HBO is gone now and it's Max.
Saving On Premium Channels With DirecTV
One of the best ways to ensure that you are not overpaying for your DirecTV bill is to review your premium cable and regular cable lineup.
Once upon a time, there was only HBO, Showtime, and Starz. At this point, there's been an explosion of streaming video on demand or SVOD platforms.
Prior to Netflix and Disney+, you could only get HBO and other premium cable channels through your cable provider. At this point, SVOD platforms have gone direct so you can sign up on your own.
A lot of cable companies bundle premium cable channels with your initial package for free for a couple of months with a paid auto-renew.
If you're no longer using your HBO, you should cancel it. Even if you are using it, pretend to cancel in order to potentially get it for free for a couple of months.
We've found for these types of offers, you can get $15 off for a couple of months for each service. Unfortunately, these offers don't extend more than 6 months. You can always try again and see if you can get HBO for free again.
Besides reviewing your premium cable channel service, review your channel lineups. If you have 500 channels but only watch 10, you can save money by moving to a plan with fewer channels.
That could save you up to $50 a month, although it usually saves you around $10-$30. Those savings are permanent though and you generally do not lose much.
DirectTV Loyalty Discounts
To save money, you might not even have to get rid of Premium channels or reduce your channel lineup.
DirecTV has special packages for existing customers that they offer you when you call them to cancel your DirecTV service to keep you as a customer.
You can't know what these promotions will be when you call. There's just too many variables.
They generate every two weeks on Thursdays and vary account by account. We've seen promotions as big as $200 a month although on average they're usually $40 or so.
DirecTV is one of the better service providers in terms of getting loyalty discounts. You can generally get loyalty discounts of 60% vs 20% of the time at more strict service providers like Verizon.
To get these loyalty discounts, just ask the customer support rep if there's any way for them to save you money. If they don't offer you a loyalty discount or promotion, then you'll need to ask them if there are any discounts or promotions available again.
That generally does the trick. If it doesn't, ask to be transferred to a supervisor or the loyalty department.
Want alternatives to DirecTV but don't know if you'll save money? We wrote these helpful guides on how to reduce your fios bill and cut your uverse bill significantly.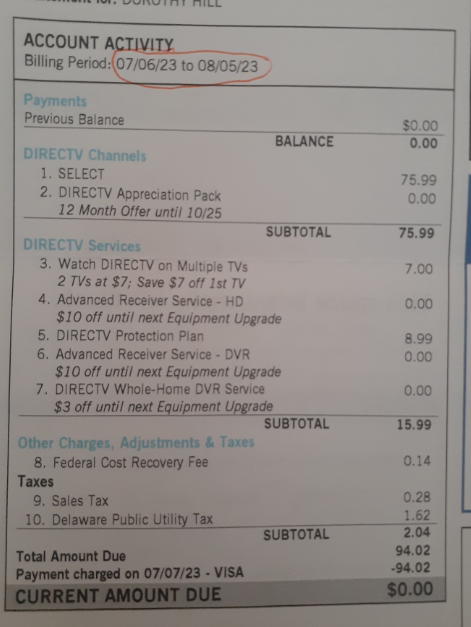 How to Extend DirecTV Promotions
You might have a promotion already and just don't know it. That promotion can actually be a source of savings by getting that promotion extended.
Most of the time the reps will note that you have a promotion and tell you when it ends. Generally, they'll offer to extend it for another couple of months without prompting.
However, if you know that you have a promotion, you can always ask for it to get extended even if they don't offer it and ask for it to get extended for a longer period than their first offer.
By doing this, you can ensure your bill doesn't go up for $30 for 24 months instead of 12 months.
DirecTV One Time Credits
There are still ways to save money on your DirecTV bill, even if it's only for your next bill.
If you've ever had a late fee or any other charges, now's your chance to get it removed. After you're done negotiating your recurring credits, see if there are any other one-time charges you can get waived.
These will generally be late fees but we've seen that you can often get movie purchases waived as well. Besides fee waivers, you can also get credits for your next bill for no explicit reason.
Just ask the representative if there's any way they can save you money on your next bill. You'll often find they'll give you $50 off your next bill as a courtesy credit.
DirecTV accounts are often linked with AT&T wireless and ATT internet accounts. If you want to maximize your savings, lower your ATT internet bill as well by checking out our guide.
Other Ways To Save
Sometimes the best way to save with DirecTV is to leave the service.
While the price increases haven't been as bad as cable providers like Spectrum and Comcast, DirecTV has had to increase their prices to account for higher fees to cable networks.
Looking at some of our customer's bills, it appears DirecTV is basically increasing their monthly rate by $20 a year.
You have options now with online TV. Some services you can sign up for include YoutubeTV, Sling TV, and Fubo.
Unfortunately, even these online TV options have been getting pricey. Our pick at this time is Sling TV.
You can get a skinnier channel bundle at this point for about $40 a month and there's less of a reason to stay with DIRECTV now that Sunday Ticket has moved to Youtube.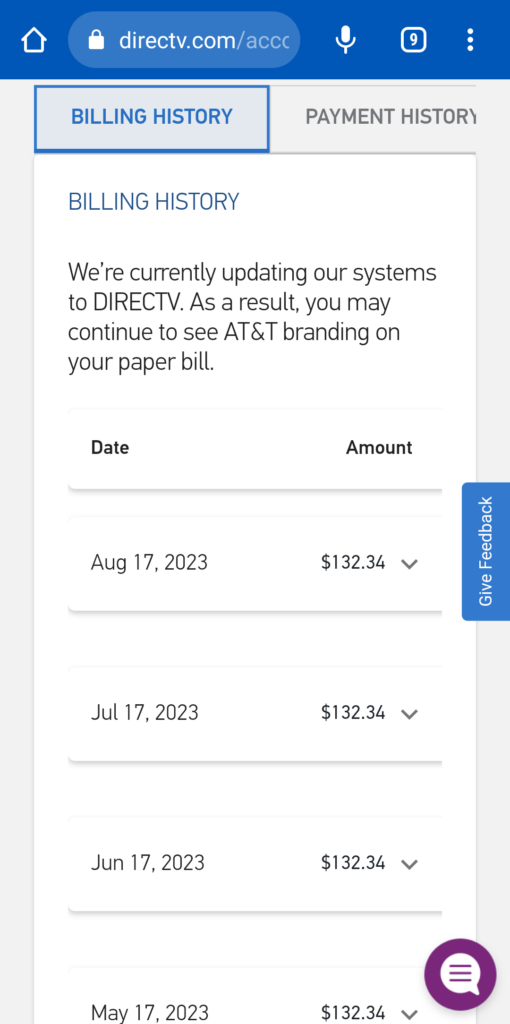 Lower Your DirecTV Bill With BillSmart
We hope this article provided you with some tips to maximize the savings on your DirecTV bill.
If you want to leave it to the experts, register an account with us by clicking the link below.
Looking for more ways to save? Find 56 additional tips on cheap ways to live from Smarts.co.