How To Lower Your Suddenlink Bill
In our experience, Suddenlink has great prices for new customers but makes you go through a lot of hoops to lower your Suddenlink bill if you're a long-time customer.
That sounds crazy to us and that's why we created BillSmart.
BillSmart is a negotiation service for phone/cable bills. We save you money by lowering your monthly rate and getting you one-time credits.
We've been able to save our clients $1.5mm+ to date.
If you want to save time and money on your Suddenlink bill, sign up for BillSmart by clicking the link below.
Save On Suddenlink With A Lifetime Discount
The best way to lower your Suddenlink bill is to get a lifetime discount on your plan.
While Suddenlink's current plan prices are pretty competitive these days compared to the competition, that wasn't always the case.
If you've been with Suddenlink for a couple of years, there's a good chance you're paying $30 to $50 more a month than you need to.
This is because when Suddenlink changes its pricing structure they keep monthly prices the same for existing customers.
You can fix this by calling 877-694-9474 and asking Suddenlink customer support to help you with ways to lower your bill.
While this works most of the time, you can say you're thinking of canceling your service if they decide they don't want to give you the price they're advertising for new customers.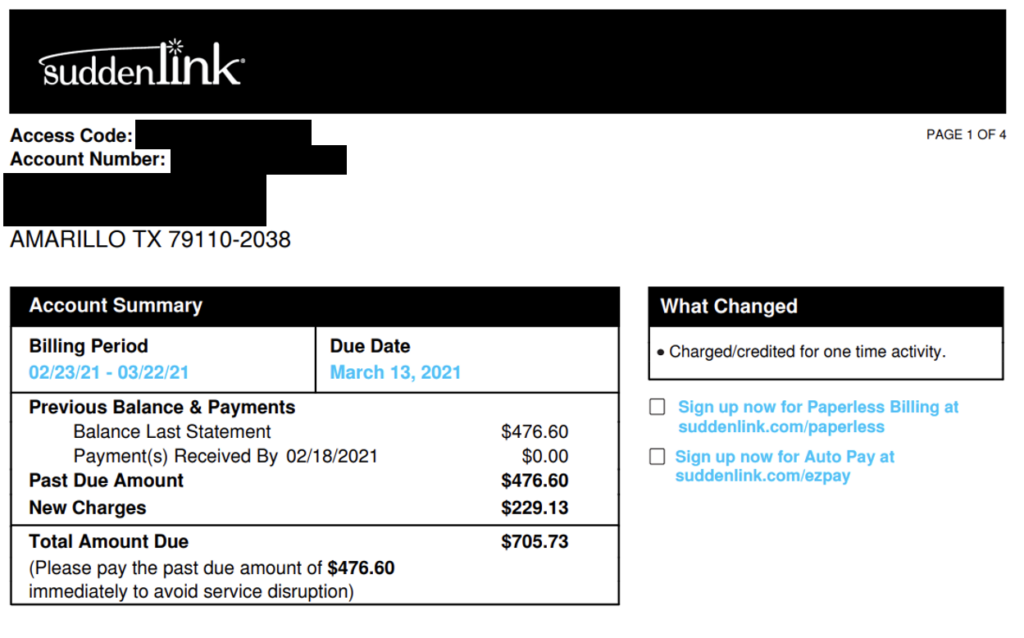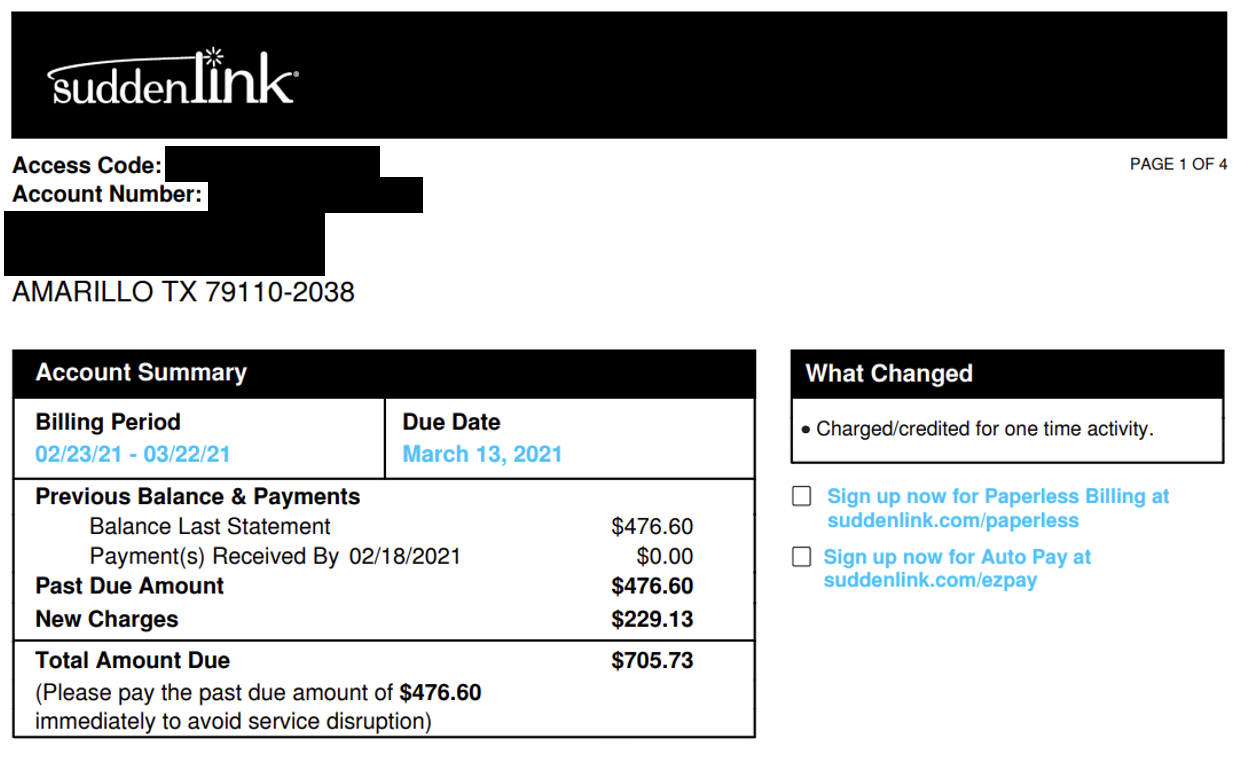 Negotiate Recurring Discounts
You can also get recurring credits for 6 to 12 months even if your bill is the same or lower than the prices on the Suddenlink website.
Suddenlink wants to keep you happy and subscribed so if you call asking about your monthly bill, they're forced to work with you to keep you from leaving.
Oftentimes, they'll give you additional one-time credits for any inconvenience calling them caused you.
Another important way to get recurring credits for a couple of months is to make sure your existing promotions don't expire.
One sneaky way Suddenlink and other cable companies increase prices is to give you a discount that rolls off after a couple of months.
They hope you'll forget that your price is going up and will just eat the $20-$60 extra a month.
If you call before the promo expiration date, you can usually get the promo extended. Even if the promo has ended, you can try a month or two later to get it reinstated.
How To Get Your Suddenlink Bill For Free
There are also a number of ways you can save $50+ on your Suddenlink bill without needing to call their customer support department.
The first is to enroll for autopay and paperless billing. For doing that, Suddenlink knocks off $5 a month on your bill.
The second is bundling your Suddenlink internet and mobile services. Like many other cable companies, Suddenlink is trying to also bundle your phone and cable service.
Depending on your service, you can save between $10 to $30 a month on your bill.

The final way to save on Suddenlink is to sign up for the Affordable Connectivity Program (ACP) if you're eligible.
The ACP is a government program where Washington pays $30 a month for your internet if you meet criteria such as being on SNAP, being under certain income levels, or having your kids enrolled in free or subsidized school lunches.
One of the nice things about this program is that it allows you to get your internet for free if your plan rate is under $30.
Other Ways To Save On Suddenlink
If you still haven't saved enough, you should think about downgrading your plan.
For Suddenlink internet plans, check what internet speed you have vs what you need and use.
Suddenlink offers gigabit internet for $50 but we've found that many consumers don't have modems and routers that support these fast speeds.
If you move to the 100mbps or 300mbps plan, you can save significantly: $30 a month with the 100mbps specifically.
Another way to save on your internet plan is to use your own modem vs renting from Suddenlink for $10 a month.
You can find Suddenlink compatible modems on Amazon for $40 so you're break-even on your investment after 4 months.
In terms of TV service, really think if you're using all the channels on your plan and if you should change your channel coverage.
Suddenlink Premier has 340 channels vs Suddenlink Core at 200.
But you'll need to ask yourself why you're paying more for Goltv and Fox Sports 2. You can make all these changes by calling Suddenlink customer support at 877-694-9474.
Lower Your Suddenlink Bill With BillSmart
Suddenlink really loves its new customers. They give them $200 gift cards and super low prices for signing up.
As a long-time customer, you're going to need to put in a bit of work to get the best possible price and service from Suddenlink.
If you want to save on your Suddenlink bill but don't want to put in the time, sign up for BillSmart.
We save our clients $352 on average on their Suddenlink bill. Sign up by clicking the button below.