What Channel Is NBC On Dish Network?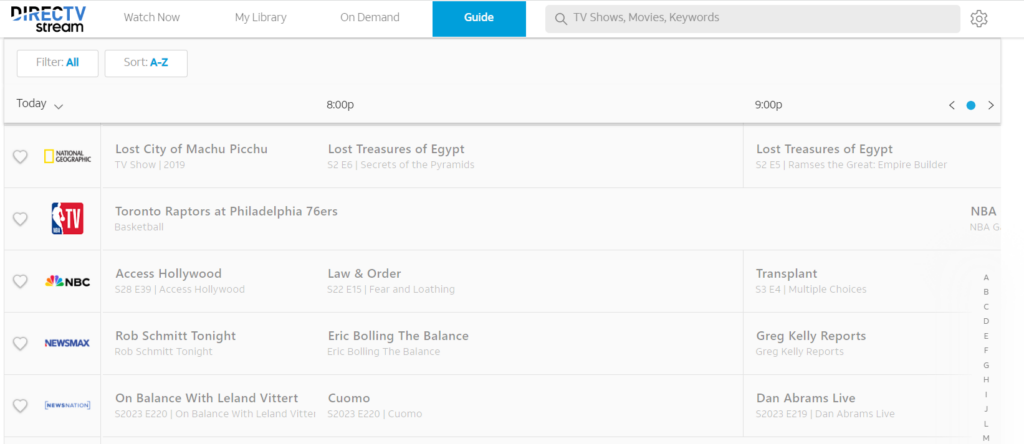 In our research, we found that NBC is on a different channel on Dish depending on what city that you live in.
One interesting thing that we found is that Dish only has one channel where you can watch NBC and other channels.
Most cable providers and DirecTV have multiple channels where you can watch the same network. DirecTV is also better in having a higher-numbered channel that's the same across the nation.
Dish isn't like that so we put together a list of where you can watch DIsh in some of the biggest cities where you can get their service.
Take a look below and if you'd like to save money on your Dish bill, click the button and sign up for BillSmart.
We save our clients $352 on average and our negotiations are free if we don't save you money.
NBC Dish Channel List
| | | | |
| --- | --- | --- | --- |
| Dish NBC Channels | | | |
| Location | Channel | Location | Channel |
| Phoenix | 12 | Atlanta | 11 |
| Yuma | 11 | Chicago | 5 |
| Bakersfield | 17 | New Orleans | 8 |
| Fresno | 24 | Boston | 10 |
| Los Angeles | 4 | Detroit | 4 |
| Sacramento | 3 | Las Vegas | Not Available |
| San Diego | 39 | New York | 4 |
| San Francisco | 11 | Philadelphia | 10 |
| Colorado Springs | 5 | Memphis | 5 |
| Denver | 9 | Nashville | 5 |
| Washington DC | 4 | Austin | 36 |
| Fort Worth | 5 | Brownsville | 23 |
| Jacksonville | 12 | Dallas | 5 |
| Miami | 6 | El Paso | 9 |
| Orlando | 2 | Houston | 2 |
| Tampa | 8, 5152, 8692 | San Antonio | 4 |
If you have a different service provider, check out our full NBC channel number guide.
NBC ON Dish In California
NBC is on Channel 3 in Sacramento and on Channel 4 in Los Angeles on Dish.
Usually, NBC is going to be on a lowered-numbered channel as one of the first broadcast channels, but we found a couple of examples where that's not the case.
For instance, you need to go to channel 39 to watch NBC in San Diego and Channel 24 to watch in Fresno.
Other big cities in CA where we researched include San Francisco and Bakersfield.
11 is the right channel for SF and 17 is the place to go for Bakersfield.
California has two unique super affiliate stations – NBC Bay Area and KNBC. Those are for San Francisco and LA respectively.
Florida Dish NBC Channels
You can watch NBC on Dish in Florida on channels 2-12.
Some of the right channels to watch include Channel 2 in Orlando and Channel 12 in Jacksonville.
It's probably just easier to take a look at our list below.
Jacksonville: 12
Fort Worth: 5
Miami: 6
Tampa: 8, 5152, 8692
Orlando: 2
Tampa is a unique market. It's the only place that we found that has multiple channels where you can watch NBC and other channels.
The right channels to watch NBC in Tampa are channels 8, 5152, and 8692.
We had no idea that there were so many channels.
Also, if you're looking for unique content, you're in luck in Miami. Miami has a superstation called WTVJ.

Where To Watch In Texas
There's only one channel where you can watch NBC on Dish in Texas and it's different in all of the cities that we looked at.
It's most difficult to find the right channel in Austin and Brownsville. Residents of Brownsville can watch on Channel 23 while those in Austin will need to go for Channel 36.
For the rest of the channels in Texas, you'll be able to easily find them as they're on Channels 2-9.
NBC is on Channel 2 in Houston, 4 in San Antonio, 5 in Dallas, and 9 in El Paso.
We wish they had more channels in common in Texas but at least most of those channels are close to each other.
Other Channels You Can Watch
The right channel to watch NBC on Dish in Tennessee is Channel 5.
Channel 5 is also the right channel to watch in Chicago and Colorado Springs. In Chicago, NBC is a superstation called WMAQ that has a better variety of local programming compared to other stations.
The other popular channel numbers where you can watch Dish are 4, 10, and 11.
4 is the right channel number to watch NBC in Detroit, New York, and Washington DC. For those in Boston or Philadelphia, your place to watch NBC is Channel 10.
Atlanta and Yuma residents can watch on Channel 11.
A final thing that we found quite interesting is that there's no NBC channel for Las Vegas. I guess they're too busy gambling and going to nightclubs.
Lower Your Dish Bill With BillSmart!
Dish doesn't make it easy to find the right channel for NBC but we hope we did.
We need to watch the Today Show or Law & Order to stay sane in these crazy times.
Want to get the lowest rate on your Dish bill? Save time and money by signing up for BillSmart.
We've saved our clients $1.5mm+ to date and we can save you up to 30% on your monthly bill.
Click the button below to get started.