What Channel Is Lifetime On DirecTV?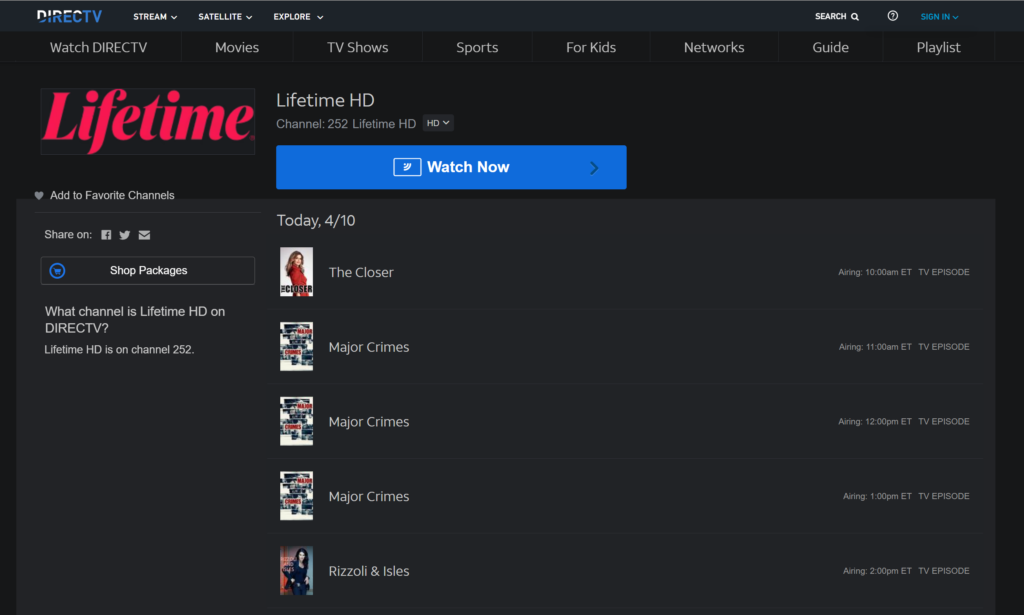 You can watch the Lifetime Channel on Channel 252 on DIRECTV. If you're trying to watch something on Lifetime Movies, the channel you'll need to go to is Channel 253.
Channel 252 and Channel 253 are the right channels for Lifetime and Lifetime Movies for all Directv customers.
It's much easier to find the right channels on a satellite provider vs a cable provider.
In our guide, we'll walk you through the programs and channels that you can watch on Lifetime if you're with Directv.
Want to save money on your TV bill?
Switching to Fubo could save you $200+ a year. The first month is free and you can cancel any time.
Check it out by clicking the link below.
Lifetime on Directv
Directv has made it easy to watch Lifetime and Lifetime Movies. Just go to Channel 252 and Channel 253.
| | | | |
| --- | --- | --- | --- |
| Directv Lifetime Channels | | | |
| Location | Channel | Location | Channel |
| San Diego | 252 | New Orleans | 252 |
| Sacramento | 252 | Boston | 252 |
| Los Angeles | 252 | Baltimore | 252 |
| San Francisco | 252 | Detroit | 252 |
| Denver | 252 | Minneapolis | 252 |
| Washington DC | 252 | St. Louis | 252 |
| Orlando | 252 | Charlotte | 252 |
| Tampa | 252 | Omaha | 252 |
| Miami | 252 | Albuquerque | 252 |
| Atlanta | 252 | Las Vegas | 252 |
| Honolulu | 252 | New York | 252 |
| Chicago | 252 | Columbus | 252 |
| Kansas City | 252 | Oklahoma City | 252 |
| Seattle | 252 | Portland | 252 |
| Dallas | 252 | Philadelphia | 252 |
| Austin | 252 | Nashville | 252 |
| El Paso | 252 | Memphis | 252 |
| Houston | 252 | San Antonio | 252 |
Options For Directv Customers To Watch Lifetime
DirecTV customers have a couple of ways to watch the Lifetime Channel.
The easiest way is to just go to Channel 252 on your TV and watch what's playing now on your TV.
Lifetime also has the option to watch their latest shows online. Just go to https://www.mylifetime.com/ and find the show and episode that you want to watch.
It's interesting that you don't need to log into Directv to watch any shows. You can actually watch your favorite shows on Lifetime without having to have TV service.
One thing to note is that you won't be able to watch if you have an adblocker installed. There will also be one minute plus ads that you'll need to sit through to watch the shows that you like.
New episodes of lifetime shows come out the day after they air on TV. If you can't watch the episode live, make sure to record the episode on your DVR so you don't get spoiled by your friends or at work.
Lifetime Channel Guide
Lifetime and Lifetime Movies are different channels on DirecTV and while they have similar content, they'll have different shows and movies playing when you watch.
These channels are right next to each other on your Directv tv guide. Those channels are 252 for Lifetime and 253 for Lifetime Movies.
One thing that we noticed is that Directv doesn't have the 3rd Lifetime channel Lifetime Real Women.
This was a programming decision on their part but it's a shame that you don't have access to some of the best Lifetime shows.
Some of our favorite shows on Lifetime are Married at First Sight and Dance Moms.
New episodes of Married at First Sight are still coming out!  The show airs on Wednesdays at 8/7 Central.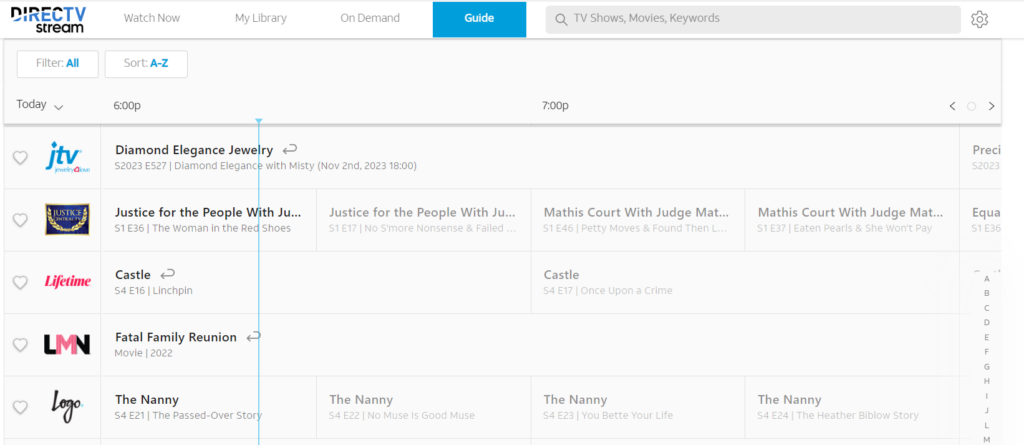 Shows On Lifetime
The Lifetime Channel has a unique way in how they fill out their schedule for Directv and other TV providers.
There's not always new content when you dial into Lifetime. Most of the time it'll be the following syndicated shows: Castle, Rizzoli & Isles, and The Closer.
Lifetime's original content comes out during primetime Wednesday to Friday. Currently, what's airing and what's new is Married at First Sight, the UK Version and Married at First Sight Couples Couch.
Those start at 6 PM and continue the whole night.
Starting every Friday, lifetimes' programming movies solely to movies.
You can watch great hits like Stalked at 17 and Pride: A Seven Deadly Sins Story.
Lower Your TV Bill With Fubo!
Lifetime is one of those few channels that appeal to people who are interested in relationships and passion.
We're glad that they're trying to adapt to the new world by making their shows available online.
If you're trying to watch Lifetime and you have Directv – the place to go is Channel 252.
If you want to save money and get more channels, try out Fubo.
They have channels like NFL Network and GAC that aren't in all DirecTV packages.
Click the link below to get started.
Related Articles
Spectrum Lifetime Channels
How To Find the Lifetime Channel On Xfinity
Lifetime Channel On Dish Network
7 Steps To Reduce Your Directv Bill
Cancelling Directv Process