How To Lower Your Metro Pcs Bill
Even though Metro Pcs is a prepaid service, there are still a number of ways to lower your Metro pcs bill. Some of the strategies we'll discuss will actually get you your Metro service for free.
At BillSmart, we've negotiated thousands of phone and cable bills over the past couple of years and have been able to save our clients $1.5mm+.
If you need some help getting a lower Metro bill, sign up for our service by clicking the link below.
What's In A Plan Name?
Metro Pcs has a very simple naming convention for their plans. They name their plans based on how much you need to pay every month for your service.
Their current lineup range from the $60/month Unlimited plan to the $30/month plan.
If your plan name has a number great than $60, you're paying too much for your Metro service.
Unfortunately for long-time customers, Metro doesn't change your monthly plan price when they lower their prices.
We've seen many cases of customers who have been paying $80 or $90 for fewer features than they can currently get on a $60 plan.
Even if your plan has a name less than $60, you should still check Metro Pcs' current offerings to see if your plan is now being offered at a lower rate.
Go to https://www.metrobyt-mobile.com/cell-phone-plans to see what the pricing for the current level of services is in your area.
If you find that you're paying too much for your current service, you have three options to reduce your bill.
They are chatting online, talking to customer support over the phone or going to a store to get your plan fixed.
Change Your Plan Tier
If you want to get a deal as an existing metropcs customer, it's important to understand the difference between Metro plan tiers to make sure you're getting the most from your plan.
Metro offers "unlimited" internet for their $60 and $50 plans. For cheaper plans, your high-speed data is capped at 10gb or 5gb.
Even if you pay for unlimited data, you only have a 35gb monthly allowance before Metro starts throttling your data. Once you go over 35gb, Metro will slow down your data if you're in a busy area.
If you don't use that much data, you can switch to a cheaper plan and save money. You can ask a Metro customer support agent what your plan usage is before you change to see what plan makes the most sense for you.

Looking for other ways to save money? Find out to save $200 a month with My Millenial Guide.
Other Ways To Lower Your MetroPcs Bill
The other major differences are mobile hotspot usage and Amazon Prime and Google One memberships.
Higher-tier Metro plans have hotspots. If you don't use your mobile hotspot or have no idea what a mobile hotspot is, you can save up to $30 a month on a plan that better suits your usage.
Metro also gives free memberships that we find that most customers are unaware of and never use. The first is a 100gb Google one membership.
Google One is a file storage solution for android phones much like Dropbox. If you have an iPhone, Google One is useless to you.
The other benefit is free Amazon Prime membership. If you don't buy from Amazon or have Prime already, you can drop your plan by $10-$20 a line by moving to a plan that better suits your needs.
Get Your Metro Pcs Bill For Free
You can actually get your Metro bill for free if you're eligible for the Affordable Connectivity Program (ACP).
ACP is a government program where Washington will pay $30 of your phone or cable bill every month if you're eligible.
Eligibility depends on factors like your income level, if you get federal assistance programs like SNAP, or qualify through your child (if they get free school lunches).
ACP replaces the Emergency Broadband Benefit Program (EBB).
Previously the subsidy was $50 a month. With the ACP it's been reduced to $30 but this program is permanent.
If you previously were in EBB you'll be automatically enrolled in the ACP.
Metro prominently advertises that their prices are $30 cheaper if you're eligible for ACP. The $30 discount works for all plans from the $60 plan to the $30 plan.
If you're eligible, that's great and you can save at least 50% on your bill. If you're not, it's a little insulting that Metro assumed that you and the rest of their customer base would be eligible for the program and they could get a bunch of money from the government.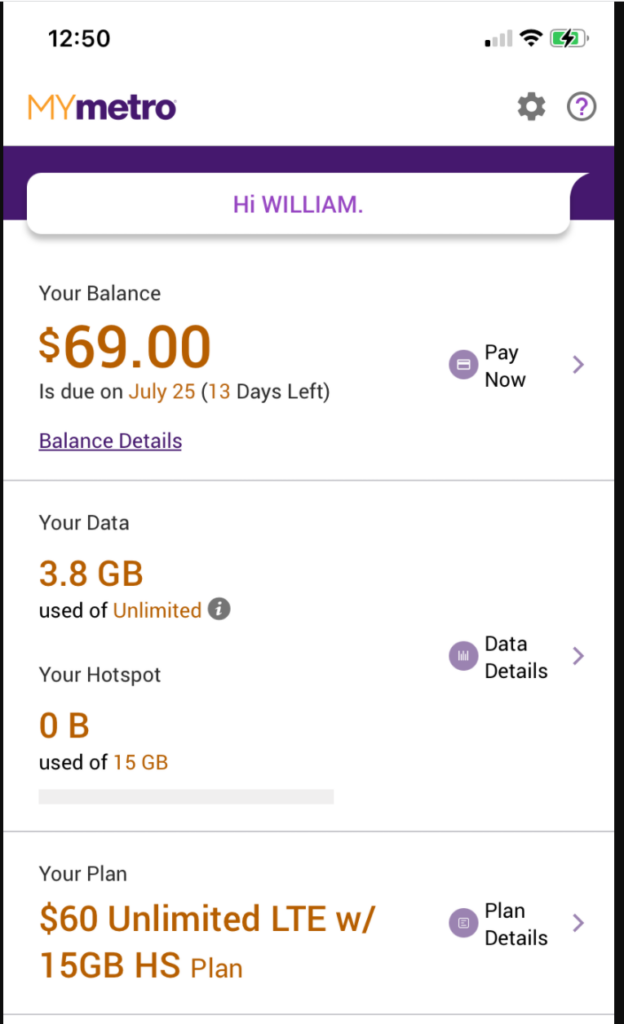 Switch To A Different Provider
At this point, there's a lot of competition for your phone service.
Besides Metro, there's a ton of other prepaid phone companies like Boost, Cricket, Mint and Visible.
Boost is not the cheapest prepaid provider. You can save significantly on your phone plan if you're willing to move your service.
Two of the best options that we found were Visible and Mint Mobile.
Visible for a single line is $40 for the equivalent level of service as Metro's $50 plan. However, you can get your monthly cost down to low as $25 if you can convince some other people to join Visible with you.
Verizon actually owns Visible. It's not some no-name provider so you don't have to worry about the company going out of business.
They're just trying to test out having a new brand that can be more millennial-friendly.
Mint Mobile is a decent option if you don't use a lot of data. You can get a plan with 4gb of monthly data for $15 a month vs $30 a month for 5gb of monthly data with Boost.
I personally couldn't live with that little mobile data but if you don't browse on your phone a lot on the go, Mint could be a good option for you.
Lower Your Metro Pcs Bill With BillSmart
In our experience, Metro isn't the worst prepaid provider but there are better options for you out there if you try.
The main thing is to not give Metro any more of your money than you need to.
We can help. Our clients save $352 on average and our success rate is 83%.
Get started by clicking the button below.