MetroPCS Deals For Existing Customers
MetroPCS has deals for existing customers that can make your service free or get you an iPhone for $99.
However, many of the promotions that Metro offers have catches or are only available if you meet certain criteria.
At BillSmart, we've saved our clients $1.5mm+ on Metro and other phone/cable bills.
If you'd like to get the best deals, sign up for our service by clicking the button below.
We can save you up to 30% on your bill.
Metro ACP Program
One of the best deals for existing MetroPCS customers is the Affordable Connectivity Program (ACP).
The ACP is a program by the federal government that provides a $30 a month subsidy to lower income Americans for their phone and cable bills.
It's not specific to Metro. If you have internet service elsewhere, you'll need to decide whether you want your subsidy to apply for that one or your MetroPCS bill.
To sign up for the ACP on Metro, you'll need to apply and be confirmed by a national verifier.
You just need to be eligible for one of the categories. Some of the most common ways to become eligible include being on SNAP, your kids getting free lunches at school, and being 200% below the federal poverty line.
This can take up to 2 days. If you're approved, you'll be given an ID number.
Then, just go to your MetroPCS account and fill out the ACP application form. You'll need the ID from the approval email receipt.
ACP was only funded with $14bn and it won't last forever. Previously, it used to be called the Emergency Broadband Benefit (EBB) program and the discount was $50 a month.
The money will run out eventually. If you're in a tough financial situation, signing up for this program can save you a lot.
Ways To Get Discounts on Metro
Although MetroPCS is a paid service, it's possible to get Metro to lower your monthly rate for your ongoing service.
One of the easiest ways to save is to see if you're on an outdated preplan with a much higher rate.
Competition in the prepaid phone space is fierce. MetroPCS has been forced to cut its prices repeatedly to retain its customer base.
However, if there's a better plan available for you, Metro doesn't lift a finger to get you on the right plan.
You'll need to call MetroPCS customer support or go into a store to make the change.
Unfortunately, Metro doesn't have chat customer support because for companies like T-Mobile prepaid customers are not as important as precious post-paid accounts.
Besides switching your plan for a cheaper one, check your usage to see if you give up anything by switching to a lower-tier plan.
Metro's $60/month plan is kind of a scam. The only benefit is free Amazon prime and 100gig of Google One. You're probably not using these features and most customers can't tell the difference between the $40 and $60 plan.
Metro is also willing to cut you a break if there's been a disaster in your area. During the Texas power outages and for hurricanes, they're usually willing to give you a month for free if you ask.
2023 Metro Pcs Phone Deals For Existing Customers
MetroPCS phone deals for existing customers are mostly just marketing strategies to convince you to bring more lines over to them.
You can get Samsung and Motorola phones valued up to $270 for free. However, these discounts are only applied if you add another phone line to the $40/month plan.
Metro's "free" tablet deal has a similar structure.
You can get a tablet for free and a $50 rebate after month 3. The catch here is that you need to add a $15/month unlimited data tablet line.
Metro hopes to make more money than they're giving away by having you stay for months and years. They keep tight restrictions on how and when you'll get compensated for the deal.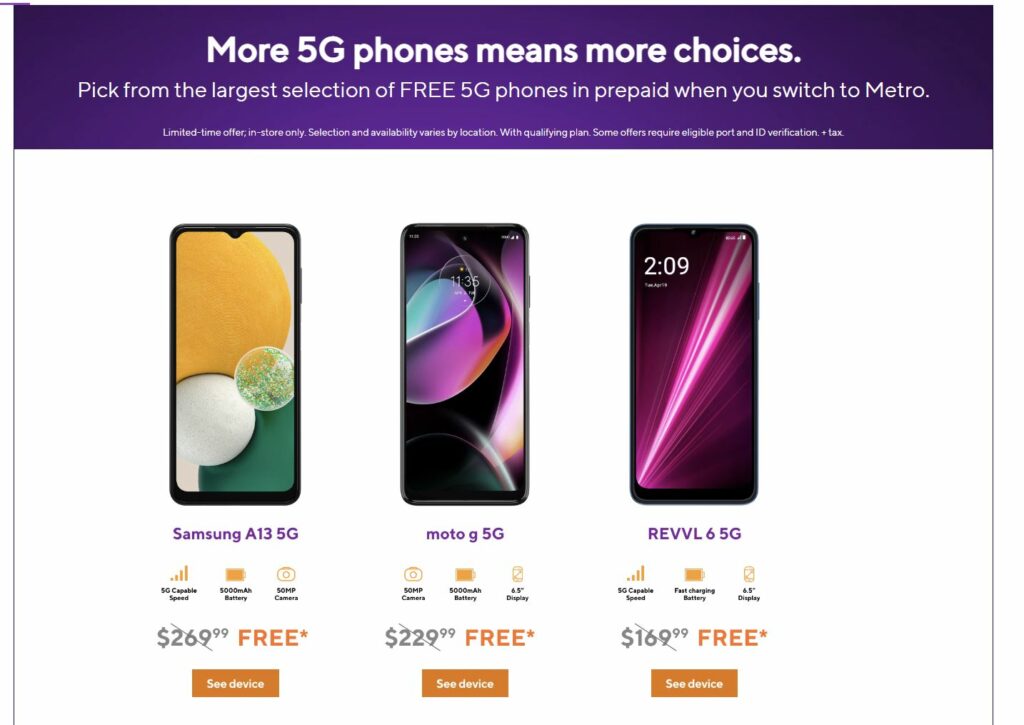 Existing Metro Customer iPhone Promotions
Most metro iPhone deals for existing customers are strategies to get you to add additional lines.
Compared to their parent company T-Mobile, MetroPCS has less generous deals for older and cheaper iPhones.
The deal that they're promoting the most is getting an iPhone SE for $99.99 vs the full price of $429. To get this deal, you need to add a line on Metro's $60/month plan.
You need to buy the phone first and pay sales tax on the pre-rebate price. Once you port your phone, they'll give you the $329 of credits.
There are other restrictions they have in place to make sure they get their money's worth from you.
Metro also has similar offers for the iPhone 11 but not for newer iPhones like the Pro or 13 Pro Max.
Lower Your MetroPCS bill with BillSmart!
Many people think that just because Metro is a prepaid bill that there's no way to lower your bill.
We just showed you a couple of ways to get big savings and we've found and we know that there's more.
If you want to make sure you're getting the lowest rate on your bill, click the button below to sign up to BillSmart.
We save our clients $352 on average and our negotiations are free if we don't save you money.