What Channel Is Newsmax On Spectrum?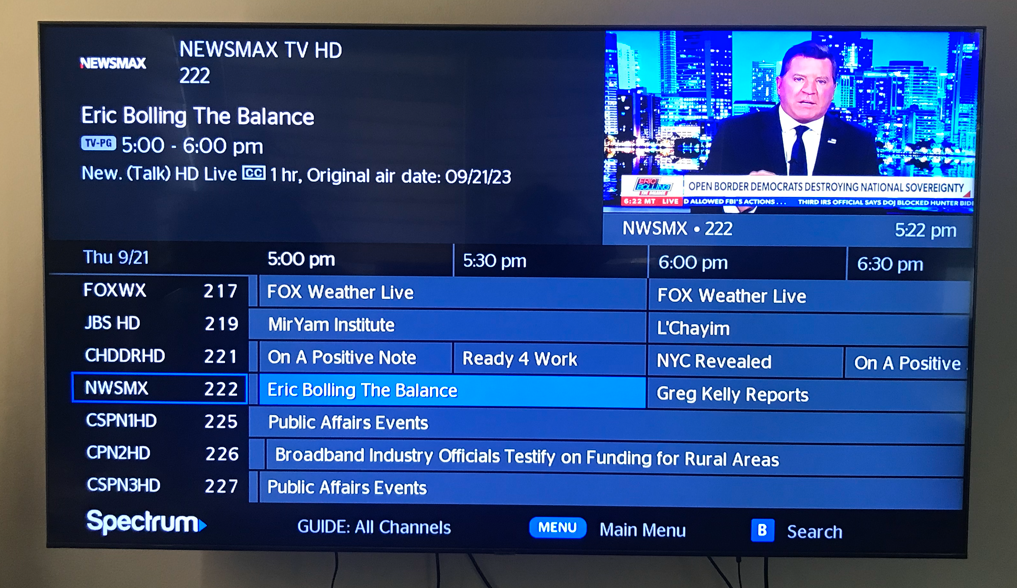 Newsmax TV on Spectrum is interesting in that there are some cities like Louisville or Columbus where Newsmax is completely unavailable and doesn't have a channel.
It could be Spectrum or the advertisers didn't want the channel to be available. The people want it though so where you can watch Newsmax, we researched and found the right channels on your Spectrum TV.
Tired of paying Spectrum $100+ a month for crummy TV service and ever-increasing broadcast fees?
Check out Fubo to save up to $60 a month.
You'll also get 50 more channels than the standard Spectrum TV package. These include great channels like Fox Business and the NFL Network.
Get started by clicking the button below.
Newsmax On Spectrum Guide
| | |
| --- | --- |
| Spectrum Newsmax Channels | |
| Location | Channel |
| Los Angeles | 222 |
| San Diego | 222 |
| Anaheim | 222 |
| Long Beach | 204 |
| Bakersfield | 1095 |
| Reno | 175 |
| Corpus Christi | 222 |
| San Antonio | 222 |
| Austin | 222 |
| El Paso | 222 |
| Dallas | 175 |
| Birmingham | 1310 |
| Montgomery | 179 |
| Charlotte | 222 |
| Durham | 222 |
| Raleigh | 222 |
| Indianapolis | 1315 |
| Milwaukee | 365 |
| Kansas City | 222 |
| Cincinnati | 365 |
| New York | 222 |
| Albany | 222 |
| Buffalo | 222 |
The Newsmax Channel On Spectrum (NC/NY/KS/CA/TX)
Channel 222 is the most common channel on Spectrum where you can watch Newsmax.
It's the right channel to watch in North Carolina, New York, Kansas, and many parts of California and Texas.
If you live in California, Channel 222 is the right channel for LA, San Diego, and Anaheim.
For those who live in Long Beach, however, you'll need to go to Channel 204 to watch Newsmax while residents of Bakersfield need to go all the way to Channel 1095.
In Texas, 222 is the right channel for all the cities in Texas except for Dallas. There the right channel is Channel 177.
Cincinnati & Milwaukee Newsmax Spectrum Channels
You can also watch Newsmax on Spectrum on Channel 365 in Cincinnati and Milwaukee.
One thing that's very interesting compared to other channels is that Newsmax is not available in many cities for Spectrum customers.
For example, while you can watch Newsmax in Cincinnati, it's not available in Cleveland and Columbus.
Newsmax is entirely absent in Kentucky. This could be because Newsmax is a newer channel and also because of the content on Newsmax, Spectrum is hesitant about airing it in some cities.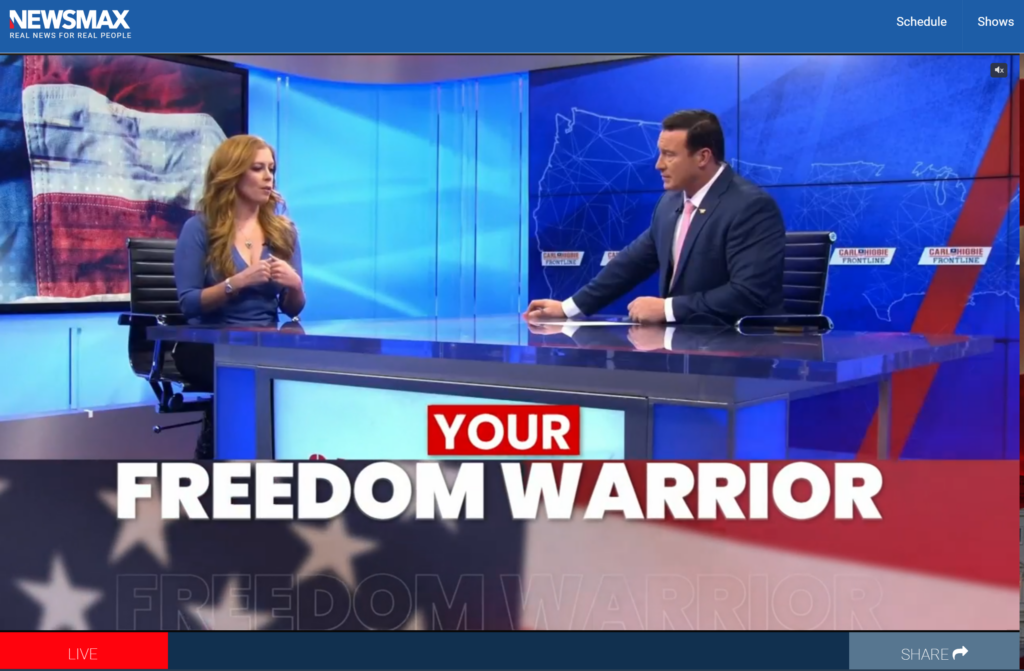 Other Places You Can Watch
Spectrum customers can watch Newsmax on some other channels in other big cities, but we found that there's not much of a pattern on where Newsmax is.
It's just better to look at our list below.
Reno: 175
Birmingham: 1310
Montgomery: 179
Indianapolis: 1315
Another thing that we noticed is that Newsmax generally just has one channel. That's probably because it's a newer channel that doesn't have as much content for multiple channels.
Lower Your TV Bill With Fubo!
Spectrum couldn't stop you from watching Newsmax by putting it so far down on the TV menu. The truth will get out as long as brave people continue to speak out.
Want to save money on your TV bill?
Sign up for Fubo to save up to 50% on your monthly bill. You can save up to $700+ a year by switching.
There's no contract and you can cancel anytime you want.
Click the button below to start saving.
Related Articles
Directv Newsmax Tutorial
Newsmax Channel on Dish Network
Spectrum Channel List