What Channel is TBS on Spectrum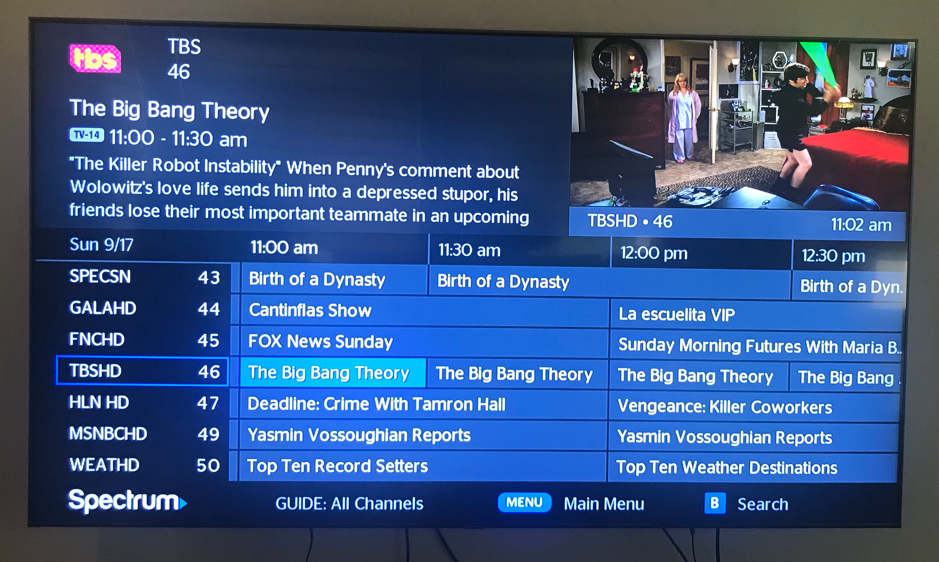 TBS is on different channels on Spectrum depending on where you live.
For the continental United States, you can usually go to Channel 104 to watch TBS.
For the rest, we've compiled a list of where the channels are for the biggest geographies in the USA.
This is important if you're trying to watch the new season of Miracle workers or AEW wrestling. Miracle Workers is on Monday and AEW is on Wednesdays at 8/7 central.
Tired of paying Spectrum broadcast fees and $100+ a month for TV?
Cut your bill in half and pay as low as $40 a month with Sling TV.
In our extensive research, Sling TV has the lowest rates for the channels that you love and gives you the flexibility to choose the channels you want.
You can get started by clicking the button below.
TBS Spectrum Channels in New York
The channel for TBS in New York for Spectrum is Channel 8.
You can also watch TBS on Spectrum on Channel 104 like the rest of the continental US.
| | |
| --- | --- |
| TBS Channels on Spectrum | |
| Location | Channel |
| New York | 8 |
| Los Angeles | 46 |
| California | 104 |
| Dallas | 44 |
| Hawaii | 551 |
Los Angeles TBS Spectrum Channel
TBS on Spectrum is on Channel 46 and 104 in the Los Angeles area.
These channels will be the same for East and West Los Angeles as well as the Calabasas area.
104 is the HD version of TBS although at this point most customers will have HD signals for Channel 46.
It's more of an artifact of an earlier time when cable bandwidth was an issue, and you could experience quite degraded visuals from a cable wire.

What Channel is TBS in California?
For the rest of California, you can watch TBS on Spectrum on Channel 104.
However, the original TBS channel will depend on which city you live in.
For people who live in San Bernadino, Ventura, Camarillo, and Thousand Oaks, you can watch TBS on Spectrum on Channel 52.
In Hermosa and Manhattan Beach, the original TBS channel is 51.
For the San Gabriel Valley, it's Channel 65 and for Santa Monica, it's channel 41.
TBS Spectrum Channel in Hawaii
TBS is on channels 551 and 1551 in Hawaii.
These are the right channels for Oahu, Maui, and Kauai.
The difference between the two channels is that 1551 is the HD version of TBS and has a higher quality frequency compared to channel 551.
What Channel is TBS on Spectrum in Dallas
TBS on Spectrum is on channels 44 and 104 in the Dallas Fort Worth area.
Lower Your TV Bill With Sling!
We hope we've saved you some time and you're able to watch WWE and sitcom reruns on TBS.
Want to save money on your TV bill?
Sign up for Sling TV to save up to 68% on your monthly bill. You can put almost $1,000 a year back in your pocket by switching.
Right now, there's a promotion to get 50% off your first month and a free Amazon Fire Stick.
Click the button below to start saving.
Other Related Articles
Spectrum TV Packages Channel List
What Channel Is TNT On Spectrum
TBS On Xfinity
Spectrum TV Packages For Existing Customers