Spectrum Deals For Existing Customers
As an existing customer, you're always eligible for a bunch of deals with Spectrum.
However, Spectrum doesn't advertise these deals. They also don't provide you with an easily accessible way to see what they are at any given time.
You need to put in the work and talk to Spectrum customer support. For the best results, you need to follow the latest bill negotiation practices.
At BillSmart, we've negotiated tens of thousands of Spectrum bills to save our clients $1.5mm+ to date.
Let the experts get the best Spectrum deal for you. Sign up by clicking the button below.
Existing Customer Spectrum Promotions
Based on our data, the average monthly savings from Spectrum promotions for existing customers is $26.63.
These monthly savings can range from $5 a month to as much as $200+ a month. It all depends on what plans and services you're on with Spectrum.
Most of these promotions are for 12 months with Spectrum sometimes only giving a promotion for 6 months.
Spectrum rarely provides lifetime discounts on their plans. If you'd like a lifetime discount, change or downgrade your plan to one that has a lower rate.
How To Get Spectrum Deals (2023)
To get these Spectrum offers as an existing customer, you'll need to talk to a Spectrum customer support agent. They'll let you know what plans are available for you.
You can chat with Spectrum at spectrum.net or call them at (833) 267-6094 or (866) 892-0019.
For maximizing the savings on your bill, we recommend calling the Spectrum loyalty department at (866) 892-0019.
When you chat or call the regular support line for Spectrum, these agents will usually just try to downgrade you. You can lower your bill while keeping the same or better levels of service.
Spectrum Offers For Existing Customers
The way it works is that when you talk to these agents you need to ask them to see if there are ways you can save on your Spectrum bill.
They'll need some time but they'll pull packages up of plans that they can change you to.
They'll often ask why you're looking to lower your Spectrum bill and why you don't like the service.
The best answer in these instances is usually you're looking to save money. You got ads for better deals from competitors too.
Negging Spectrum works well for getting the best deal.
Once the agent has enough time, they'll let you know what deals they have available to help you. Listen to what they have to say.
Take the deal if it's big enough and good enough for the work that you've already put in.
But in our experience, Spectrums' first offer is not their best offer.
Whatever offer that Spectrum first gives, you should always ask if they can check again to see if they have any additional offers.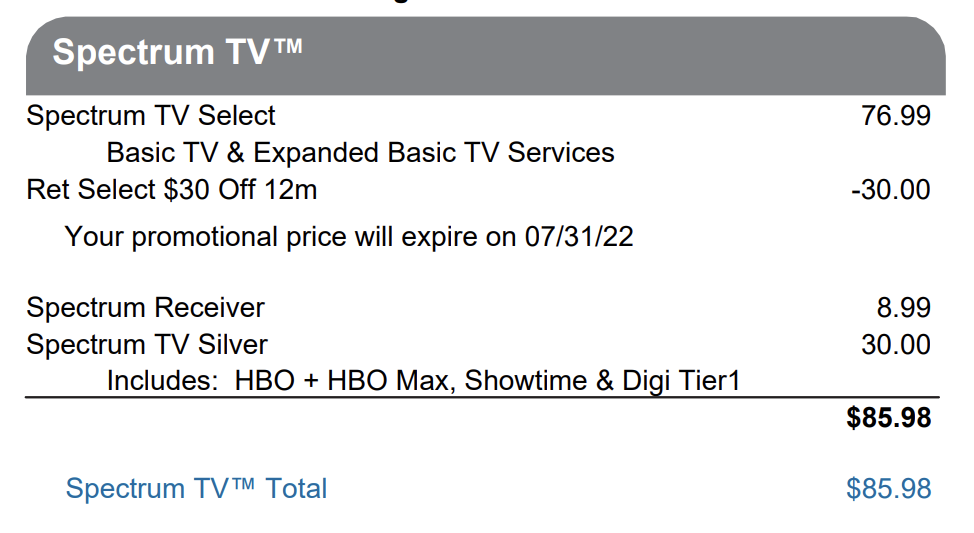 Tips To Get The Best Spectrum Deals
It's always good to say in these circumstances you're thinking of changing your cable service.
You want to avoid the hassle of changing if you can. You're happy to leave if you don't get what you want.
Another strong tactic to get savings on your bill is to be asked to be transferred to a supervisor or to start the Spectrum cancellation process.
Asking to be transferred works because supervisors have more overrides than regular agents.
Cancellation is a great strategy to get discounts.
It changes you from a customer Spectrum wants to go away and keep collecting money from to one whose income stream to Spectrum is about to disappear.
2023 Spectrum Deals
Spectrum promotions refresh on a biweekly basis although they can change at random times depending on the competitive dynamics of the cable/internet market you live in.
We've found that different call centers have different promotions. Generally higher tier call centers with US customer support can get you better deals.
Sometimes a call center from India or the Philippines has some really good deals because their agents are poorly trained and just give you whatever discount you want.
To get the maximum discounts as an existing customer, you just need to keep on trying and keep your options open. Call multiple times and use multiple tactics to get the best results.
Getting a new package applied usually takes at least 30 minutes although it can last as long as 2 hours.
It all depends on what the hold times are and how many agents you need to talk to until you get the best promotion applied.
Spectrum Packages For Existing Customers
One new and limited-time way to get a deal on Spectrum as an existing customer is to sign up for the Affordable Connectivity Program (ACP).
ACP is a $30 a month government subsidy for internet and phone service. It will lower your bill by $30 a month so if your bill is $200, it'll go to $170 and if it's $25 a month, you'll pay Spectrum nothing.
To qualify, you need to be on Medicaid, SNAP, Section 8 housing, or have your kids receiving reduced-price lunches in school.
The ACP started life as the Emergency Broadband Benefit program where the government gave $50 a month credits to help lower-income Americans deal with the fallout of the events of 2020.
Phone and cable companies are pushing the ACP heavily as it's free guaranteed money that allows them to access a new customer base.
You can only use the ACP for one service, so you'd need to decide if you want it for your phone or cable bill.
We don't know how much longer the ACP will last so if you qualify, it's best to sign up now to maximize your savings.
Lower Your Spectrum Bill With BillSmart!
With a bit of luck, you were able to get a nice discount on your Spectrum bill even though you're an existing customer.
Are you sure you got the best deal possible?
Find out by signing up to BillSmart. We save our clients up to 30% on their Spectrum bills.
We're so confident that we can save you money that our negotiations are free if we don't save you money.
Click the button below.
Articles You May Be Interested In