Xfinity Military Discount Summary
Xfinity has two discounts for members of the military. They are both one-time credits that won't lower the price of your plan in future months.
We went over the terms and conditions for you to see who was eligible and how you can get these discounts applied – as well as how much you'll save.
While it's nice that Comcast has a special offer for service members, it's easy to get the same or better offers as a regular customer.
The best way to save money on your cable bill is to get recurring discounts and that's what we get you at BillSmart.
We save our clients $352 on average and our negotiations are free if we don't save you money.
To get a better deal than the standard Xfinity military discount, sign up and click the button below.
The Military Discount For Comcast
For veterans and actively serving members of the military, Xfinity offers a coupon or a prepaid card.
The coupon for military members is $25. You can use it as a credit towards your next bill or for an on-demand movie rental.
Honestly, Xfinity usually offers $20-$100 one-time credits to regular customers who call them to complain.
It's a little more work but a $25 one-time credit isn't a super great offer for all the verification you need to go through.
Comcast also offers a $100 prepaid card as a discount to service members. There are several restrictions to this offer though.
You're only eligible for this prepaid card if you signed up for a contract with Xfinity within the last 90 days.
$100 is nice but it's less than $9 of savings per month for the year. If you know how to negotiate your Xfinity bill, you can get $10-$30 of monthly savings even if you're an existing customer.
How To Get Your Xfinity Military Discounts Applied
These discounts for Comcast are available to members of the military and veterans.
To get them applied, you'll need to prove your affiliation and be eligible.
Most members of the military can log into their Xfinity account and be instantly verified.
For those who aren't, you'll be asked to enter your .mil email address or you can mail, upload or fax proof to Comcast.
You can check the status of your discount by calling Xfinity at (800) 948-8174. This line is open weekdays between 8:30 AM to 5 PM Eastern Time.
Regular Xfinity customer support can also check on the status of your discount as well.
If you work for Comcast, then you can't get this discount. You can generally get an employee discount that's a lot better than this offer though.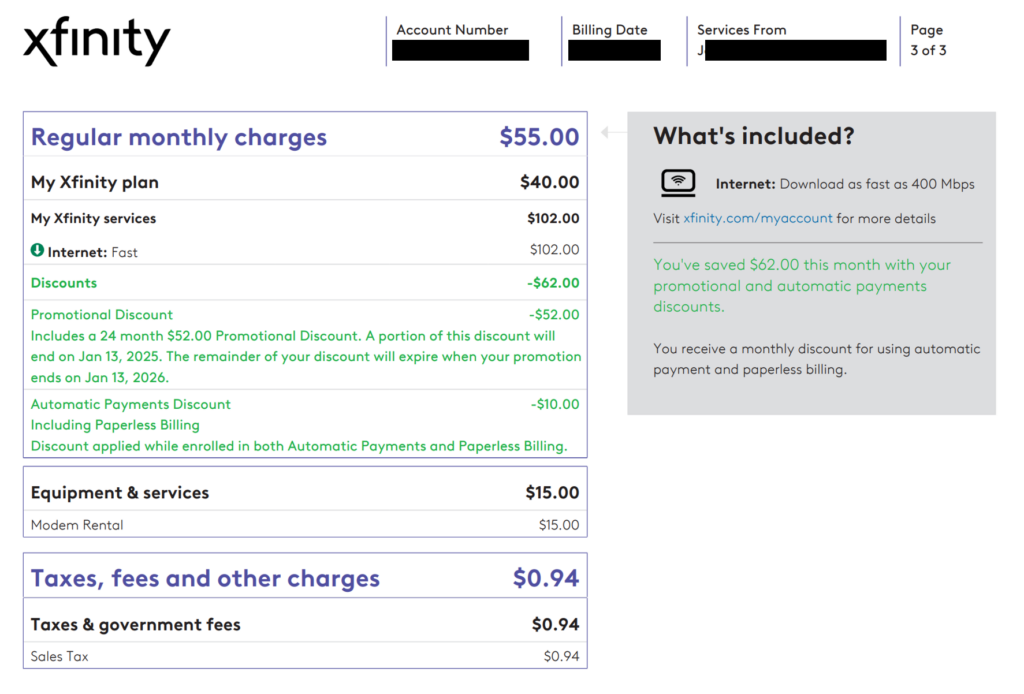 Ways To Save More Money On Xfinity
The best way to save money on Xfinity is to get a recurring discount on your bill.
What we've found is that even existing customers can get large discounts that could save you up to $100 a month depending on what kind of plan you have.
Sometimes these discounts will show up as loyalty credits for long-time customers but they'll often be because you're on an outdated and very expensive plan and you switch to a lower rate plan.
Another common and easy way to save money on Xfinity is to accept a contract for a year or two. This will get you $10 to $20 monthly savings depending on how long you decide to commit.
Finally, a key thing that you'll need to decide for yourself is how much you're willing to right-size your plan.
Buying your TV subscription from Comcast is becoming a worse and worse deal as they raise prices to offset lower subscribers and rising fees from cable and broadcast channels.
Most people are better off cutting the cord and signing up for a service like youtubetv or sling tv.
You'll need to do the calculations about what channels you watch and what the price will be for internet only and a separate streaming service to see how much you can save.
These savings can be great – up to $50 a month depending on what you decide to go with.
Other Things To Note
There are a couple of things to note about the military discounts that Comcast offers.
If you become past due on your bill within 90 days, you'll need to repay the prepaid card and coupon.
It takes a lot longer to get the prepaid card vs the coupon.
The prepaid card gets mailed within 16-18 weeks after you pass the verification and expires in 6 months.
For the coupon, you should get it by email within 10 days, and then you'll need to redeem it.
Xfinity doesn't seem super committed to these discounts. They claim that it's going to expire in a couple of days but they keep on extending the length that they'll offer this promotion for.
Lower Your Xfinity Bill With BillSmart!
Overall, it's nice that Xfinity created a discount for members of the military but there are much better ways to save money on your bill.
Save up to 30% on your monthly bill by signing up for BillSmart.
We've saved our clients $1.5mm+ to date and we'd love to get you the lowest rate on your bills.
Click the button below to get started.
Additional Resources