Xfinity Mobile Phone Deals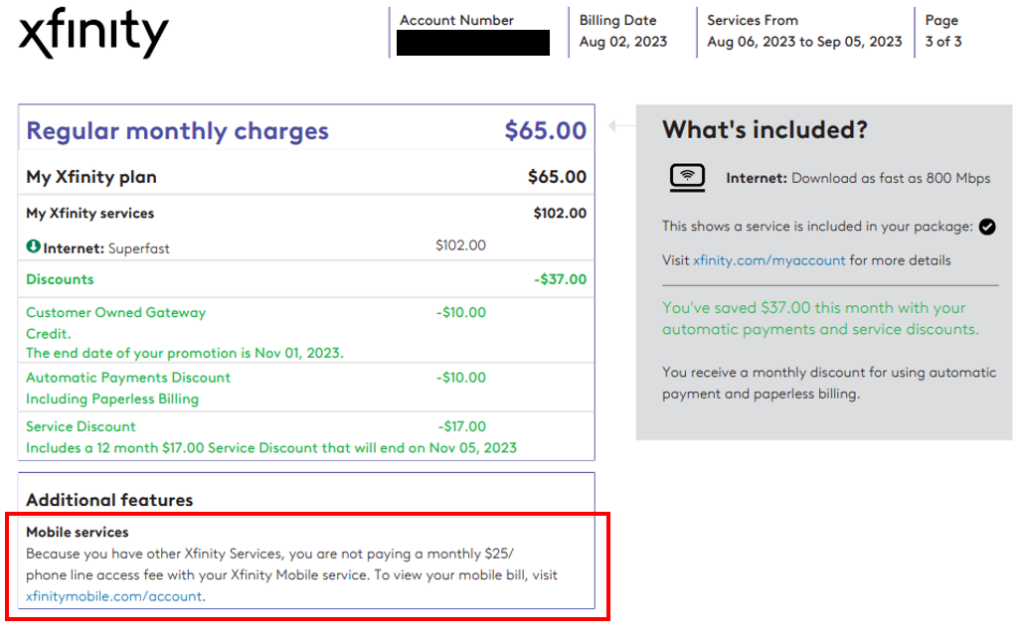 It can be pretty attractive to sign up for a phone deal with Xfinity Mobile.  Cell phone bills are really high and going up all the time.
Xfinity makes it very appealing with low prices and some decent deals on phones.
In this article, we'll go over Xfinity Mobile's plans and how they compare against the competition and what deals they're giving on phones.
Want to save money on your Xfinity and other bills?
Sign up for BillSmart by clicking the button below.
We save our clients $352 on average and our negotiations are free if we don't save you money.
Xfinity Mobile vs Verizon
At every tier, Xfinity Mobile is cheaper, or the same price compared to the phone plans of the big phone companies like Verizon and T-Mobile.
The biggest monthly savings occur when you move from a two-line Verizon Ultimate Plan to a Xfinity Mobile Premium Plan which lowers your Comcast bill $80 a month from $180/month to $100/month.
There's some cases where you actually won't save money by moving to Xfinity Mobile such as if you move from a 4 line AT&T Extra or Premium plan.
You'll get the most savings when you have 2-3 lines and the highest per line savings with a single line.
Each carrier has their own grab bag of features that may be different from plan to plan.
The major differences are mobile hotspots, premium data, and streaming quality.
We've created a chart with some of the price and feature differences between Xfinity Mobile and Verizon/ATT/Tmobile.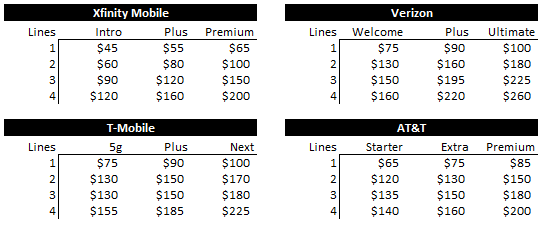 Xfinity Mobile Plans
There are two primary Xfinity Mobile plans – Unlimited Plans and By the gig plans.
The Unlimited Plans are Unlimited Intro, Plus, and Premium.
Their prices for a 2-line plan are $60, $80, and $100 respectively.
The differences between the Unlimited Plans are how many gigabytes of high speed data and mobile hot spot that you have every month.
It's very similar to the big carriers like Verizon and T-Mobile.
One of the nice features of Xfinity Mobile plans is that you can mix and match plans (both Unlimited and by the gig) if different members of your household have different mobile phone usages.
Xfinity Phone Deals For Existing Customers
The by the gig plans are for 1, 3, and 10 gigs.
They're $15, $30, and $60 a month respectively.  You can share the data allowance with as many people as you like.
If you don't use your phone a lot, this is one the cheapest phones plan out there.
Xfinity Mobile has promotions for both new and existing Xfinity customers.
Unfortunately, new customers get a higher discount than existing customers.
If you're new to Xfinity and are signing up for Xfinity internet and Xfinity Mobile, you'll get $45 a month off your bill for 2 years.
They describe this as getting your first mobile line for free.
You need to enroll in paperless billing and autopay to not get penalized and get a lower discount.
Can I Get A Free iPhone With Xfinity Mobile
Xfinity Mobile currently has a deal where you can get a free iPhone but there's a couple of things you need to do to qualify.
The main criterion is that you must be a new customer of Xfinity Mobile and add two lines to their service.
When you do so, you get a $30 a month discount that's enough to offset the costs of iPhone 14 and earlier.
For the newer iPhones, there's still a $30 a month discount and the option to trade in your old phones to get the cost even lower.
The trade in values for Xfinity Mobile are lower than the big carriers which offer $800+ in trade value vs Xfinity, where offers seem to max out around $200.
If you leave the service, you lose the discount and need to pay the remainder for the phone.
We wish it was easier, but no phone company is going to give you an iPhone for free without putting a lot of restrictions on you.
Phone carriers like Verizon, T-Mobile, and AT&T have deals where you can get iPhones for free or greatly discounted as well.
The catch is that they try to get you to sign up for their highest tier plans where the monthly rate is usually double the rate of Xfinity Mobile.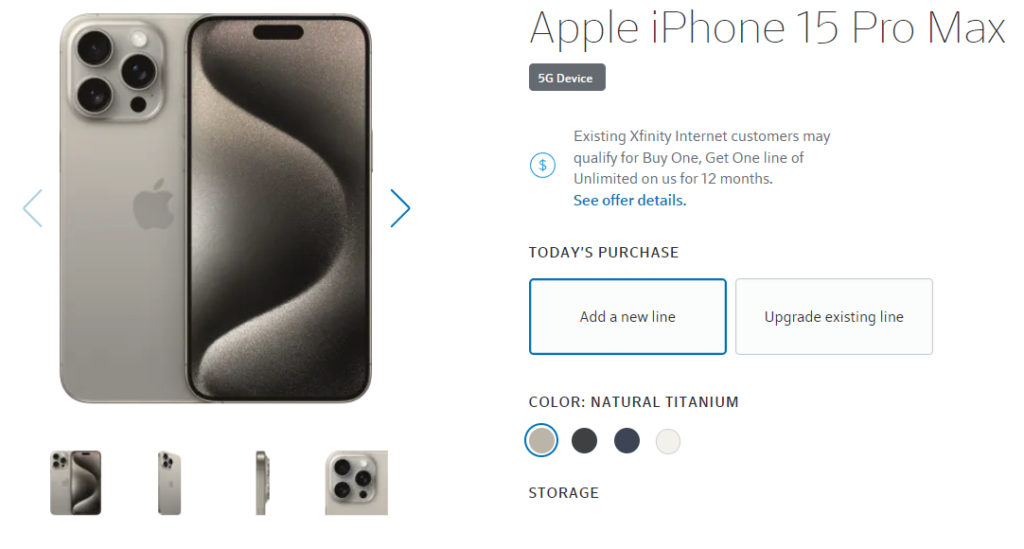 Xfinity Cell Phone Deals
Xfinity Mobile has better cell phone deals and promotions for Android phones than iPhones.
That's usually the case throughout the industry.
The Android phone brands that Xfinity offers are Samsung, Google, and Motorola.
For Google Pixel phones, the current promotion is up to $800 off your phone with a trade in.  If you don't have a phone to trade in, the discount will only be $500.
This can get your monthly rate for a google Android phone to under $10 a month.
Samsung doesn't have very good deals with Xfinity currently.  Right now, the only thing they're offering is a free Galaxy A14 phone.
Those aren't the premium Samsung phones that people want like the Galaxy Flip/Fold or Galaxy Ultras.
Finally, for Motorola, there's a $400 discount on the razr phone.
Lower Your Xfinity Bill With BillSmart!
Xfinity Mobile is a pretty good deal that might make you want to leave your phone company.
Just because they're cheap for their phone service shouldn't give them a break on overcharging you for your phone and cable service.
Get the lowest rate and save money on Xfinity with BillSmart. Our success rate is 83%
Click the link below to get started.