How To Cancel Cox Internet
Cox makes it very difficult to cancel your Cox internet service. They don't provide any options to cancel online and most of their plans have 1–2-year contracts with nasty termination fees.
At BillSmart, our team has spent thousands of hours on the line learning the ins and out of Cox's billing and customer support practices to save our clients $1.5mm+ on their phone/cable bills.
If you want the experts to get you out of an early termination fee or just lower your Cox bill the most humanly possible, sign up for BillSmart by clicking the button below.
Cancel Cox Service Phone Number
The best number to call to cancel your Cox service is 1-800-234-3993.
This is the number of the Cox Retention Department. They are open Monday to Friday 8 am to 9 pm and Saturday from 9 am to 6 pm.
Sunday is a day of rest like it is at Chick Fila.
Make sure that you're directed to the retention department. Cox also has a billing and technical support department that isn't set up to help you cancel your Cox account.
When the IVR is asking what you need help with Cox, make sure to say the words "speak to retention, cancel cox service."
Those are the magic words to get you better service and a shorter wait queue time.
They know that an angry and impatient customer is a customer that is most likely to leave them for another service provider.
Cox Cancellation Process
Cox really wastes your time when you're trying to cancel and lead them.
To avoid brain damage, make sure that the person you're speaking with is the retention department. They're the only people who can cancel your account for you.
You can get through the Cox cancellation quicker depending on how impolite you're willing to be.
Most of the time the retention team will want to know about your life and how you feel about your Cox service.
Many people will be polite and humor them. If you're willing to be less polite, just tell them you want to cancel your service and that you're moving to a foreign country.
When they ask if they can pause your account as if you're going on vacation, just give them a couple of seconds and tell them that you're giving up your US citizenship.
Where you want to spend time if you're going through with canceling your account is the final details.
Set a date when you want your service to stop and figure out what equipment you need to send back and when.
Cox prorates your service date, so they won't charge you for the full month if you only use the service for 5 days of the month.
In terms of the equipment, you'll want to find out what you need to return and how you can return it.
You'll either drop it off at a Cox store or get a package slip to send your stuff via USPS.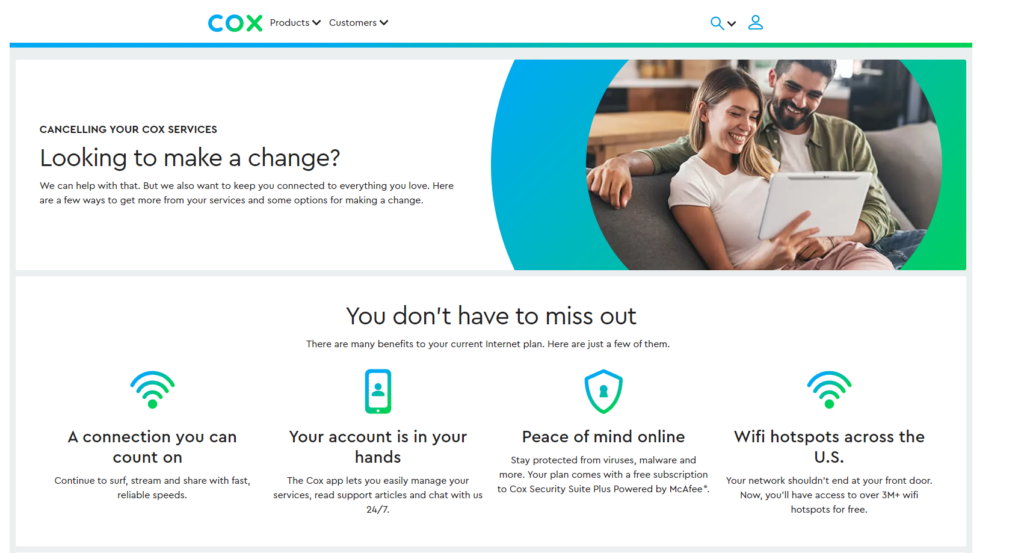 How To Cancel Your Cox Service Online
Unfortunately, you can't cancel your Cox service online.
There's no button to cancel your service on your account details section and if you ask an online chat representative to cancel your account, they'll apologize and ask you to call their customer support team to process the account cancellation.
You can only cancel your Cox service by calling their retention team or going to a Cox store in person and going through the cancellation process with a representative.
Cable companies like Cox like to put friction for their customers to cancel so they can convince you to stay.
If you have time in your busy day to work on the cancellation process, their retention team will interrogate you for an hour to try to convince you to stay.
They're throwing in the kitchen sink huge discounts and free channels and services to try to woo you.
They bring this up because they want to keep you once the freebies go away and maintain their subscriber rolls to maintain their stock price.
Cox Cancellation Fees
You'll incur an early termination fee with Cox if you cancel your service before your term ends.
The most common term length for bundled products is 2 years. The early termination fee is $360 and your early termination fee gets reduced by $15 every month that you have the service.
If you cancel your service after 2 years, you won't be charged a fee, but if you cancel the service after a year, you'll be on the hook for $180.
In our experience, Cox is willing to waive the termination fee if you have a good reason for canceling.
Examples of valid reasons include moving to an area without service or financial or medical issues.
They hope to get you as a customer in the future so they're willing to waive the fees.
Where To Return Cox Equipment
Once you cancel your Cox account, you'll need to return any equipment you rented or that Cox gave you as part of your service.
Generally, when you're talking to the customer support rep, they'll tell you what equipment needs to be returned.
The most common equipment types that are returned are tv receivers, modems, remote controls, and routers. This equipment is cheap especially if you've had them for a couple of years and we've found that most of the time Cox doesn't want your dirty old remote.
You can generally return your equipment to a Cox store or via UPS.
You can find the list of Cox stores at https://www.cox.com/local/search
Cox will give you a package slip for UPS so you can return the equipment to them. Generally, Cox will pay the shipping costs of getting their equipment back.
Just FYI if it wasn't obvious but don't send surprise Cox by sending them equipment without telling them. They need to enter the equipment into their system, so they know it's yours.
Cox Email Addresses After You Cancel Your Service
Unfortunately, you will lose your Cox email address if you cancel your Cox service.
However, you can move your Cox email history to another email provider like Gmail and outlook relatively easily.
You can find the instructions to do so here.
Before canceling your Cox service, make sure to forward your emails to your new account.
It's often best to talk to a technical support rep who has more experience in the area to make sure that you set up everything correctly before making the jump.
It's annoying to have to move your email if you've been with Cox for a couple of years but Cox was never really in the email business.
They just had it to try to provide another cheap feature for customers and to keep them for longer.
Save On Cox With BillSmart
If you followed this guide, you're well equipped to cancel your Cox bill and tell them to pound hay.
Have phone/cable bills that you want to save money on?
Sign up to BillSmart to save $352 on average.
We've helped tens of thousands of customers and our negotiations are free if you don't save money.
Other Popular Articles
How To Lower Your Cox Bill
Paying Your Cox Bill