How To Pay Your Cox Bill
Cox wants their money on time every month or they'll quickly charge you a $30 late fee. Because of this, you really need to pay your bill on time and find out the easiest way for you to pay your Cox bill and move on with your life.
Tired of overpaying on your Cox bill? We specialize in negotiating cable bills and we've found clients who have Cox bills are overpaying $354 on average.
If you want to join the tens of thousands of customers saving on their cable bills, register an account with us by clicking the link below!
6 Ways To Pay Your Cox Bill
Most Cox users don't know how many different options they have to pay their bills. Below, we have a brief rundown of your different Cox bill pay options:
Make a one time payment at cox.com
Enroll for Cox Easy Pay for automatic monthly payments
Call 1(800)234-3993 to pay over the phone
Download the Cox App and pay there
Pay At A Cox Solutions Store
Mail A Check To Cox
How To Pay Your Cox Bill Online
You can pay your Cox bill online by making a one-time payment or enrolling for Cox's autopay service Easy Pay.
We recommend paying your monthly bill via one-time payments over autopay because Cox doesn't offer a monthly discount for autopay. Also, signing up for autopay makes it more difficult to dispute any billing errors Cox might have made.
You can make your monthly Cox payment by going to the Cox.com home page and signing into your account.
Once you log in, go to the Billing section and click Make a Payment.
You can choose to pay the total balance due or a different amount. You can also set what date you want your payment to process on.
Acceptable payment methods include checking/savings accounts and debit/credit cards from Visa, Mastercard, Discover, and American Express.
If you pay your Cox bill via autopay, your card on file will be charged on the due date displayed on your bill.
Be careful, when you sign up for autopay, you're usually disenrolled from getting paper statements in the mail, and if your payment fails Cox will levy a bunch of fees.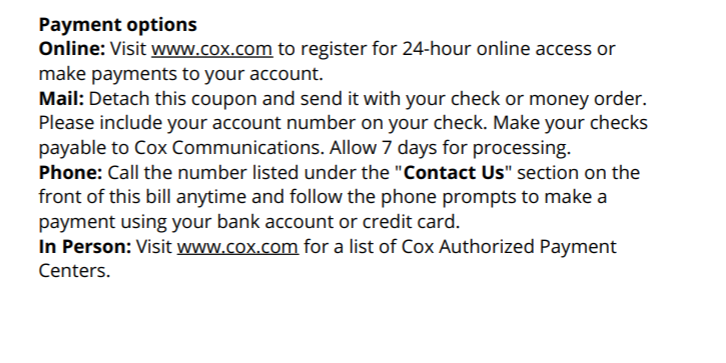 How To Pay Your Cox Bill Over the Phone
You can also pay your Cox bill over the phone by calling 1-800-234-3993. You can either use the automated system or talk to a live agent to pay your bill.
When you call Cox customer support, the system will verify how much money you owe and when your next payment is due. When prompted, you will need to provide a checking account or card number to complete your payment.
There is no additional fee to pay your bill through a customer service agent.
These agents are only available by phone during normal business hours. With the automated phone system, you can conveniently pay 24/7.
Pay Your Bill By App
Cox also allows you to pay your bill via the Cox app. This lets you pay your bill more easily on your phone or tablet.
To start paying via the app, download the Cox app from your mobile device's app store. Next, use your existing account information to log into the app.
Tap Billing on the primary screen and then tap Make a Payment.
Like with traditional online bill pay, you can now choose to pay what is owed or pay a different amount. You can also enter a new checking account, debit card, or credit card as a payment method or just use one of the methods already stored.
Next, schedule the payment date. After that, click the Agree & Submit button, and a confirmation screen verifying that your payment went through will show up.
Looking for other ways to get free money? Our friends at Beermoney can show you the way to make $2,732.39 with some simple tips.
Pay Your Bill In Person
Cox also allows you to pay your monthly bill in their stores or at 3rd party locations.
To pay in-store, you need to go to a local Cox store – or as they call it a Cox Solution Store.
If you are not sure where your nearest store is, you can use the Cox Find A Store tool. Enter your city, zip code, or your address and the nearest store will show up.
You can also pay by cash by going to 3rd party locations. The list of 3rd party payment partners is Western Union, MoneyGram, CheckfreePay, and Fidelity Express.
While these options are convenient, the merchant will charge you a fee of up to $3.49 and your payment may take up to 5 days to process for all these options except CheckfreePay.
What Are Cox's Late Fees?
Cox late fee is generally 1.5% of the unpaid balance of your bill. However, the exact amount your local provided charges may be different based on local regulations.
If you have EasyPay set up and a payment gets declined, there is a $10 fee. There's a $30 returned payment fee if the check that you write to Cox bounces.
If your service gets disconnected because you're past due, it will cost you $30 per individual service to reconnect your service.
Finally, if your account is referred to a debt collector for nonpayment, there is an additional $30 fee.
Cox has a lot of fees. They're not very nice people.
Save Money On Your Cox Bill Today!
Pay your Cox bill in whatever way is best for you.
If you're tired of paying too much on your Cox bill, we can help you lower your bill and save money.
We've saved our clients $1.5mm+ to date. Get started by clicking the link below.
Related Articles