What Channel Is Fox News On Dish?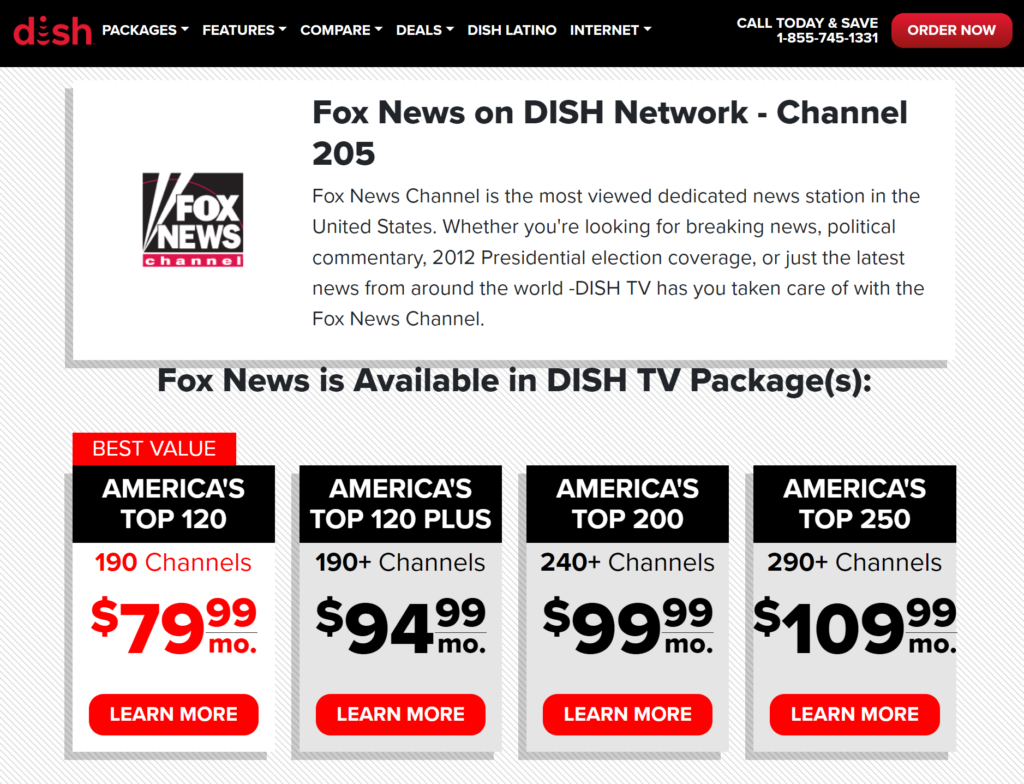 Customers of Dish can watch Fox News on Channel 205. For those trying to watch the Fox Business Channel, surf to Channel 206.
There's no lowered numbered channel for Fox News on Dish but there are also not multiple channels as well.
Satellite TV providers have standardized their channel lineups vs cable tv companies where Fox News can be on different channels in cities in the same state and on 4 channels in one place and 1 channel in another.
That makes things easier, but we'll simplify things even more by helping you figure out when your favorite programs are on and what other options you have to watch them if you end up missing an episode.
Check out our guide below and if you'd like a lower Dish bill, sign up for BillSmart.
We've saved our clients $1.5mm+ and our negotiations are free if we don't save you money.
Click the link below to get started.
Fox News On Dish
Below is the list of channels where you can watch Fox News On Dish. Basically, Fox News is available on Channel 205.
| | | | |
| --- | --- | --- | --- |
| Dish Fox News Channels | | | |
| Location | Channel | Location | Channel |
| San Diego | 205 | New Orleans | 205 |
| Sacramento | 205 | Boston | 205 |
| Los Angeles | 205 | Baltimore | 205 |
| San Francisco | 205 | Detroit | 205 |
| Denver | 205 | Minneapolis | 205 |
| Washington DC | 205 | St. Louis | 205 |
| Orlando | 205 | Charlotte | 205 |
| Tampa | 205 | Omaha | 205 |
| Miami | 205 | Albuquerque | 205 |
| Atlanta | 205 | Las Vegas | 205 |
| Honolulu | 205 | New York | 205 |
| Chicago | 205 | Columbus | 205 |
| Kansas City | 205 | Oklahoma City | 205 |
| Seattle | 205 | Portland | 205 |
| Dallas | 205 | Philadelphia | 205 |
| Austin | 205 | Nashville | 205 |
| El Paso | 205 | Memphis | 205 |
| Houston | 205 | San Antonio | 205 |
How To Watch Fox News Online
Watching Fox News on Channel 205 on Dish is not the only option that Dish subscribers have to watch the channel.
You can also watch Fox News on your desktop/laptop or mobile device. To get started, go here.
Unfortunately, Fox News is not currently available a la carte. You'll need to have a cable tv subscription from a company like Spectrum or Dish in order to watch your favorite shows on Fox News.
Once you get to the website or app, log in with your Dish username and password. It's good but about the same as the Dish Anywhere app.
Fox also has a $5.99 a-month streaming service called Fox Nation but that's mostly going to have documentaries.
One free option to access Fox content is to listen to Fox Radio or to watch Fox Weather. You'll miss out on the great infographics and nice people in suits though.
Fox News & Other Fox Channels on Dish
It can be confusing if you're with Dish to find the right Channel for Fox News.
That's because Fox has so many channels. A short but not complete list includes the Fox Broadcast Channel, Fox News, Fox Business, Fox Sports 1, and FS2.
We didn't realize that foxes were so prolific.
For the cable channels, we can simplify how to find the right channel to watch.
Fox News is on Channel 205 on Dish and Fox Business is on Channel 206. It's nice that they're together so you can easily switch to your stocks to great political commentary.
It's a tougher lift to find the right channel for the Fox Broadcast channel.
Usually, the Fox Broadcast channel is one of the first channels on your TV guide but that's not always the case.
The best way to find out what the right channel is in your city is to check out our guide to finding the right channel for Fox on Dish.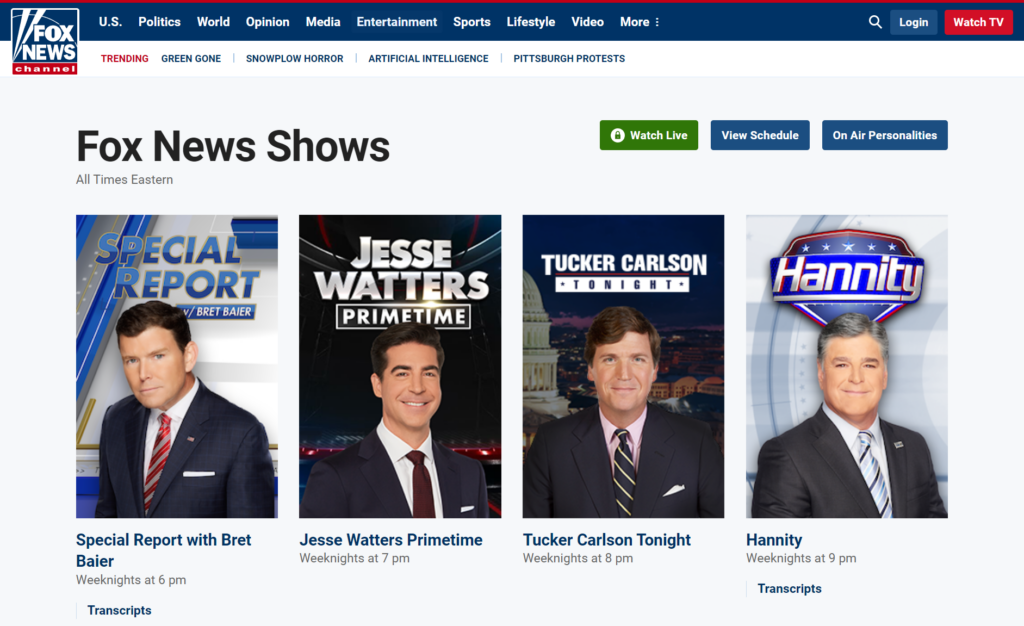 Updated Fox News Schedule
The best time to watch Fox News on Dish is primetime on weekdays from 7 PM to 10 PM.
That's when Fox's best shows like Hannity and Tucker Carlson air.
Hannity is on at 8PM/1AM Monday to Friday. For Tucker, the right time to catch him is at 7PM and 12AM during the weekdays.
Laura Ingraham only works the weekdays too. Her show The Ingraham Angle airs on 9PM and 2AM M-F.
For weekend shows, our favorites include Special Report with Bret Baier, Cavuto Live, and The Journal Editorial Report.
These shows don't get as much viewership as the Fox weekday big guns but they provide more real-time commentary of what's happening over the weekend.
Lower Your Dish Bill With BillSmart!
We love Fox News and we hope we've made it just a little easier to watch it and the other Fox channels on Dish.
One of the things the founding fathers fought for was the pursuit of happiness.
None of us are happy paying too much for our TV service.
Save up to 30% on Dish and your other bills by signing up for BillSmart. We save our clients $352 on average.
Get started by clicking the button below.
Related Articles
Fox News Channel On Spectrum
Xfinity Fox News Channel
US Fox News Channel Numbers