How To Lower Your Cable Bill
Lowering your cable bill can be a great way to save money. At BillSmart, we've negotiated thousands of cable bills over the last couple of years and have saved our clients $1.5mm+ to date.
We want to provide Americans with the best tips and tricks to save on cable bills from providers like Cox, Xfinity and Spectrum.
Don't have the time to lower your bill on your own? Let our experts take care of your cable bill for you by clicking the button below.
Best Ways To Lower Your Cable Bill
Cut The Cord
Cancel Premium Channels
Return Rented Equipment
Sign Up For A Contract
1. Cut The Cord
One of the best ways to cut your cable bill in half is to cut the cord on your pay-tv service and create an OTT bundle of the channels that you watch the most.
The average TV plan is $100 a month so you can save $65 by moving to a service like Sling TV that has a more limited set of channels.
Other good options include Hulu, youtube tv, or monthly subscriptions for channels bundles like Discovery+ or Paramount+.
We've found that many cable companies like Cox actually charge you more for their channel lineups vs what you can get online.
Another issue with getting your tv service from your cable company is that they often have disputes with the cable networks which leads to many channels being unavailable for weeks at a time
2. Cancel Premium Channels
Once upon a time, the only way you could get HBO or Showtime was through your cable provider.
In the brave new world of OTT services, this is no longer the case. Unless you're getting your premium cable channel for free, you're going to be better off financially buying a separate subscription for these channels.
One reason is that HBO and Showtime make it easy to cancel once the show you're obsessed with is over, which reduces the cost significantly. The other is that they offer 14 days or a month free so you can take advantage of this offer multiple times by signing up with different emails.
Cable companies will often give you premium channels for free but once you go off the promotion period, the prices are often double what you'll pay if you bought the standalone service.
Save money, cancel premium channels like Peacock.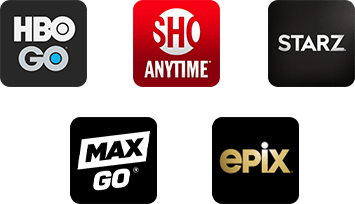 3. Return Rented Equipment
One of the many ways cable companies nickel and dime their customers is by charging $6.95 a month for receivers or $14.99 for modems and routers.
If you're paying for five tv receivers but only watch TV in two rooms, it's time to return the unused receivers and save $21 a month.
For the TVs without receivers, you can often use a Chromecast or firestick to cast your cable company's app to your TV where you can change the channels with your phone.
To get these savings, you need to mail back the receivers to your cable company. We advise talking to their customer support team so you can get the right instructions on how to do so.
You can also save money on your modem and router by buying your own and returning the cable company provided one. You'll need to put some money out front, but you'll find in a couple of months you'll be saving $15 in perpetuity.
You'll need to return the modem to cash in this discount and you'll want to make sure you buy the right equipment.
You can generally find what modems and routers are supported on the website of your service provider where they have a list of supported equipment
4. Sign Up For A Contract
The final way to save money on your cable bill is by signing up for a contract.
By locking yourself in for a year or two, you can get a $10 to $20 monthly discount on your bill.
Cable companies love this because the revenue they get is more predictable. If you're not planning on moving and you're happy with your service, you're not really losing anything by agreeing to a contract.
In fact, for most cable companies, even if you break your contract, they're often willing to waive the fee if you ask. Not only that, many contracts have the fee decrease on a monthly basis the longer through your contract term you are.
Tips To Lower Your Comcast Bill
Upgrade Your Xfinity Plan
Get Loyalty Credits
Right Size Your Plan
Xfinity One Time Credits
1. Upgrade Your Xfinity Plan
One of the best ways to save money on your Comcast bill is to make sure you're on the most up-to-date Xfinity package.
Comcast releases new packages every couple of months with different features and prices. Unfortunately for long-time customers, they don't upgrade your plan when a better one becomes available.
You'll need to ask to see if a better plan is available by calling Xfinity loyalty department at (800) 266-2278.
We've found for many of these plan upgrades, customers save between $30 to $60 a month. They generally also get upgraded internet service for no extra.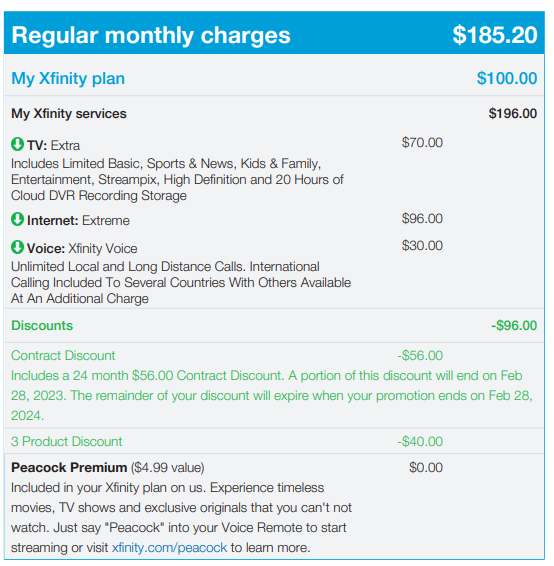 2. Loyalty Credits
Besides upgrading your plan, it's possible to save $50 a month on your Xfinity bill by getting a loyalty credit.
If you've been a long-time customer with Xfinity, you can just call them up and ask them to see if there's any way that they can lower your bill to help you out.
The key is to mention that you've been a long-time customer and actually be a long-time customer (2+ years). If this is the case, the rep will generally process a monthly $20-$50 discount for a year.
These discounts usually take a billing cycle or two to apply depending on what day of the month that you call
3. Right Size Your Plan
Another great way to lower your Comcast bill is to make sure that you're not paying for features in your plan that you never use.
Xfinity's channel lineups have gotten bloated so if you're okay with having 50 channels instead of 200, it's pretty easy to find a plan that can save you $30+ a month.
If you have gigabit internet but you don't even have a router that can support such speeds, consider switching to a plan with 100 Mbps internet.
Other examples include getting rid of useless subscriptions like Xfinity Flex and Xfinity Assistance that you don't even notice but have been paying for years.
They generally get you by offering these subscriptions for free and then charging you for a year.
4. Xfinity One Time Credit
The final way to cut your Xfinity bill for next month is to get Comcast to give you one-time credits.
There are two varieties: loyalty credits and outage credits.
Xfinity will generally give you a decent-sized credit on your next bill if you call and complain. These are often $50 but can range from $20-$70. In terms of loyalty credits, they're the most generous cable providers of these credits.
If you've had internet connectivity issues in the past, you can also get credits from Comcast as well. Just call them and let them know that you've had internet issues that have affected your life.
Unfortunately, these internet issues need to be real. Comcast has tracking on each of its subscribers' internet connections and can see if the internet has been down or not in the past.
If it has and you ask, they'll generally give you a one-time credit depending on how long the outage was.
To get these one-time credits, just call Xfinity and ask for ways to save on your next bill. They're a nice addition in terms of the recurring credits you can get.
Ways To Reduce Your Spectrum Bill
Get a discount on your plan
Get one time discounts
Extend your promotion
1. Get a discount on your plan
The best way to lower your Spectrum bill is to get Spectrum to apply a promotion to your account.
These promotions are powerful because they apply every month during the promotion period. Discounts range from $10 to $50 a month and Spectrum's discount term is almost always for one year.
We've found that even if you have a $50 bill, you still have a decent shot of getting a $15 monthly discount.
To get Spectrum to apply a promotion to your plan you need to call their customer service and ask them to find ways to lower your bill for you. You can reach Spectrum customer service at (800) 892-4357.
Most of the time these promotions are system generated. The Spectrum agent will look up your account and see in their system whether there are any promotions they can apply to your account to save you money.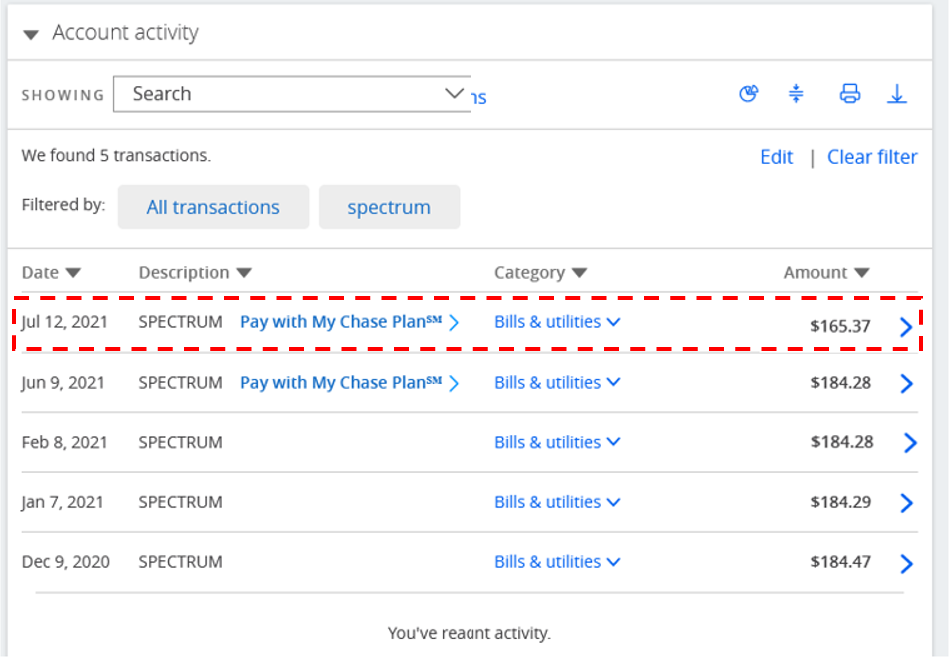 If they say that there's no promotions available at this time, try again in a couple of weeks.
Spectrums' promotions change monthly and if after a second attempt there's no promotions, you may want to look at your plan features to see if there's something you're not using that you can remove to save money.
2. Get one time discounts
While you're negotiating your Spectrum bill to get recurring credits, you might as well get Spectrum's world-famous courtesy credits.
Unlike other cable companies, Spectrum doesn't really provide credits if you've experienced an outage. However, if you're calling their customer support they assume that something went wrong and you're unhappy.
In those cases, their customer support team is empowered to give you a courtesy credit for calling them. These courtesy credits are one-time and aren't that big compared to other service providers.
They're usually $20 off your next bill although they range from $5 to $50.
It's generally not worth calling just for the one-time credit but if you really need the cash and have the time, $20 off your next bill could be just wanted you needed.
3. Extend Your Promotion!
The moment you sign up for Spectrum, a kind of countdown starts. Instead of raising prices on customers, Spectrum's business model is to give you a discounted price in the first year and increase that rate by $10-$20 in year 2.
It's a little-known secret but Spectrum is often more than willing to extend your promotion before your promotion ends. You don't need to be a new customer to take advantage of this offer.
You just need to call their customer team and ask. If they're being stubborn about not extending your promotion, ask politely to be directed to the retention team for the cancellation process.
That often does the trick. Generally, you want to call 2-3 months before your promotion is set to expire. You can find out your promotion expiry date on the second page of your bill. It'll be below the grey box for Spectrum TV and Internet Services.
Lower Your Cable Bill With BillSmart!
We hope that these tips will be helpful for you in your journey to save money on your cable bill.
If you're looking to maximize your savings on your cable bill, sign up for BillSmart
We save our clients $352 on average and our negotiations are free if we don't save you money.
Click the button below to get started.