Xfinity Mobile Plans

In total, there are 6 Xfinity Mobile plans that you can choose from.
The primary difference is whether you have an unlimited or by the gig plan. There are some other features that might be important in determining what the right plan might be for you.
In this article, we'll walk you through all of Xfinity's cell phone plans and features as well as how they stack up against the competition big and small.
Want to save money on your Xfinity and other bills?
Sign up for BillSmart by clicking the button below.
We save our clients $352 on average and our negotiations are free if we don't save you money.
Xfinity Cell Phone Plans
While Xfinity offers some excellent by-the-gig plans, most potential customers will check out their unlimited plans first.
There's 3 tiers of Xfinity cell phone plans – Unlimited Intro, Plus, and Premium.
Plans start as low as $45 a month and there's a $10 price difference between each plan. For additional lines, it's $30 extra a line for intro, $40 for plus, and $50 for premium.
Between the different plans, there's only 3 features that account for the price differences.
They are how much high-speed data you have, how much hotspot you have, and at what quality you can watch video on your data plan.
For instance, the Unlimited Intro only has 20 GB of high-speed data while the Unlimited Premium has 50 GB of data.
After that, your interest speed may be capped if Xfinity runs out of bandwidth to serve customers in your area.
Check out our pricing comparison and feature chart below.
Xfinity Mobile Vs AT&T & Other Telecoms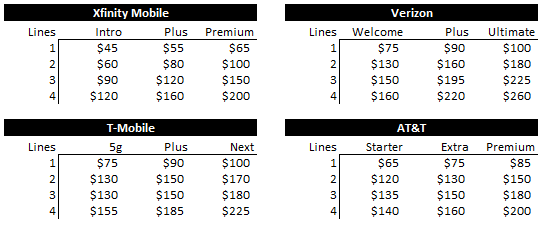 Xfinity Mobile is priced to be much cheaper for customers than the big cell phone companies you know like AT&T, Verizon, and T-Mobile.
You'll save the most money by switching to Xfinity mobile if you only have 1-2 lines especially if you're on Verizon.
The only time when you won't lower your monthly bill is if you have 4 lines and are switching from an AT&T Extra or Premium Plan.
Xfinity has priced their plans lower because they want you to take up as many services with them as possible – internet, TV, and phone.
They think you're more likely to stay with them if you have multiple services.
That's why if you leave Xfinity, your Xfinity mobile bill goes up $30 a month, reducing the amount you'll save by switching.
There's a lot of plans so check out our summary of plans and lines by cell provider to see if switching to Xfinity Mobile is right for you.
Xfinity Phone Plans By The Gig
Xfinity also offers phone plans by the gig.
Your 3 options are the 1 GB, 3 GB, and 10 GB plans for $15, $30, and $60.
You can have as many people on your lines as you want.
It's hard to share 1 GB with 10 people for a month, but if you're always going to be on wifi anyway, it might be a good choice for you.
The big cell phone companies have deemphasized their per gig plans, but Xfinity is happy to offer these plans to you.
AT&T and Verizon price their per gig plans at $50 a month and $45 a month for a single line.
You'll get 15 gigs with a Verizon plan and 4 gigs with an AT&T plan.
Overall Xfinity Mobile offers cheaper per gig plans.
Phone Deals For Xfinity
One of the most important things you should be looking at in terms of choosing a cell phone company is what discounts they give you on your phone and how much trade-in value they offer.
For Xfinity Mobile, their biggest phone discount is a buy one get one free offer.
There's a lot of fine print. The discount is only for 12 months and can't exceed $30 a month.
Besides this offer, they're not offering any discounts on iPhones.
They have discounts on Pixel, Samsung, and Motorola phones.
You can get up to $500 off a Samsung Galaxy phone, a Moto G phone for free, and $00 off the Pixel 8 Pro phone.
Let's talk more about how this compares against competitors and about trade-in values.
Trade-In Values For Xfinity Mobile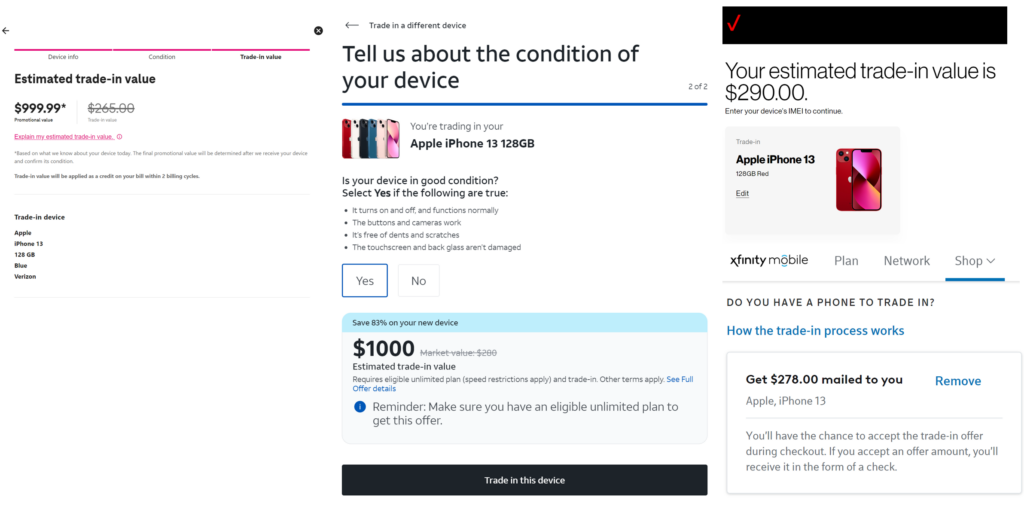 If you just look at what you're paying for your phone, T-Mobile and Verizon have better phone deals than Xfinity Mobile.
All the cell phone companies are currently advertising that you can get up to $830 off an iPhone if you trade in a phone and sign up for a new plan.
Xfinity Mobile is only offering a $30 a month yearly discount which comes out to $360.
One of the challenges though is that you only get the highest tier of discount if you sign up for their premium plans which are usually $25 more expensive a month.
Another example of the fine print phone companies use is that your discounts will show up on your bill over 2-3 years and if you leave your service, you'll need to pay your phone in full.
Xfinity Phone Trade-In Values
Xfinity Mobile will offer you market-rate deals when you trade in your old phone or iPhone but isn't going to give you a bigger discount.
When we ran the numbers for an iPhone 13, the trade-in value was $278 with Xfinity Mobile and $290 with Verizon.
Where the numbers went bonkers was with T-Mobile and AT&T who were offering $1,000 of value if you traded in an iPhone 13.
They're offering these deals because the $1,000 will be sent as a credit over 24 months and they hope that makes you stay with them longer.
You might also have to add some new lines or upgrade to a more expensive plan to activate the deal.
Lower Your Xfinity Bill With BillSmart!
It's nice that there's a bunch of Xfinity Mobile cell phone plans that can save you money but that's not an excuse to charge you for the other parts of your service.
It is pretty crazy to me that every year they can increase their price and add fees while you get the same or worse content and internet speed.
Stop overpaying on your Xfinity bill with BillSmart.
We save our clients $352 on average and our negotiations are free if we don't save you money.
Click the button below to get started.