How To Lower Your Comcast Bill
If you don't put the work in to lower your Comcast bill, you'll end up paying double what you first started paying after a year or two.
It's sad but there's a reason why Comcast is one of the most hated companies in America.
That's why we created BillSmart. We're a bill negotiation service that can lower your Comcast bill and save you money.
We save our clients $352 on average and have saved our clients $1.5mm+ date so far.
Join our movement by clicking the button below and signing up.
Average Xfinity Savings
Based off our Comcast bill negotiation dataset, the average Xfinity savings is $26.44 a month.
That represents a 17% reduction of the monthly bills of our clients.
Monthly discounts can vary widely from $5 a month to $76.67 a month. The possible savings for your account really depends on what service you have as well as what promotions are available with Comcast when you negotiate.
Most of the Xfinity savings we got were for 12 months. An interesting trend that we noticed is that Xfinity has been giving fewer lifetime discounts compared to when we first started collecting savings data.
It seems like they're following the lead of Spectrum which primarily gives annual promotions that roll off to higher rates.
How To Reduce Your Comcast Bill
The easiest way to reduce your Comcast bill is to switch your plan to Comcast's current monthly special. If that doesn't work, change your plan to a lower tier plan that matches your current usage.
Comcast needs to respond to competitors who offer the same service for less money.
They don't have to put existing customers who are on more expensive plans on these better, newer plans.
You'll need to do that yourself. Unfortunately, Xfinity doesn't make it easy.
To make a change, you'll need to talk to Xfinity customer support. You can either chat with them on the Xfinity website or call them.
Make sure to do your research before you call. Check what features you have on your plan vs what you can get today.
It's very likely you get mailers from other cable companies. Open some recent ones and use those advertised prices as a reference point as you work to lower your Xfinity bill.
Comcast Bill Negotiations
Once you reach a representative, tell them that you're looking to lower your Comcast bill to save money. It's a common question that they'll get to work for you.
Usually, they'll look through their system to see if there are any promotions available for your account.
They'll try to avoid giving you the discounts that you see on the website by saying you're not a new customer. Existing Xfinity customers can get deals if they make Comcast realize that they're about to lose a customer.
You can get around this. Say you've gotten promotion offers from other cable companies and you're thinking of leaving Comcast.
Once you have their full list of promotions currently available, decide whether you want to take the offer or not.
You can save even more if you're willing to downgrade your plan to fix your plan usage.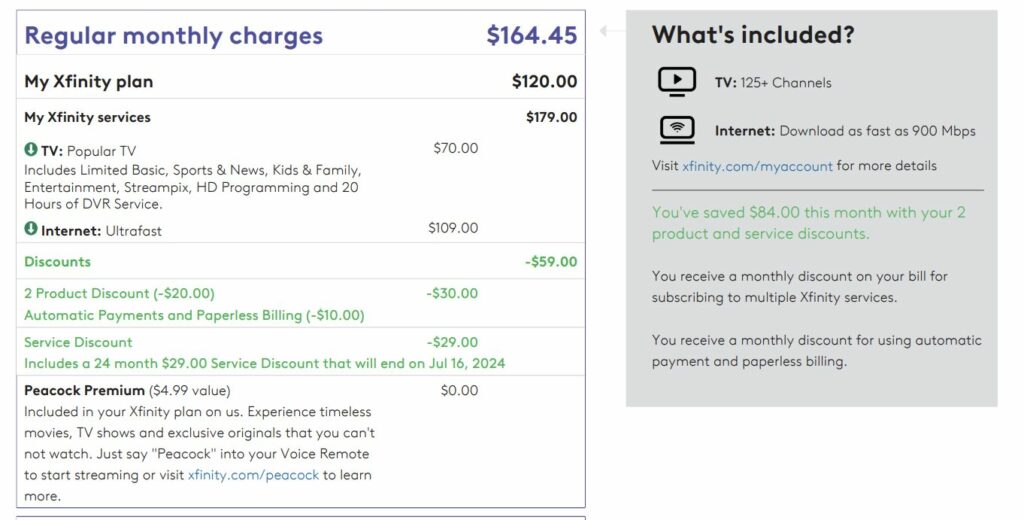 Saving On Comcast
One of the biggest buckets of savings is checking what you're paying for in terms of internet speeds vs what you actually use.
We've found that many customers are on internet speeds that their modem or router doesn't even support.
In these cases, you can downgrade your plan and save money without giving anything up. Another quirk that most Xfinity customers don't know is that sometimes your internet plan speed gets upgraded.
When that happens, you can switch back to the plan you originally wanted and save some money.
There are also good ways to save on your cable tv if you look compare channel lineups.
Comcast has to fight with cable network companies like Discovery and Disney every couple of months. It's to decide how much of the money Xfinity collects from you goes to them vs these channels.
The plan lineups you signed up for might have changed because of some of these affiliate contract negotiations.
If that's the case, you might be able to save money by moving to a plan that has most of the channels that you need vs what you have right now.
Decide whether having IFC is worth paying $30 a month. It might be Portlandia is a must-have for you.
How To Get A Lower Comcast Internet Bill
The best way to get a lower Comcast Internet is to get a loyalty discount from the Xfinity loyalty department.
While it's easy to lower your Xfinity bill by switching or downgrading your plan, it's possible to get even deeper discounts from Comcast without changing your plan if you know what to say.
The important thing is to change your customer designation with Comcast. The thing Xfinity hates the most is customers going to competitors and their subscriber numbers showing quarterly declines.
If you start going through the cancellation process, you'll be surprised what great deals come out to get you to stay put.
One example is unique one-time credits for military members. We wrote a guide to those.
Other Negotiation Tips
To maximize these deals, it's important to call vs chat online on the website.
Call agents have a greater level of permission to lower your bill. It's also important to get to the Comcast retention team either by calling them directly or asking to be transferred there.
You can call the Xfinity loyalty department at (800) 266-2278.
Once you're there, it's important to start as you usually would trying to lower your bill. Ask if there are ways you can save money.
This will give you a benchmark in terms of what Xfinity is willing to offer and unlock further deeper discounts.
After you get close to getting their best and final discount on your bill, it's time to tell them that you're thinking of canceling Xfinity.
They'll start the process and somehow additional discounts will become available.
If you're truly trying to maximize the discounts that you can get – consider asking to speak to a manager on the Retention team.
These people have the greatest authority to lower your Comcast bill. By doing this, you can get $10-$20 more monthly savings rather than just following the easier path of asking a rep and hoping they have a discount available for you.

Special Comcast Deals
There are also Comcast specific and cable/phone strategies you can use to save money.
Comcast is willing to offer you some discounts to sign up for a contract with them. It's usually between $10 and $20 for 12-24 months.
This can be free money if you're planning on staying in the same place for a while and you're not too unhappy with your Xfinity service.
You'll need to pay an early termination fee of $180 if you leave before your contract term is up.
This ETF goes down every month on a pro-rated basis. We've found you can usually get it waived if you can provide proof that you're moving to an area where Xfinity doesn't provide service.
Comcast is also generous about giving one-time credits. Whenever you call or chat with them, always ask if there's anything they can do to help you with the next bill.
They'll usually give you a $50 one-time credits that will apply to your next bill although it's sometimes $10 to $20 on the lower end.
You can also get Comcast fees waived if you were late for a payment or had to pay a fee for tech support.
Comcast ACP Program
It's not Comcast specific but another way to lower your Xfinity bill every month is signing up for the ACP.
The Affordable Connectivity Program (ACP) is a government program to provide subsidies for lower-income Americans to have better access to phone and internet service.
If you're eligible, the government will pay Comcast or whatever service provider you choose $30 a month.
You only need to meet one of the criteria to be eligible. Examples include being on food stamps, having an income 200% below the poverty line, and your kids getting free lunches at school.
This program is funded with $14bn and won't last forever. Previously, it was called the Emergency Broadband Benefit Program (EBB) and the discount was $50 a month.
You can only use this program for one service so decide if you want to use it for Comcast or your phone bill.
Lower Your Comcast Bill With BillSmart!
Sometimes it seems like it's a never-ending battle to lower your Comcast bill. Every year there's more charges and higher monthly rates.
Get a champion who will keep Xfinity honest and your Comcast bill low.
Sign up to BillSmart by clicking the button below to save up to 30% on your Comcast bill.
Our negotiations are free if we don't save you money.