Xfinity Mobile Vs Verizon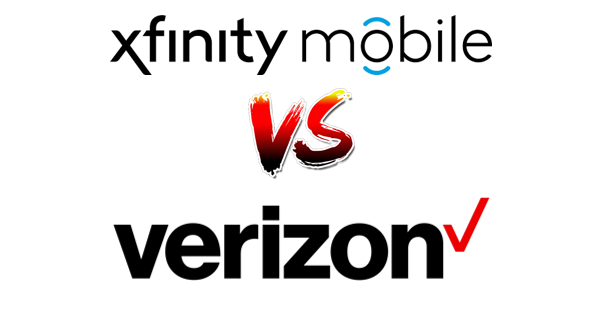 In this article, we'll walk you through the differences between Xfinity Mobile vs Verizon.
Once you're done reading, you'll know what the price differences are between their different plans as well as any important features that you might have to give up.
Tired of overpaying on your phone/cable bills?
Sign up to BillSmart to save up to 30% on your bill.
Click the button below to get started.
Xfinity/Verizon Plan Prices
Xfinity Mobile is significantly cheaper than Verizon.
The discounts range by plan from $30 to $80 a month and can lower your bill between 23% to 54%.
You'll save the most if you have a Verizon Plus or Ultimate two-line plan.
The discount will be $80 a month and will lower your bill 44-50% monthly if you move to the Xfinity Plus or Premium plan.
An important factor to note is that you need to be an existing customer of Xfinity's internet or TV service to get these kinds of deals on Xfinity Mobile.
If you're not and if you leave Xfinity, your Xfinity Mobile bill will be $25 higher a month.
Here's a price comparison chart of Xfinity Mobile and Verizon plans.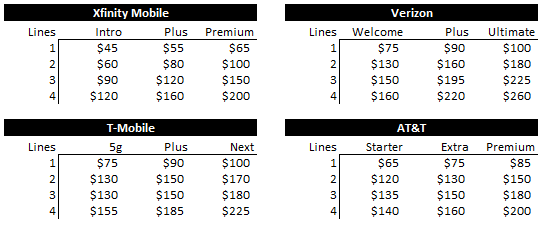 Major Feature Differences
While Xfinity Mobile and Verizon have similar unlimited plans, there's some important features that are different between the services.
The most important feature is high-speed/premium data.
Xfinity Mobile notes that for their plans, you'll only have 20-50 GB of premium data per line a month.
Afterwards, you might experience reduced speeds especially if there's congestion in your area.
Verizon claims to offer unlimited premium data at least for their Unlimited Plus and Ultimate plans as well as 5G Ultra Wideband.
The other important difference is what and how much hotspots you're allowed with both services.
Xfinity Mobile has hotspots for all their plans but Verizon doesn't offer a hotspot for their Unlimited Welcome Plan.
Verizon offers 10 GB more hot spot a month for their Unlimited Ultimate Plan.
Xfinity By The Gig vs Verizon 15 Gig
Verizon only has one by the gig plan, the 15 gig plan while Xfinity Mobile has 3 options.
They are plans for 1 gig, 3 gigs, and 10 gigs.
The Verizon 15 gig plan starts at $35 a month for a single line and is $180 for 4 lines.
That compares against Xfinity Mobile's by the gig plans that are a flat $15, $30, and $60 a month no matter how many lines you have.
They don't have a lot of data but if you don't use much, they're a much better deal than the Verizon 15 gig plan.
Verizon in general is trying to hide their plans by putting it in a different section of their website.
Verizon Mobile Vs Verizon Phone Deal Comparison
One of the most important factors to choosing your phone plan is what kind of discounts your cell phone company will give you.
For Xfinity Mobile, it's pretty simple. They're giving out a $500 discount for the most popular cell phone brands like Apple, Samsung, and Google.
There's no special or extra discount for different cell phone manufacturers. There's also a one year buy one get one free discount if you add multiple lines that will lower you bill $30 a month.
Verizon has better promotions although you'll need to trade in a phone and sign up for their more expensive plans.
You can pretty get any phone you want as long as you sign up for the Unlimited Infinite Plan. This offer applies to both new and existing customers.
The issue is that you'll pay $15-$40 a line on the Verizon Unlimited Infinite plan. You'll need to decide if it's better for you.
Trade-In Comparison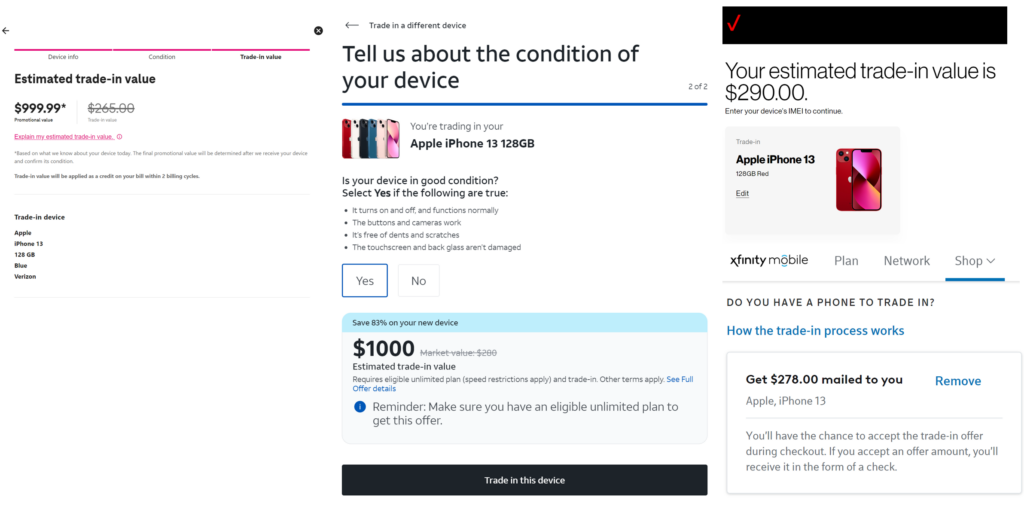 Currently, Verizon and Xfinity have similar trade in deals for old phones.
When we ran the numbers, Verizon was offering $290 for an iPhone 13 while Xfinity will give you $235.
T-Mobile and AT&T are offering much more generous trade in values for phones to get more customers.
They'll give you ~$1,000 of credit for new lines.  This offer is usually for the higher prices plans so you'll need to look at the total you'll pay to see what will save you the most money.
Lower Your Xfinity Bill With BillSmart!
These are the major differences of Verizon vs Xfinity Mobile.
Xfinity Mobile is a lot cheaper, but you need to stay with Xfinity to keep your discount.
They won't have the latest and most cutting-edge technology because they're a reseller and cell phone plans aren't their core business.
Want to save money on your phone/cable bills?
Sign up for BillSmart by clicking the button below.
We save our clients $352 on average and our negotiations are free if we don't save you money.