ATT Senior Plan Overview
ATT has a plan for senior members of society that can save them up to $75 a month. In this guide, we'll walk you through all the promotions AT&T offers to people 50+ and what strategies to maximize your savings.
We're well equipped to help you because we helped thousands of our customers save $352 on average on AT&T and other phone/cable bills.
The senior plans AT&T has aren't bad but there's ways to save even more that you can get if you're good at negotiating your bill.
If you'd like to join the clients saving $1.5mm+ to date with BillSmart, sign up by clicking the button below.
Our negotiations are free if we don't save you money and we treat your bills as our own.
ATT Wireless Senior Plan Options
ATT has two special plans for seniors – the AT&T Signature Program and the AT&T Unlimited 55+ Plan.
With the ATT Signature Program, you'll save $10 per line per month on up to 5 phones. For the sixth to the tenth phone line, the discount will be $5 per month. You need to be a card-carrying member of AARP to be eligible for this discount.
You'll also get waived activation and upgrade fees if you're changing your phone and 15% off accessories.
The $10 a month discount with the signature program is nice. However, you can save even more ($15 a month) by switching from an Unlimited Premium Plan to an Unlimited Starter Plan.
The main difference between the starter and premium plan is having 3gb hotspot per line vs 50gb hotspot per line.
In our experience, we've found that seniors often don't use or even know that they have these features.
It's also possible to negotiate or have someone negotiate your bill for loyalty discounts that can get your monthly plan rate down even further.
How ATT Unlimited 55+ Plan Works
The ATT Unlimited 55+ plan is only for residents of Florida.
The benefit of getting the ATT Unlimited 55+ plan is that you can get a single-line plan for $60 or 2 lines for $80.
AT&T will slow your data speeds if the network is busy though. The most comparable plan is the Unlimited Starter Plan for $65 for a single line and $120 for 2 lines.
Basically, this plan is best if you have two lines and want to save a lot of money on AT&T.
You can also decide to sign up for the Signature program instead of the 55+ plan if you're in Florida.
Signature Program perks can stack – you won't get $10 off per line but you can apply your AARP discount when you're in Florida to save on activation fees.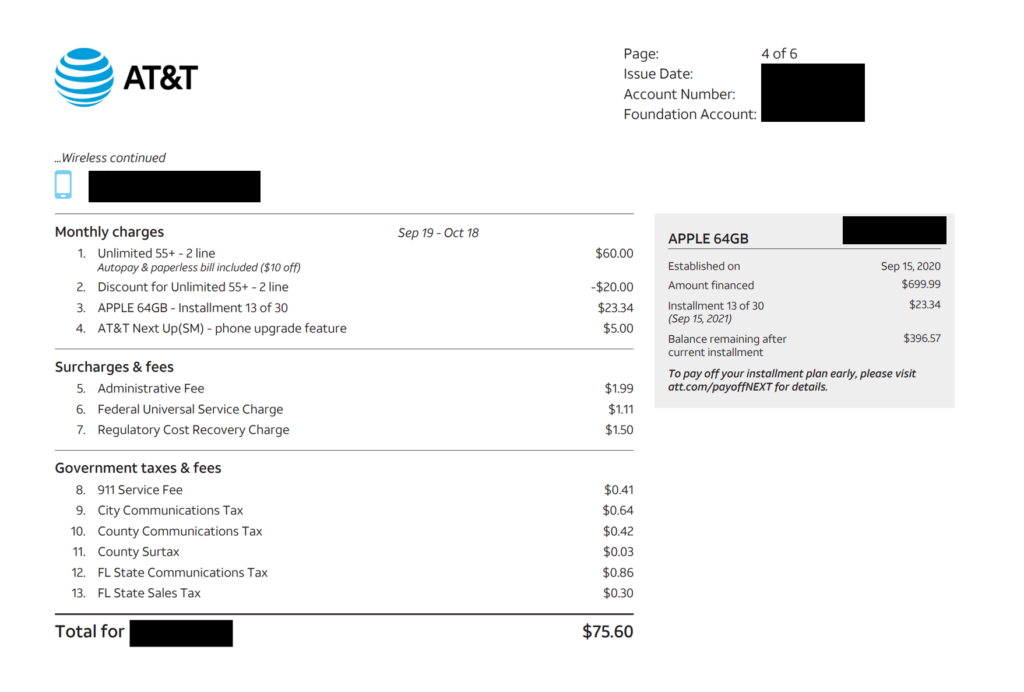 Plan Eligibility Requirements
There are different eligibility requirements for the Signature program and the 55+ plan.
With the AT&T Signature Plan, you'll need to be over the age of 50 while for the 55+ plan, you'll need to be over 55.
You can't sign up for the Signature plan unless you're a member of the AARP. Only people in Florida are eligible for the 55+ plan.
The 55+ plan only works if you have 1 or 2 lines in your account. You can only combine your AARP discount for waived activation fees – you can't stack it with a military or first responder discount.
Finally, you need to be the account holder to sign up for these deals as an existing customer and not simply be on the account.
How To Apply For These Plans
There's two ways on the website to get the ATT signature savings but that's really 3 days to get it applied to your account.
What they say on the website is that you can enroll online or get set up in the store.
Enrolling online is very easy. You just need your email and street address and you'll show up. It's a lot easier than getting a military discount applied which usually involves signing up for ID.me.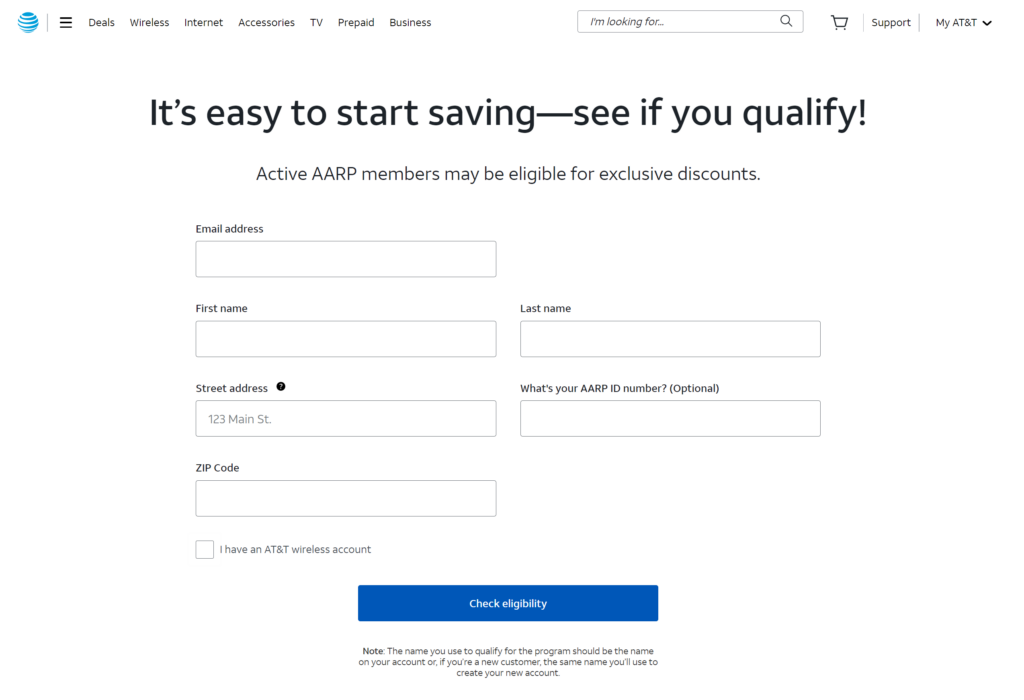 You can also go to an AT&T store or a 3rd party AT&T store. You'll need to show your AARP membership card and they say that you need to mention code 6039461.
They know what the discount is – you really don't need to remember those numbers.
The third and secret way is calling ATT customer support and asking them to apply the discount for you. It will be similar to applying online but if you have problems getting enrolled in the form, the customer support agent can help you more and you won't need to go to a store.
The only way to get the ATT Unlimited 55+ is to go to a store. All you need to do is show that you're over 55 and you live in Florida.
If your ID is from a different state, bring in a utility bill to show that you live in the State to get this plan or to switch to this plan.
Unfortunately, you can't activate AT&T Unlimited 55+ online.
ATT Internet Senior Discount Options
ATT Internet doesn't have a discount for seniors but markets its low-income programs as plans seniors may be eligible for.
Many seniors will be eligible for these plans but my feelings are mixed in terms of how they've positioned it.
The major two programs are the Access from AT&T and Affordable Connectivity Program (ACP).
ACP is a government program that is available for all phone and internet companies. The government will subsidize your service for $30 a month if you meet the criteria.
The main criteria that some seniors might qualify for is income at or below the federal poverty guidelines, having supplemental security income, lifeline, and getting veteran pension or widow benefits.
The other option is Access from AT&T. It's a plan for lower-income Americans and if you are eligible for the ACP, you're likely to be eligible for Access as well.
For Acess, the monthly plans are $30 vs $55 for most ATT internet plans. By combining both plans together, you can end up getting your internet completely free.
Lower Your AT&T Bill With BillSmart!
Another thing to note about the ATT senior plan is that sometimes it takes 2 billing cycles for the savings to apply. That will be time when you'd be paying the old higher rates.
What this guide has shown is that ATT has decent plans for seniors, but depending on your usage, there are better ways to save.
We're glad that AARP fought to give seniors great discounts with AT&T but if you want to pay the least you need to on your AT&T bill, you need to get on the plan that best fits your needs and negotiate well.
Let us help you save on AT&T. We can save you up to 30% on your ATT bill.
Click the button below to get started.