AT&T Deals For Existing Customers
AT&T has several deals for existing customers but many of the best deals are not widely advertised.
Many times, there are terms and conditions you need to carefully consider before getting the discount applied.
At BillSmart, we've negotiated thousands of AT&T and other phone bills. We know the best tactics to use to maximize the savings you can get as an existing customer.
In our experience, existing ATT customers can save $35.07 a month on average if they follow our processes to get the lowest rate.
You can try to negotiate your own or you can have the experts take care of your AT&T for you.
At BillSmart, our negotiations are free if you don't save money. We save our clients $352 on average.
Get started by clicking the button below.
AT&T Promotions For Existing Customers
There are 3 main ways to get promotions from AT&T as an existing customer. Based on our data, if you check your eligibility and apply these promotions, you can save $35.07 a month and 19.2% on your monthly ATT bill.
The easiest promotion to apply is upgrading your plan if you're on an older AT&T plan and there are newer plans that have the same or better features at a lower price.
AT&T's current plan lineup is the following: AT&T Unlimited Premium, Unlimited Extra, Unlimited Starter, Value Plus, and 4GB plan.
The most notable offenders are the now retired Unlimited Elite and Unlimited Yourway plans. These plans are no longer available because ATT launched new cheaper plans to get more customers from Verizon and T-Mobile.
If you switch from these plans to their current alternatives, you can save $5-$15 per line. To do this, just call or chat with AT&T customer support.
ATT also allows you to mix and match plans if you have multiple lines. This can be a great way to save if you have some family members who rarely use their phones and others who use their mobile hotspots heavily.
You can apply this promotion by switching the plan for each line on your online account or talking to a customer support representative. We recommend talking to a representative even if it takes more time because you can get greater savings.
There's decent savings here too. If you switch from the premium to ATT's starter plan, you can save $10 a line a month, although the most common discount is $5 a month.
Other Existing Customer ATT Deals
Another great promotion available for existing customers of ATT is lowering what you pay for insurance every month.
That iPhone that you bought last year is likely only worth 50% of what you paid for it. However, the amount that you're paying for insurance remains the same.
The insurance company, which is usually Asurion, is making a bet of how quickly and how many people who opt into insurance lose or break their phones.
They win when customers don't price compare. If you talk to AT&T, they're happy to put you on their own insurance plan which is typically 50% cheaper.
Besides switching your insurance after you've had your phone a couple of months, it's important to check to see if you can benefit from switching to plan phone insurance from individual line insurance.
If you have 3 phones, it's much cheaper to insure with plan phone insurance rather than paying by line.
Finally, if you're willing to downgrade your plan a bit, you can lower what you pay AT&T every month by a lot.
The main difference between AT&T's Unlimited Premium Plan and Unlimited Starter Plan is mainly the mobile hotspot.
Depending on how many lines you have, you're paying up to $60 a month for 50GB of hotspot vs 3GB and unlimited talk and text for some countries in Latin America.
If you don't use your phone a lot, consider going to the AT&T Value Plus or 4GB plan.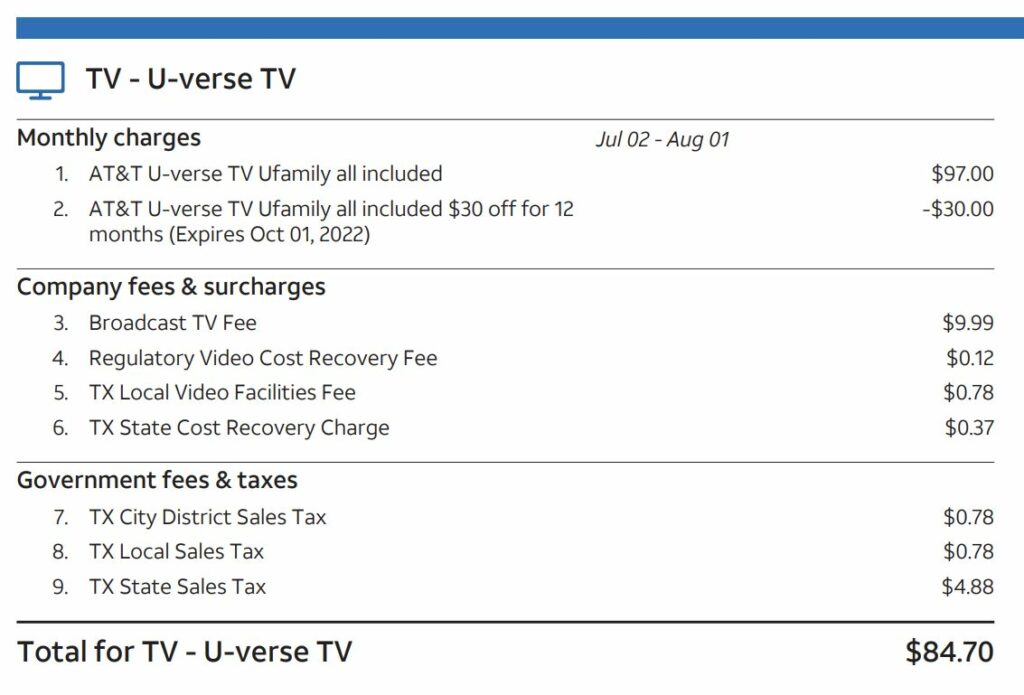 Uverse Deals For Existing Customers
Existing customers of ATT Internet or Uverse can get a deal that can save them $30-$50 if they're able to get ATT to apply a promotion.
One of the challenges of getting a uverse promotion is that consumers can't see what deals are available in their area.
Like most cable companies, Uverse keeps its pricing opaque to maximize revenue. However, if you follow the steps below, you'll be able to get the best deal on AT&T available in your area.
To get the best deal on ATT Internet, you're going to need to call customer service. The best number to call is (800) 288-2020.
You can start by asking if there are any ways that you can lower your ATT internet bill.
It's their job to help you so they'll try to find you a deal. Generally, they can find you one but there are a number of things you can do to increase your savings.
The first is to get them to extend the savings from 1 year to 2 years. Most initial offers will only be for 1 year but they're okay giving you a 2-year discount because that implies that you'll continue to be a customer going forward.
The second is getting a bigger discount. While you can ask the agent your currently talking to, you'll have better luck talking to the AT&T loyalty department.
You can get there by saying that the discount isn't enough and you want to start the cancellation process.
This can trigger another discount but more likely you'll be sent to the loyalty department.
Once you become a customer who is thinking of leaving and no longer paying Uverse, bigger discounts start to open up. This is what takes your discount from $20 a month to $50 a month.
AT&T iPhone Deals For Existing Customers
Right now, AT&T has deals for existing customers where you can get $700 of bill credits on an iPhone 13 Pro.
This promotion is available to both new and existing customers. Lily wasn't lying in all those commercials about current customers getting the same deals.
However, there are some terms and conditions you need to take into account before deciding if this is the right deal for you.
To get this deal, you need to buy the iPhone from AT&T and provide a qualifying phone trade-in.
Your trade-in needs to have at least $95 of trade-in value. If it doesn't, the $700 of bill credits gets knocked down to $350.
Basically, if your phone isn't broken and is less than 5 years old, you'll be okay. Some kid in Indonesia can enjoy your iPhone 7.
Please note that you're not going to get the $700 upfront. It's going to be in monthly bill credits spread across 3 years (so ~$19 a month).
There's going to be a $30 activation fee that you can't immediately get out of, and you'll need to pay the sales tax on the phone upfront.
You have to wait 3 months before you see the discount at all. After the 3-month mark, the credits for the past 3 months will be released.
If you ever cancel your AT&T service, you'll lose your monthly discount and have to pay the remainder for your phone balance, but you won't have to give the discounts that you got back.
Verizon and T-Mobile offer similar discount amounts but only for new customers. This promotion has been successful for AT&T because it's convinced a lot of customers to stay with them to get the cheapest iPhone price in the market.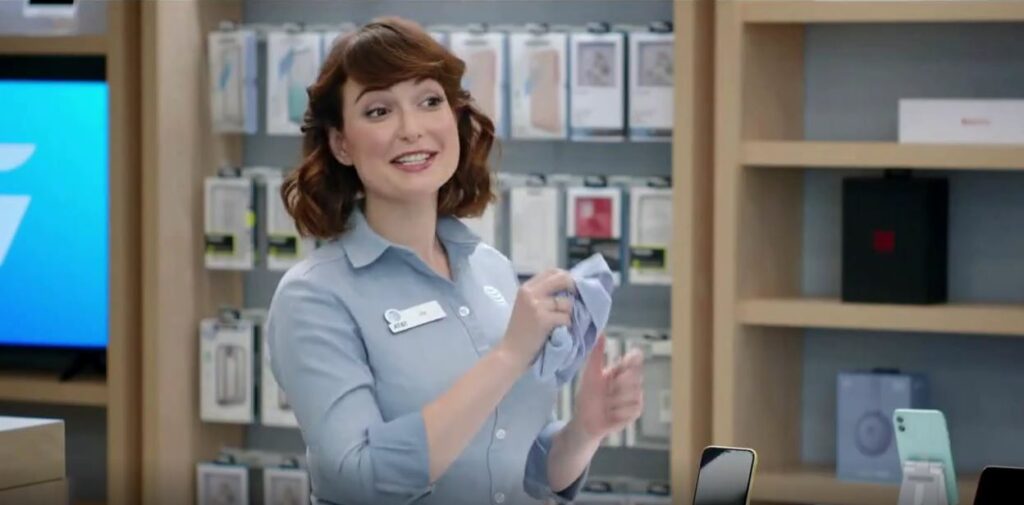 AT&T Phone Deals For Existing Customers
AT&T has deeper phone deals for Android users rather than iPhone customers.
You can get $800 off a Samsung phone vs $700 max on an iPhone 13 Pro.
There's also lower trade-in requirements to get this discount. You can trade in any Galaxy phone from any year or any condition.
AT&T just wants you to buy a phone with them and have you and your family be somewhat more likely to stay with them rather than changing to a different carrier.
Other discounts include $315 for an iPhone 12 mini. They trumpet it as getting 50% off the iPhone.
One nice thing about this promotion is that you don't need a trade-in for this deal.
And all these promotions are available to existing customers as well which is quite nice.
Lower Your AT&T Bill With BillSmart!
We hope by following our advice you got a much cheaper iPhone and a much lower monthly bill.
Unsure if you got all the discounts you were eligible for?
Wonder no more by signing up to BillSmart.
We've saved our clients $1.5mm+ to date and we can save you up to 30% on your monthly AT&T bill.
Click the button below to get started.