How To Lower Your AT&T Bill
by Allison Cruz | Updated 9/2/22
We all could use a lower ATT bill. Along with rent and car payments, phone/cable bills are some of the biggest monthly expenses in Americans monthly budgets.
At BillSmart, our bill negotiators have lowered thousands of ATT bills saving our users over $1.5mm+ to date. Below we'll tell you some of the secrets that we've learned on how to lower your ATT bill.
Just want us to do it for you? Just click the button below to get started.
Steps to lower your ATT bill
Get your latest statement and do some research
Call AT&T: (800) 288-2020
Access your account by providing your pin
Remove features on your plan that you're not using
Negotiate a lower rate for your bill
Request one time credits
Get a reference number
Pre-Negotiation Preparation
Have the latest statement out. An example of a typical statement is below. Be prepared with your pin (usually 4 digits). Call ATT at (800) 288-2020.
If you're on the fence and are prepared to cancel your plan, you can call their loyalty department at (877) 844-5584. Hold times recently have been about 30 minutes. The best time to call is around 10 am Eastern Time.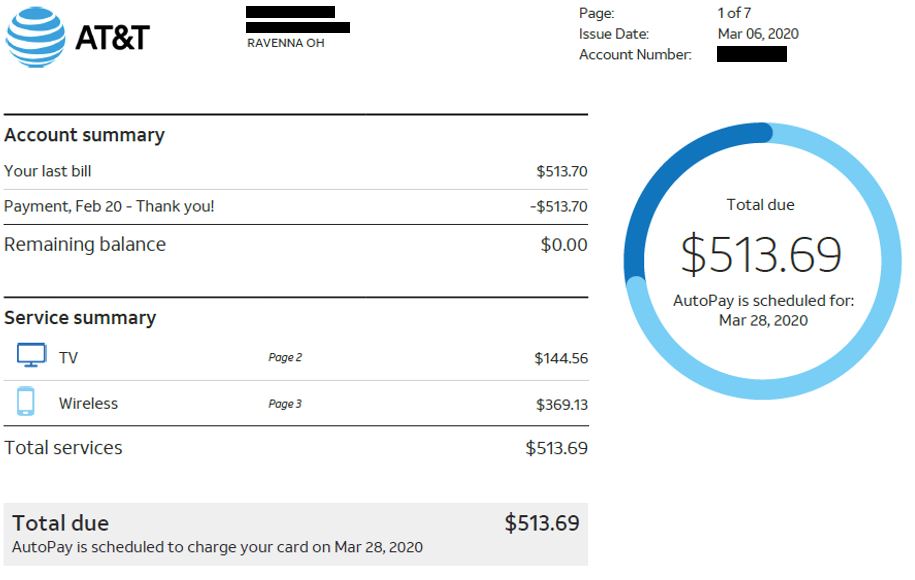 If you're looking for ways to lower your ATT Uverse bill, we wrote a guide about specific things to lower your Uverse bill here.
We also have good resources on saving on Verizon and lowering Tmobile bills as well.
Ways To Decrease AT&T Bills
The best and easiest way to lower your ATT bill is to make sure that you have the right plan for your needs.
AT&T and other service providers change their plan offerings and pricing so if you signed up years ago you could be paying hundreds of dollars a year on features you don't know you have and you don't want.
AT&T breaks up their plans into Unlimited Plans and Mobile Share plans. Unlimited plans are not truly unlimited as you'll be throttled once you hit go over certain bandwidth caps or if there is congestion around your area in the network.
In the case you go over your data usage for mobile share plans, you won't be charged per gig but instead your data will be capped at 128 Kbps.
AT&T's cheapest plan is the Mobile Share Plus 3GB plan which is $50 for a single line and $120 for four lines.
The cheapest wireless plan is Unlimited Starter which is $65 for a single line and $140 for four lines. You can compare the features of the various plans here.
The most common mistake we've seen people make is overpaying for hotspots. An unlimited hotspot can add $15 to your account every month so downgrading your hotspot to one that has 15 gigs a month before being throttled can save you a significant amount of money.
If you don't know how much you or the other people on your plan have been using, you can ask the representative and they'll provide you with hotspot usage over the last 3 months.
Another great opportunity to lower your ATT bill is to see if you're paying insurance for your phones.
Many times you could have insurance from a cell phone you bought years ago and are overpaying based on the current replacement value of the phone. You can even get a refund on the insurance that you've paid in the past.
Check to see what premium channels you have. If you don't watch these channels, cancel them and save money. Even if you decide to keep them you should try to get them free for a while – we often find you can get between three to six months free.
Premium channels include HBO, Starz, and Epix. You should also check if you can get a cheaper sports package than the one you currently have like MLB innings.
Enrolling in autopay and paperless billing can save you major dollars. Right now you can save $10 per line if you enroll in autopay and paperless billing.
Other ways to save include seeing if your company has an employee discount program with AT&T or if you're in the military and if your military discount is active. You can check if you're eligible here by putting in your work email.
Once you've made sure that you have the right plan for your needs, we're on the fun part – getting an even lower plan than what's on the website or online as well as getting free money from AT&T.
If you're just trying to pay your AT&T bill, this highlighted article could be helpful. Some useful sites to find better internet include Internet Advisor.
Happy with your current internet bill. Learn how to pay less on ATT internet and other internet bills here.
How to negotiate ATT bills
Say that you're thinking of getting a new plan but you want to stay with AT&T if you can get a better deal. It's better to call in the morning because ATT customer support reps have cancellation save scorecards to hit and they'll be more inclined to help you if you can help them hit their numbers for the day.
Sprint and T-Mobile have cheaper prices compared to AT&T. You can compare prices for Sprint here and T-Mobile here. You could also mention that you're upset with the taxes and fees that AT&T has included to raise prices on their customers.
If you did it right, they should offer you a discount of $5-$20 on your account for the next twelve months. If they didn't offer you any discounts, you can ask for a supervisor or call again another day to get a call center with more lenient customer discount policies.
Ask again if there's a higher discount you can take advantage of. If they don't budge, ask to speak to a supervisor. It'll take more time but supervisors have more leeway to provide bigger discounts to customers.
If that doesn't work, ask to be transferred to the loyalty department. The number for the AT&T loyalty department is (877)999-1085.
Another effective strategy is threatening to cancel. This triggers additional discounts if you're a good customer and you can always back out of canceling.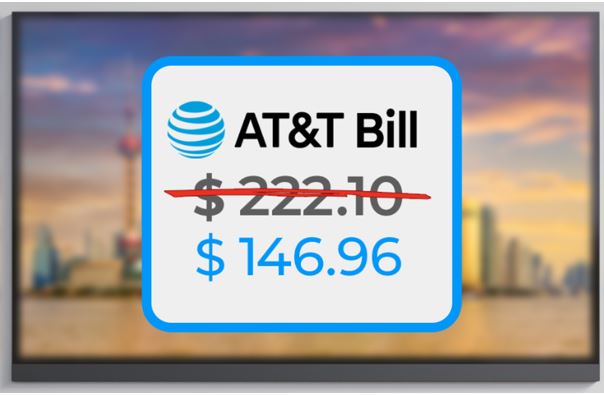 You haven't gotten the full amount of savings from AT&T yet. Ask for a reference code for your savings and when it will take effect. You can get more savings by asking for it to apply immediately which results in a pro-rated credit.
If the savings are not permanent, ask for it to be extended by 50% more than the promotion length first provided. Both these tactics can increase your savings dramatically.
AT&T also provides one-time credits if you ask for them. If you've been with ATT for many years, you can just flat up ask to get a credit on your next statement for being a long-time customer.
Always ask to see if they can increase it 50% from what they offer – they'll just need to check their system to see if the increased amount is approved. Loyalty credits range from $15-$50 depending on your plan.
You could also mention that you've had spotty service over the last couple of months and get credits from that. In the case you've paid late or activation fees in the past, see if you can get those refunded. They will generally refund you if you ask them even if those fees were months in the past.
Lower Your ATT Bill With BillSmart
Fully maximizing your AT&T savings can take a couple of hours and it's better to renegotiate your ATT account every six months or so.
If don't want to spend the time and if you want the experts to handle it, you can sign up at getbillsmart.com.
We do this all day and we know the latest tricks as well as the best time to negotiate your bill when promotions open up. Get started by clicking the link below.
Other Related Articles
https://getbillsmart.com/my-att-login/
https://getbillsmart.com/cancel-att-internet/