ATT Wireless Customer Support
ATT Wireless Customer Service really loves to waste your time. With the number that they tell you to call on your monthly bill, they'll give you offers for insurance and other weird services before you have a hope of talking to a representative.
We wrote this guide so you'll avoid the mistakes most people make on calling the wrong ATT customer service number.
Want to save on your AT&T bill but don't want to waste time with support? Sign up to BillSmart to save up to $354.
Our negotiations are completely free if you don't save money. Click the link below to get started.
ATT Customer Service Number
On AT&T's website and online, they suggest that you call (800) 331-0500. We've found that they waste way too much of your time on useless offers that you couldn't care less about.
AT&T customer care hours are Monday to Friday 7 am to 9 pm Central Time and Saturday to Sunday 8 am to 9 pm Central Time.
In our experience, it takes about 20 minutes to get a representative on the line. Wait times are worse early in the morning when they experience high call volumes.
Calling ATT is great if you want to get them to waive fees or get discounts as an existing customer.
ATT Customer Care Phone Lines
The best number to call for AT&T wireless customer service is (877) 999-1085.
AT&T has a variety of customer service numbers for their different services and support questions.
If you are an existing customer who wants to call AT&T about their wireless service, the best number for you to call is (800) 311-0500. You can also call 611 from your AT&T mobile phone.
The best number for AT&T customer support for international travel is (314) 925-6925. This line is available 24/7 and there are no roaming charges for calling them there to get help getting service in a foreign country.
If you've made a change to your AT&T wireless service and want to check your order status, the best number to call is (877) 782-8870.
For customers with disabilities, you can call AT&T wireless customer support TTY at (866) 241-6567 or by voice at (866) 241-6568. The contact hours for AT&T disability resources are Monday to Friday 9 am-9 pm CT and Saturday to Sunday 10 am-6:45 pm CT.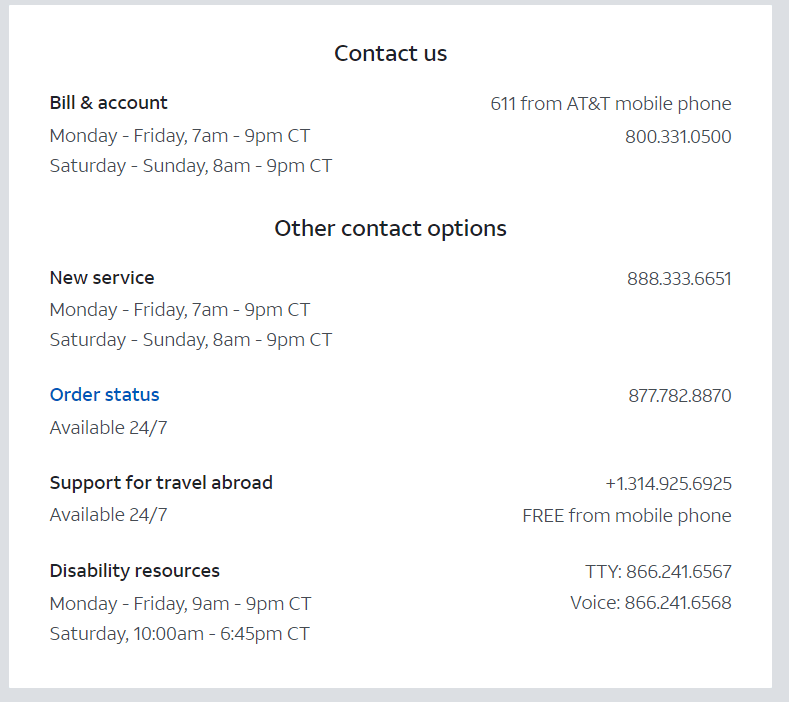 If you're looking to set up a new AT&T wireless account by phone, you can call (888) 333-6651. They're open Monday to Friday from 7 am to 9 pm Central Time and Saturday to Sunday from 8 am to 9 pm Central Time.
Just trying to pay your ATT bill online? You can call in to pay but there are easier options that we've written a tutorial on.
The Best ATT Wireless Customer Service Line
Trying to call AT&T at the phone number (800) 311-0500 that they suggest is kind of a joke. They make you sit through five minutes full of ads for things ranging from Life Insurance for Cats to signing up for Dish.
Then, a robot named Emma will ask you what you're calling about. Say the wrong thing (which is super easy to do) and you'll be sent back to the "special offers" flow.
It's just a lot easier to just call the AT&T loyalty department at (877) 999-1085 if you have a question about your bill.
These are the agents tasked to prevent you from canceling AT&T so they'll get on your issue and fix it quickly rather than try to upsell you on something you don't need so AT&T can increase their quarterly earnings.
If you'd like to learn more about the different ATT loyalty department phone numbers, we have a more detailed guide.
Other Ways To Get ATT Customer Support
Besides calling AT&T, you can also chat with them online.
Just go here and scroll to the bottom of the page.
Initially, you'll be talking to an automated virtual assistant that's kind of useless. However, once you type in the text "talk to an agent" twice, you'll be directed to sign in to your account.
Once you successfully sign in to your account, a representative will enter the chat in a couple of minutes.
We've found that chat representatives are slower to resolve your issues compared to phone representatives.
Chat can be a good option if you want a more asynchronous experience. You can do other things while you wait for your representative to get back to you.
Chat support is available from 7 am to 1 am Eastern Time.
AT&T used to have text messaging support but unfortunately, that was discontinued in 2019.
I don't recommend trying to email AT&T. It's going to go into a black hole that you're unlikely to ever get a reply from.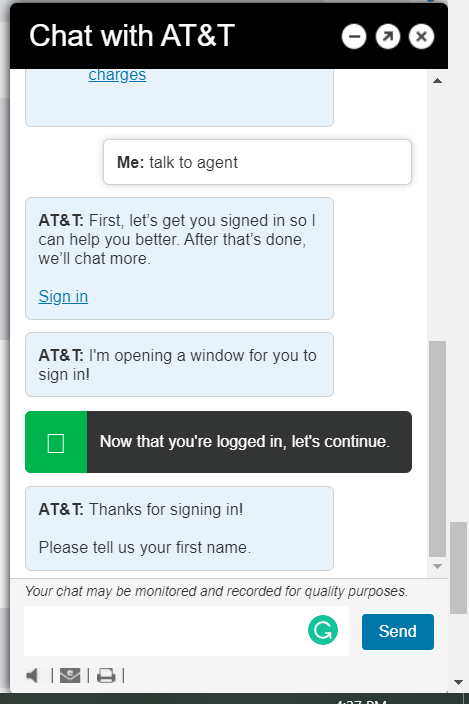 Just want to save on your AT&T bill? We wrote the top tips on how to save on ATT and to save on uverse here.
AT&T Prepaid Customer Service Number
The customer service phone number for ATT prepaid accounts is (800) 901-9878. You can also call 611 on your AT&T mobile phone.
The hours for contacting AT&T prepaid customer support are 7 am to midnight local time.
If you need support out of the country for your ATT prepaid service, you can call customer service at (408) 962-1025. This service is available 24/7 and it's free to call from your mobile phone.
Unfortunately, there are no chat options for ATT prepaid customers. You can try to reach out to them via social media but you're much better off just calling them at (800) 901-9878.
You're less valuable to them as a customer so they provide you worse service.
If your goal is just to lower your ATT bill, here are some tips on how.
Other ATT Support Numbers
AT&T has other services such as internet, TV, home phone, email, and home security.
If you want to talk to AT&T wireless customer support agents, the right general number to call is (800) 311-0500.
For internet, tv, or home phone ATT customer support, you can call (800) 288-2020. I've included a list of lines below.
ATT Internet Phone Customer Support
Billing and Account: (800) 288-2020
Tech Support: (800) 288-2020
New Service: (866) 861-6075
Disability Services (TTY): 866.241.6567
Disability Services (Voice): 866.241.6568
ConnecTech Paid Tech Support: (866) 294-3464
You can also chat with ATT internet and tv customer support representatives online. It's good to call ATT internet to save on your bill.
AT&T sold DirecTV in 2021. They're separating and the right number to call to cut your DirecTV bill is (800) 531-5000. You can't call AT&T anymore to get to DirecTV.
Lower Your ATT Bill With BillSmart
Calling ATT customer support sucks. It's a great way to feel like a number and bunch of money on the screen to a poorly paid call center worker from a 3rd world country.
If you want to avoid this experience but want to save money on your AT&T wireless bill, sign up for BillSmart.
We handle the whole negotiation for you so you don't have to waste your time. Our negotiations are free if you don't save money.
Sign up by clicking the link below.
Other Related Articles
https://getbillsmart.com/my-att-login/
https://getbillsmart.com/cancel-att-internet/