How To Cancel Verizon Fios
You want to cancel your Verizon Fios bill. We're not surprised; we've seen some real horror stories.
As current and former Verizon Fios subscribers, we took what we already knew and did some additional digging to figure out the best way to quickly cancel your Fios bill.
Just want to pay less on your Fios bill?
Sign up for BillSmart. Clients save $354 on average and our success rate is 83%.
Get started by clicking the button below.
Cancelling Fios Online
Unfortunately, you can't cancel your Verizon Fios account online.
On Verizon's cancel Fios page, they clearly suggest that you cancel your service online but that's a lie.
When you log into your Verizon Fios account, it drops you off on a shopping page where you can make upgrades and downgrades to your account, but you can't cancel it outright.
You can't cancel with a chat agent either.
During the course of my research, I asked to cancel my Fios account, and the rep confirmed that you can only cancel by calling Verizon/Fios customer support over the phone at one of their lines like (844) 837-2262.
Call The Verizon Fios Retention Department
The best way to cancel your Verizon Fios service is by calling their retention department at (844) 837-2262.
They are open Monday to Friday 8 am to 6 pm Eastern Time.
You can also call general Verizon/Fios customer support and they can help process your cancellation as well although there's a good chance that you'll be transferred to the retention team.
Things will be slightly easier for you if you call with the same phone number that you have on file with Fios. When you call, they'll know it's you.
Another way to verify your account is to get Verizon to send you a one-time pin.
They can send one to your email or phone number and that will allow you to make changes to your account for a short period of time.

Rebutting Change Of Address Cancellations
Now the battle begins. You're dealing with Verizon's mightiest warriors – the retention team.
They're the best of the best and they're paid hard cold cash for you to keep your Fios account active.
They're very nice and polite and will usually ask you about your day. This is a probing question to analyze your psychology and to understand why you're leaving Fios.
Before you talk to these people, figure out why you're leaving Fios.
If you're moving, the easiest way to get through their cancel saves is to say you're leaving the country for a couple of years.
Most of the time when you say you're moving, they'll ask if you'd like to transfer your service or suspend your account for a while.
Leaving the country for an extended period of time makes them realize they can't do anything for you.
They'll try – we've seen it once when a customer said they were moving to London and they suggested that they sign up with their UK partner BT.
Rebutting Overpriced Product Concerns
The other reason to leave is usually that their pricing and services are not competitive with other providers.
Verizon knows when they're overpriced and non-competitive in the market. If you're looking for a lower Verizon Fios bill, the retention team can help you get heavy discounts.
The loyalty discounts that they should give you should be at least $20. The average discount is around $50 a month.
Their first offer is generally not their best offer. Always ask if they can lower the bill more or transfer you to someone who can.
If they can't reduce the amount further, ask if they can extend the discount from 12 months to 24 months or 24 months to 48 months.
You're the customer and you're in control. If you want to take the offer, you don't need to cancel your Fios service.
They will always let you change your plan back to what it was as long as a ridiculous amount of time hasn't passed.
Verizon Fios Fees
The maximum termination fee for Verizon Fios is $350. The early termination decreases by $15 a month.
Many Verizon Fios plans are month to month that customers do not have to sign one or two-year contracts for. These plans can be canceled at any time without incurring a termination fee.
If you do have a contract with Fios that you need to break, you can generally get them to waive the termination fee if you ask and give them a good reason to process this credit for you.
Reasons that have worked in the past are moving to an area not serviced by Fios or serious health and financial issues.
It's important to get this fee refund before they bill you for it otherwise you'll have to pay it and if they waive it they'll send you a check.
You can also fill out a form to get your termination fee refunded if you're antisocial and don't like to talk to people.
Basically, you'll just need to provide your deactivated Fios account information and proof that you've moved to a new address not serviced by Verizon like a utility bill.
If anyone asks we didn't suggest it but it's pretty easy to edit documents via photoshop.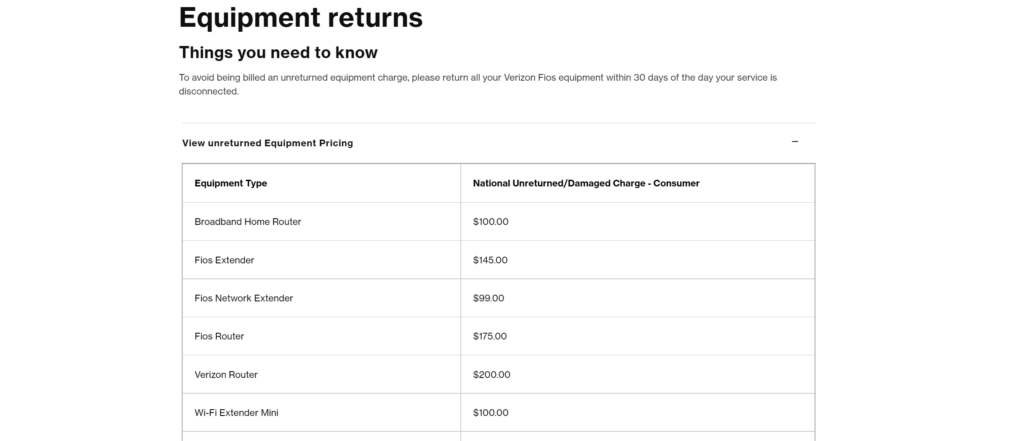 Returning Verizon Fios Equipment
You need to return your Fios equipment within 30 days of connecting your service to avoid getting hit by an unreturned equipment charge.
Verizon equipment can be returned at a Verizon store or at UPS locations. You can also ask them for a prepaid shipping label to send your equipment back to Fios.
Verizon fees are insane. There's a $200 fee for not returning some routers and $375 for the top-of-the-line set-top boxes.
No other service provider charges such high fees for their routers and cable boxes.
It's not like Verizon provides better equipment than other providers. Their equipment shares a lot of the designations as the other standard set-top boxes and routers that other cable companies distribute to customers.
Don't get hit but a $500 charge in addition to a couple of hundred dollar termination fee.
You can check the status of your return at https://www.verizon.com/support/residential/equipment-return. Sign in or put in your order number and zip code.
Lower Your Fios Bill With BillSmart!
We found it pretty disappointing that Verizon had a way to cancel your service online easily but then cruelly took it away.
It was probably hurting their bottom line too much.
You need a champion to stand up to companies like Verizon.
At BillSmart, we've saved tens of thousands of customers $1.5mm+. We can help; just click the button below.