Verizon Deals For Existing Customers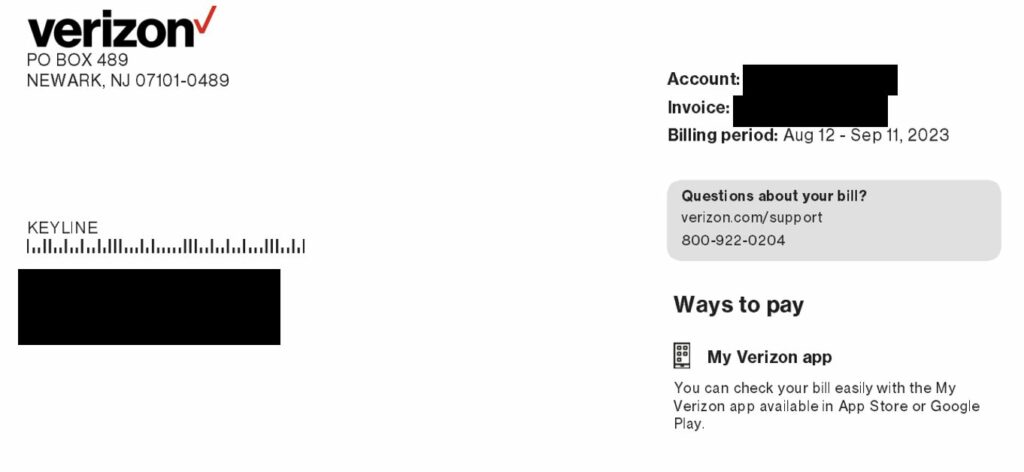 Verizon has deals for existing customers if you know the right buttons to press. These deals could save you $30 a month or even get you a new iPhone for free.
Unfortunately, Verizon doesn't make it easy to get these deals. Some of these deals need to be negotiated or you need to go into the store or read the fine print to get them to push through.
At BillSmart, we've saved our clients $6.1mm+ on Verizon and other phone/cable bills to date.
We know the latest tactics so we wrote this guide so you can put more money in your pocket.
If you want someone to just get the best deals for you, sign up for BillSmart by clicking the button below.
We save our clients up to 30% on their monthly bills and our negotiations are free if we don't save you money.
Verizon Wireless Deals For Existing Customers
There are two main ways to get a deal from Verizon Wireless as an existing customer. We've seen on average that getting these deals can save you ~$29.61 every month.
The best Verizon deal for existing customers is getting a loyalty discount. Loyalty discounts are when Verizon permanently lowers the price of your plan without changing any of the plan benefits.
Verizon provides loyalty discounts to long-time customers who have an excellent payment history.
To get a loyalty discount, you'll need to call Verizon customer support to negotiate the deal. What we've found works best is calling the Verizon retention department and mentioning that you've been a long-time customer.
Saying you're thinking of canceling your account and moving to T-Mobile is the most effective strategy.
Verizon Wireless also has deals for existing customers who are in the military or are nurses, teachers, students, and seniors.
If you're older than 55, you can sign up for the Verizon 55+ plan (this is only in Florida). You can save $40 a month on Verizon Wireless if you have 2 lines by paying $84 a month vs $120.
For the nonsenior plans, the discount is simple – $10 off if you're on a one-line plan, $25 off per line for 2-3 line plans, and $20 off per line for plans with 4+ lines.
Student plans only get the discount for the first two lines.
Verizon Upgrade Deals For Existing Customers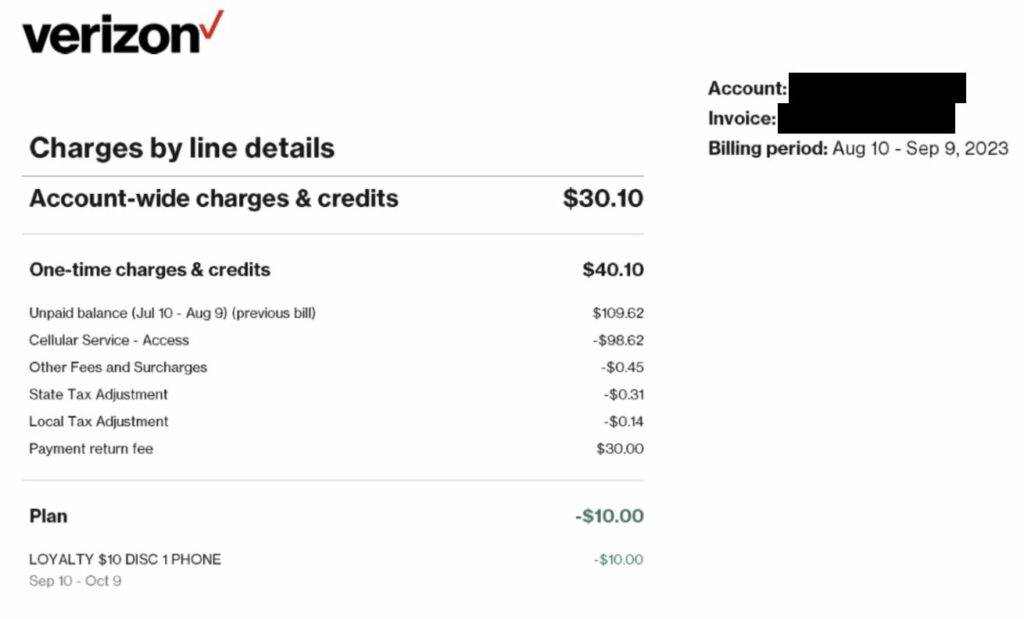 Another great deal available to existing Verizon customers is upgrading your plan. Verizon changes its plan lineups every year in response to competition from AT&T and T-Mobile.
Verizon's current plans are Unlimited Welcome, Unlimited Plus, and Unlimited Ultimate. The per-line cost for a 3 line plan is $50, $65, and $75 a line respectively.
It's important to look closely at the features of the plans. The major difference between Ultimate and Welcome is the mobile hotspot. You should decide if that's worth $15 a month per line for $45 a month for a 3-line plan.
If you've been with Verizon for a while, there's a good chance that you can get a better plan at a cheaper price. Competition in the wireless industry has intensified and you can take advantage of that.
This deal is mostly available because Verizon doesn't change your plan when they create new ones. They'd rather keep on collecting your money.
However, they can't be so customer-unfriendly as to prevent you from upgrading to a better plan when it's available.
Fios Deals For Existing Customers
Verizon Fios has even better deals for existing customers than Verizon Wireless.
We've found on average that cable companies have much higher discounts compared to phone companies.
For Fios, discounts are baked into your plan price. When most people sign up for Fios, they're on a promotional rate for 24-48 months.
If you do nothing, your monthly rate goes up. Laziness is Fios' pricing strategy.
Call Verizon Fios customer support to extend or increase your monthly promotion. If you do it correctly, you can get a deal that can save you $50+ a month.
The important thing is to pay attention to when your discount rolls off and to try to negotiate your bill.
We've found that when you do that, you're able to get discounts of $35 on average. Even if you already have a promotion, you can get another promotion added to your plan.
Verizon Fios promotions reset on a biweekly basis. If you're not able to get a promotion the first time, try again after a couple of weeks.
You could have been routed to a call center that had fewer discounts to give out.
If you don't want the hassle of trying to negotiate your Fios bill, consider a bill negotiation service like BillSmart.
Verizon Phone Deals For Existing Customers
Currently, Verizon is offering a Google Pixel for free and an iPhone for free if you trade in a new phone.
There are huge caveats to these offers. The main issue is that Verizon wants you to sign up for higher-priced 5G unlimited plans and add a new line to their service.
The easiest way to fulfill these requirements is to have a friend or family member from another carrier join your plan to get the discount.
There's also some benefit to saving some money by having more phones on the same plan.
If you want to take advantage of the mobile phone carrier wars, it's good to spread out your friends and family's phone lines.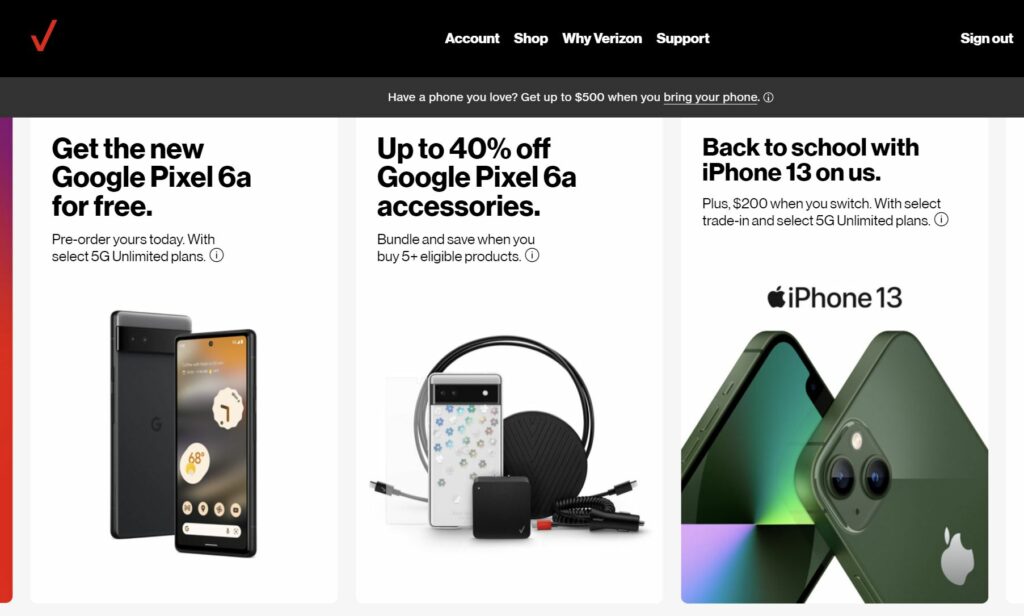 When you do this, you can move and take advantage of discounts when one of the big players is doing a marketing blitz.
Overall, phone companies will treat new and potential customers better than existing customers because a win for them is a loss for their competitors.
Understand that and take advantage of this situation by moving when you can get a better deal.
Verizon iPhone Deals For Existing Customers
Verizon's current iPhone deal for existing customers is offering a free iPhone if you do a trade-in and add a new line.
That's the offer on the Verizon website. It's not really an appealing offer.
They've made it a little bit better in that it doesn't matter what the condition of the phone is in terms of trade-in value.
You honestly can get better offers if you talk to Verizon either online or in person.
Verizon stores have unique promotions that you'll only be able to access if you go into a store and try to understand your options. You need to be careful about these promotions because often these offers are upsells that will end up costing you more at the end of the day.
However, if you go through the fine print and don't see any problems, you can get better deals than some trade-in credits with an iPhone.
Most of the time these are buy-one-get-one-free discounts tied to additional services like signing up for wireless tablet service.
There's often additional costs but oftentimes you can come up ahead a couple of hundred dollars if you plan carefully.
They're relying on most people keeping the overpriced services they bundle in and making bank from that.
Verizon Trade-Ins
Verizon doesn't have great trade-in phone deals.
When we did a recent comparison of the latest iPhone models, Verizon offered $395, while Apple was willing to offer $500 in trade-in value.
On average, Verizon offers 15% less for iPhones compared to Apple.
Another thing to note is that besides iPhones, Verizon also provides trade-ins for Galaxy and Pixel phones.
Don't have those phones? If you give them to Apple, they won't give you any trade-in value, but they will recycle them for you for free.
You'll get a better trade-in value from them compared to Verizon and other providers because Apple makes more margin on their phones when you buy direct from them.
They hope to make even more money from you when you buy things from the app store.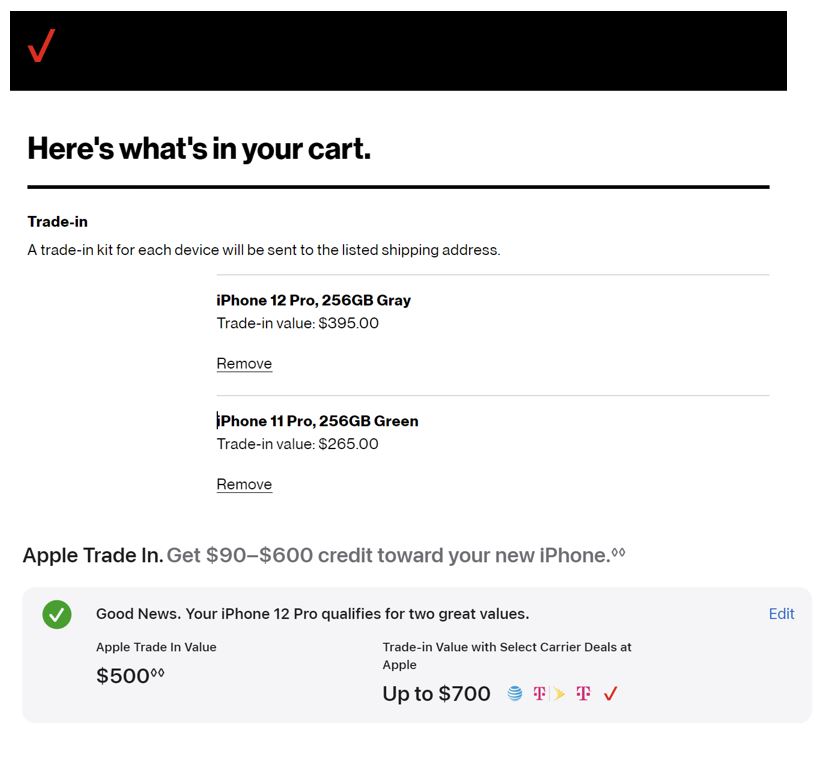 Trading in your phone with Apple and connecting it to Verizon is more complicated than just buying from Verizon directly.
If you bought your iPhone from Verizon directly and haven't fully paid off your phone, Verizon can get you a better trade-in deal because you don't have any other options.
The main reason to take this deal is that you want the latest phone. Verizon is willing to let you trade in earlier to keep you happy.
Lower Your Verizon Bill With BillSmart!
We hope that by following this guide you were able to get a great Verizon deal that saved you a lot of money.
If you weren't or suspect that you could have gotten a better deal, sign up for BillSmart.
We save our clients $352 on average and we're so confident about getting you savings that our negotiations are free if we don't save you money.
Click the button below to get started.
Other Articles You May Be Interested In
How To Get A Verizon Military Discount