How To Pay Your Verizon Fios Bill
There are 5 primary ways to pay your Verizon Fios bill. Fios gives you a bunch of options because they want to make sure that they get your money every month.
Tired of paying so much for Fios?
Sign up for BillSmart by clicking the button below to save $352 on average.
We've saved our clients $1.5mm+ to date and we're just getting started.
Verizon Fios Pay Bills Online
You can pay your Fios bill online at verizon.com/payonline.
This will drop you at the Verizon express pay webpage. You can log in and pay your bill by identifying yourself in the following ways
Verizon user name/password
Account number and billing zip code
One time pin to your phone or email
Email and Verizon Fios fixed-line phone number
Mobile phone and Fios fixed-line phone number
If you use your Verizon user name to log in, go to account, bill, and the pay bill section.
If you signed up for autopay, Fios will provide an estimate of when you'll next be billed and how much will be due.
You'll always be able to change how much you want to pay and which card you want to pay with.
If you want to do one-time payments, turn off autopay but note that you'll lose some recurring discounts.
Fios also allows you to make partial payments if you can't pay the full amount you owe. Do this if they're saying that they're going to turn your service off.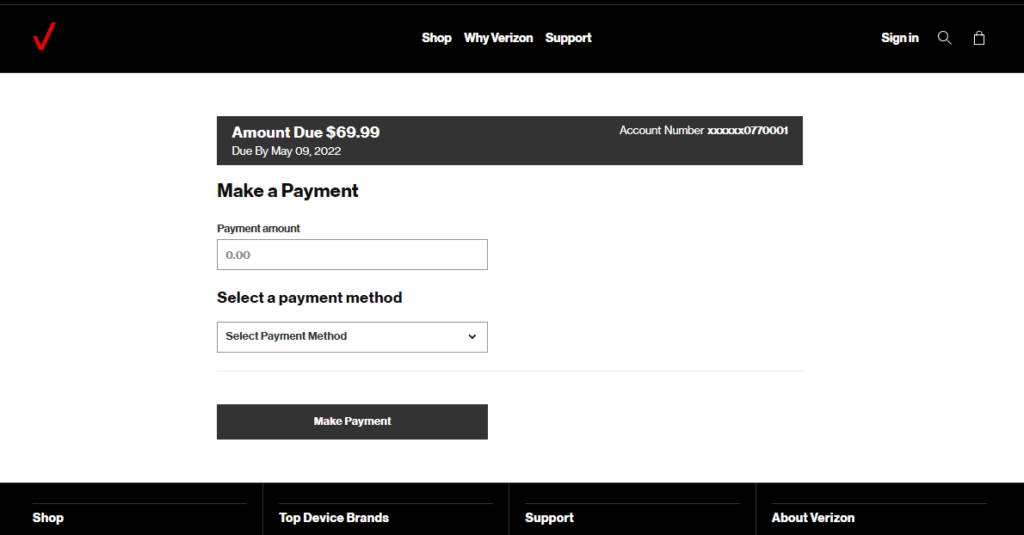 Fios Express Pay Tutorial
For the non Verizon login options, once you locate your account, you'll be dropped on an express pay payment page.
Verizon just wants your money so they don't care who pays.
They'll let you pay via check, savings account, debit card, credit card, and Verizon gift card.
You don't need to be the account holder – you just need to have money to pay.
Put in how much you want to pay and when you want Verizon to pull your money from your account (the default is the current day).
If you don't pay your bill on time, you'll be charged the lesser of a $9 late fee of 1.5% of the total amount due.
You can usually get these fees waived if you beg the Fios customer support team to remove them.
Verizon Fios Bill Pay Phone Number
You can also pay your Verizon Fios bill by calling (800) 837-4966.
The navigation is pretty clunky. You'll need to get around an annoying phone tree and get verified if you're not calling the phone associated with the Fios account.
Ultimately, you'll have the option to pay via the automated system or by speaking to a representative.
You'll need to add a card on file by typing in a card number on your phone if you don't have one already.
Once you have a payment method ready, you'll need to tell the system how much you want to pay and on what date.
You can make partial payments.
If you need help from a representative to pay, you'll be charged a $3.50 fee on your next statement.
The rep when you're on the phone will generally waive this fee if you ask.
Calling Fios to pay your bill usually takes longer than paying your bill online.
How To Pay By Check
You can pay your Verizon Fios bill by check but the mailing address will change depending on which zip code you're in.
Make sure to make the check payable to Verizon. Remember to write your account number on the note section of your check and provide your account number/information somewhere on your envelope.
For NJ, DC, MD and VE, address your check to Verizon PO Box 16801 Newark, NJ 07101-8601.
Subscribers in NY, DE, MA, RI and CT should mail their checks to Verizon PO Box 15124 Albany, NY 12212-5124. The correct mailing address should be at the bottom of the first page of your statement.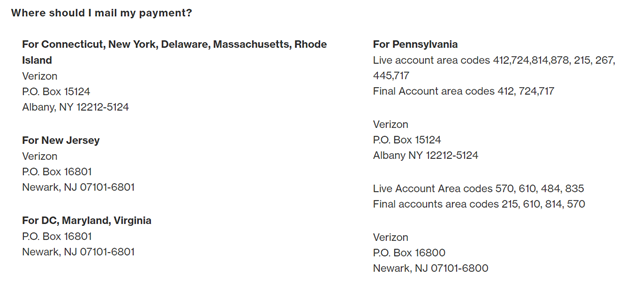 However, if you're on autopay, Fios will remove the mailing address because they're just going to charge the card you have on file.
You can disable autopay at any time and decide to make one-time payments online or pay by check.
If you sent Verizon a check and it bounced, your statement may be marked "Do not send personal check."
That means that Verizon will not accept your check as payment and you'll need to pay by credit or debit card or pay in person at a Verizon or 3rd party authorized store to pay your bill.
Once you pay your bill on time a couple of times, this status will go away and you'll be able to pay by check again.
Verizon Fios Pay Centers
You can pay your Verizon Fios bill in cash and in person at Verizon Wireless company stores and CVS and 7-Eleven locations.
To pay your FiOS bill in person in a Verizon store, make sure to have identifying information for your account such as your billing statement, account number, or phone number.
You can also get unique Fios deals by visiting the store, even if you're an existing customer. Make sure to check them out if you're there.
You should also make sure that it's a Verizon Wireless company store and not an authorized reseller that has a more limited set of capabilities. You can check here.
They have people there to help you but it's better to do it on your own. There are actually a number of kiosks at the more recently renovated Verizon locations where you can pay on a screen without having to talk to anyone.
Paying your FiOS bill at a Verizon store is free and you can pay with the following options: credit, debit, check, and cash.
Fios PayNearMe
You can also pay your bill at CVS and 7-Elevens with a program called PayNearMe.
Unfortunately, you can only pay at these locations with cash and there is a $2.99 fee for them to process your payment.
To pay at CVS or 7-11, you'll need to bring the payment barcode on the second page of your latest bill.
The barcode will be the same for all your statements – it's not unique to your bill that month but for your account.
Just go to the cashier at the convenience store and tell them that you want to pay your Fios bill.
You have the option to choose how much you want to pay; you can pay the full or partial amount.
Once you fork over the cash, you'll get a receipt and your payment will be applied to your account within 20 minutes.
You'll get a text or email confirmation of your payment within 24 hours and if your account was suspended, it will be reinstated within an hour after you make a payment.
Please note that you can only pay your Verizon Fios bill with PayNearMe. You can't pay your Verizon Wireless bill if you have a combined account.
Looking to make some extra cash? Check out the top paying food delivery jobs of 2023 from our friends at Hustler Gigs.
Paying Fios With Your Remote Control
A more exotic way to pay your Fios bill is via your remote and cable box.
This will only work if you have pay-tv service with Verizon. Using your remote, press the menu button and go to customer support.
Once there, navigate to my account, bill and payment, and then pay my bill.
You can only pay if you already have an account on file. You can't add your credit card information via the remote.
The only place to add a payment method to your account is online at verizon.com or using the My Fios app.
Lower Your Fios Bill With BillSmart!
You're done paying your Fios bill until next month.
Why pay more than you need?
At BillSmart we've helped clients save 30% or more on their Fios bills. Our success rate is 83%.
Sign up and start saving by clicking the button below.
Related Articles
How To Lower Your Fios Bill
How To Cancel Fios