DirecTV Fees
DirecTV has an exciting number of fees to keep you subscribed to their service and to offset the rising costs of sports rights.
While it feels these fees are unavoidable, in our experience negotiating thousands of DirecTV bills, there are ways to get these fees refunded or offset if you know what you're doing.
At BillSmart, we've been able to save our clients $1.5mm+ on DirecTV and other bills.
If you don't want to pay DirecTV any more than you need to, sign up to BillSmart by clicking the button below.
Our negotiations are free if we don't save you money.
DirecTV Cancellation Fees
DirecTV charges an early termination fee of $20 for each month that you have left on your contract.
So if you have a 2-year contract for $240 and you cancel at the end of year 1, you'll need to pay a $120 early termination fee.
Sometimes they charge you a $15 deactivation fee as well.
Not all DirecTV plans have these cancellation fees.
DirecTV mostly has this early termination fee deployed to incentivize you to stay with them for the full term.
It's been our experience however that you can generally get out of this early termination fee if you're moving to an area where DirecTV is not offered.
They don't check this so just say you're going to Thailand or Portugal and they're generally going to give you a pass.
It's important to be nice when you ask for this favor.
They're not getting money from you anymore so if you shout at the rep, they're just going to tell you that they're sorry that they can't waive your fee.
Stream Early Termination Fees
For DirecTV Stream, there is often a termination fee as well. Most DirecTV Stream subscriptions are on a 2-year contract.
You have 14 days starting when you sign up to cancel DirecTV stream without having to pay an early termination fee.
Afterwards, the maximum termination fee is $360, and that fee goes down $15 per month of your 2-year commitment.
It's harder to get out of this commitment.
DirecTV Stream is available everywhere. The only time we've seen someone get out of the early termination fee is after the death of the primary account holder as a courtesy by DirecTV.
DirecTV Regional Sports Fees
DirecTV has different regional sports fees depending on your address.
So how much you'll pay DirecTV every month will be different in New York vs Arlington.
You can check how much your regional sports fee is in your area here.
If you don't care or watch your local sports team, the best way to get rid of the regional sports fee is to switch to a plan without sports.
Examples include the Preferred Xtra package if that's available in your area.
Another good option is to complain to DirecTV loyalty department about the fee and threaten to cancel. Usually, to keep you as a customer, they'll lower your DirecTV bill by the regional sports fee amount or even more.
DirecTV relies on their customers not caring too much about the price they're paying and the additional fees they add or increase to their monthly bills.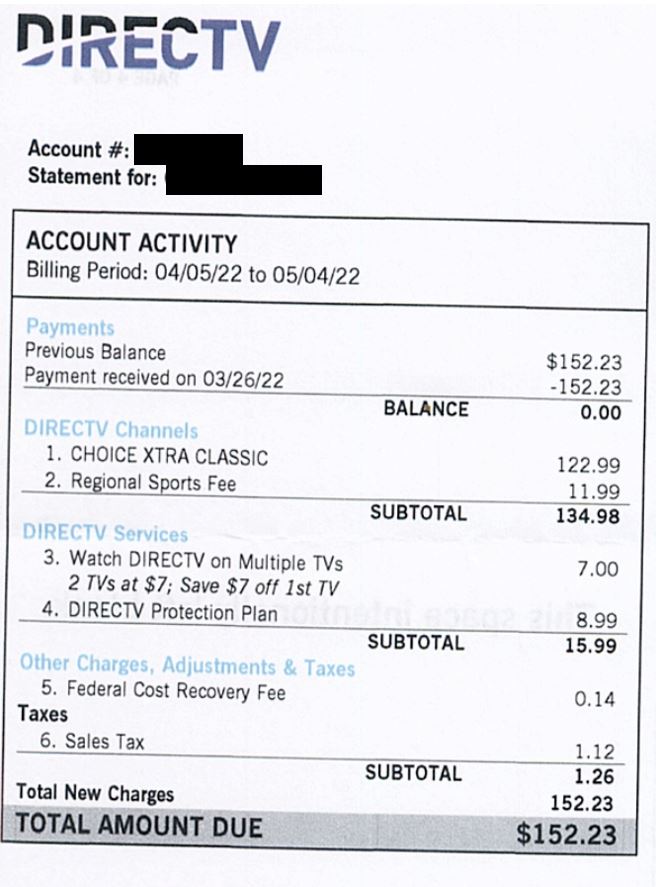 Regional sports fees are just going to get worse and worse as fewer people subscribe to linear television.
A couple of years ago, the average regional sports fee was $7 a month but now it's almost $12.
Based on SNL Kagan data, it's set to go up to $20 a month by 2025.
If you don't want to lower your bill to offset the cost of regional sports fees yourself, use a bill negotiation service like BillSmart to get savings even if you're an existing customer.
DirecTV Late Fees
DirecTV will charge you a $6.25 late payment fee if they don't get your payment before the due date.
Your DirecTV bill is due based on your billing cycle. Billing cycles depend on when you first signed up with DirecTV.
You can check when your bill is due by looking at your monthly statement or by logging into your account on DirecTV's website.
Most of the time DirecTV will waive the $6.25 if you ask politely. However, if you become seriously past due on your DirecTV account, they'll deactivate your account and send it to a collections agency.
Lower Your DirecTV Bill With BillSmart!
Since DirecTV split off from AT&T, it's been uncertain whether their prices and the fees that they charge will get worse or better.
Satellite TV overall seems to be in a terminal decline so DirecTV's private equity owners may decide to just gouge their customers as their customer base go to zero.
Life is uncertain but one thing you can be certain of is that if you sign up to BillSmart, you'll get the lowest rate possible on your DirecTV bill.
Clients who sign up save up to 30% on their monthly bill and if you had any fees that DirecTV charged you in the past – we'll get them refunded to you.
To start saving, click the button below.