How To Pay Your DirectTV Bill
It's important to pay your DirecTV bill on time to avoid late fees. While most people are going to be best off paying online, DirecTV also gives you the option to pay via cash and money order.
Annoyed by how much you're paying for DirecTV every month? Here at BillSmart, we save you money on your DirecTV bill by lowering your monthly rate and getting you one-time credits.
Our clients save an average of $352 a month. If you want to save money on your DirecTV bill, get started by clicking the button below!
The 5 Ways To Pay
Most DirectTV users don't realize all the options they have to pay their DirectTV. Below, we have a brief breakdown of your different payment options:
Pay online at directv.com
Call 800-531-5000 to pay
Text Pay to 21880
Pay by mailing a check
Pay by Cash or Money Order in person
How To Pay Your DirecTV Bill Online
The quickest way to pay your DirectTV bill is to pay online directly at directv.com.
The first step is to log into your DirecTV account. Once there, go to the My Bills & Transactions section.
Before paying, make sure DirecTV hasn't overcharged you for your service last month. Trust us, it's a lot easier to get your bill fixed when DirecTV doesn't have your money yet!
From here, navigate over to One Time Payment and specify the exact amount you wish to pay.
If you don't pay the full amount, DirecTV will charge you a late fee of $6.25.
If this is your first time paying online, you'll need to add a payment method. You can add a credit card, debit card, or checking account.
There's no additional surcharge if you decide to pay by credit card.
If you've added payment information in the past, you can use those cards to pay.
Review the information for accuracy and then click Make Payment.
Congrats: you just paid your DirectTV bill!
How to Pay Your DirecTV Bill Without Logging In
You can also pay your DirecTV bill without logging in by going to https://www.att.com/acctmgmt/fastpay.
DirecTV isn't owned by AT&T anymore so add your Active Account Number and billing zip code on the fields on the website.
Fastpay is helpful if you've forgotten your username or password or have to pay because your lazy roommate hasn't.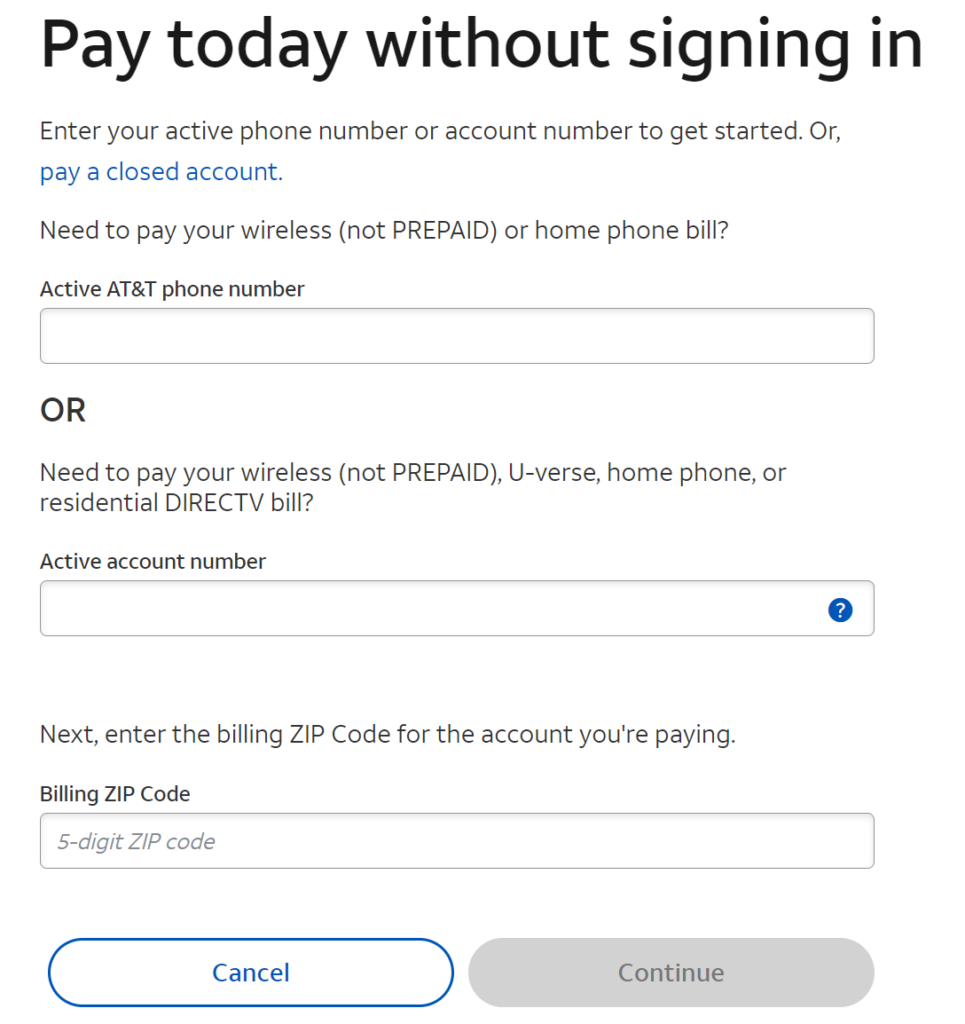 How to Pay Your DirecTV Bill By Phone
You can pay your DirecTV by phone by dialing 1-800-531-5000. When the automated phone system asks you what you need help with, say the words "make a payment."
You can make a payment through the automated phone system or you can ask to be connected to a customer support representative to make your payment.
DirecTV discourages this and charges you a $5 fee if you pay your bill with the assistance of a live agent.
You can also pay your DirecTV by text! Text PAY to 21880 and then hit "1" to confirm your account number once you get a response.
You can enter a new payment method or use a saved payment method to pay via text.
Pay Via Mail
If you want to pay DirecTV by mail, you can do so by sending one to the following address:
DirecTV
PO Box 5007
Carol Stream, IL
60197-5007
There will generally be a pre-addressed envelope with your paper bill. You'll need to shell out the money for the stamp on your own though.
Make sure your check is payable to DirecTV and has your 9 digit account number in the notes section.
Remember to mail your payment early enough that it arrives and gets processed by the time payment is due.
Pay Via Cash/Money Order
DirecTV also accepts cash and money orders if you go through their 4 authorized payment partners.
These partners are Western Union, Money Gram, Easy Pay Finance, and Check Free Pay.
If none of these partners has a physical location near you, then you're probably better off paying online or by mail.
What Are the Late Fees for DirectTV?
The standard DirectTV late fee is $6.25.
If your card doesn't go through or your check bounces, DirecTV will charge you a separate $30 fee for returned payments. Don't let this happen and make sure there's enough money on your card or account before you put it as a payment method for DirecTV.
Finally, DirecTV charges you a $9.99 fee if your account is suspended for nonpayment. To unfreeze your account, you'll need to pay a $20 restoral fee.
Most of these fees can be refunded if you negotiate your DirecTV bill and ask customer support to waive these fees.
While you're there you should consider getting a new DirecTV package that can save you money!
Start Saving On Your DirectTV Bill Today!
We hope by now you've learned what method works best for you to pay your DirecTV bill.
Want to save money on DirecTV?
Sign up to have us lower your DirecTV bill. We've saved our clients $1.5mm+ to date and our negotiations are free if we don't save you money.
Other Related Articles