DirecTV Packages For Existing Customers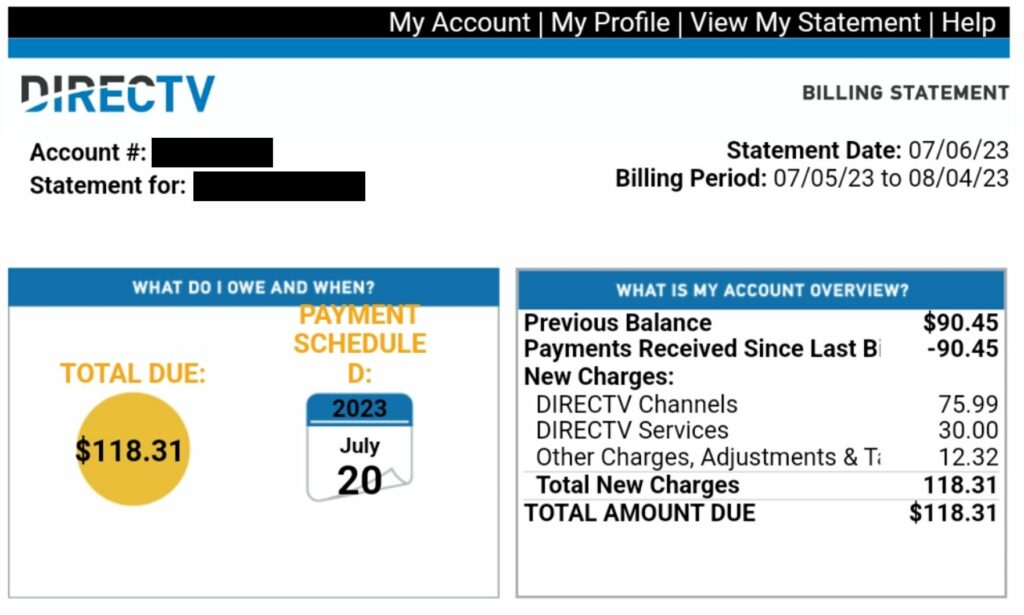 Existing customers of DirecTV are eligible for packages that can save them $31.25 a month on average.
DirecTV doesn't heavily promote these offers because they would rather get more money from you every month. But if you read on and follow the outlined steps, these savings can be yours.
At BillSmart, we've been negotiating DirecTV bills for 7+ years and have saved our clients $6.2mm+ on their cable/phone bills.
Our success rate is 83% and our negotiations are free if we don't save you money.
If you want to get the best packages and discounts from DirecTV as an existing customer, sign up for BillSmart by clicking the button below.
DirecTV Deals For Existing Customers
As we previously mentioned, the average monthly savings from getting the best DirecTV deal as an existing customer is $31.25 a month.
These packages can range from $5 to $86 a month. It depends on your plan and the available promotions at the time.
Since AT&T spun off from DirecTV, the promotion length has changed from lifetime promotions to promotions that roll off after 12 months.
DirecTV continues to provide 3-6 months promotions for free premium cable channels like HBO and Showtime.
DirecTV Promotions For Existing Customers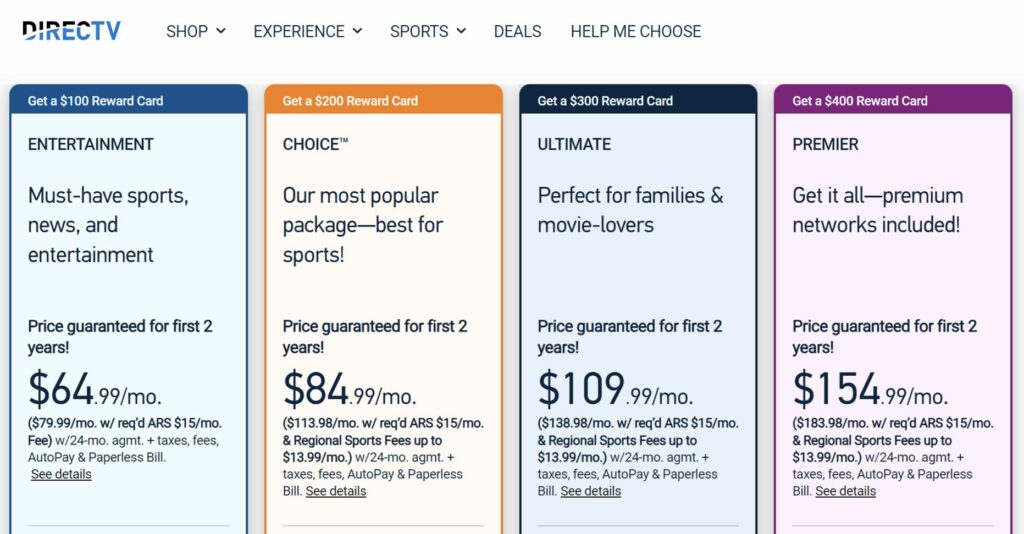 Currently, DirecTV has a promotion where you can get between a $100-$400 prepaid card if you sign up for their service. That's only for new customers though.
The only way to get a DirecTV promotion as an existing customer is to call DirecTV customer support and ask them to lower your DirecTV bill.
You have the option to call either (800) 531-5000 or (866) 595-2871.
(800) 531-5000 is the general support line and (866) 595-2871 is the phone number for the DirecTV Loyalty department.
While (866) 595-2871 may have longer hold times, we recommend calling (866) 595-2871.
They're authorized to provide bigger discounts and you may be transferred to the Loyalty department anyway if you exhaust your options with frontline DirecTV customer support.
Existing Customer DirecTV Promos
DirecTV package changes are made verbally. You start the process by asking the agent to find ways to save money on your bill.
It may take the agent a couple of minutes to review what DirecTV packages are available to you. They also may have additional questions about your usage and preferences.
The plans that DirecTV offers include the Entertainment, Choice, Ultimate, and Premier Bundle. Prices range from $64.99 a month to $154.99 a month although your bill is likely to be much higher if you're leasing a satellite receiver or if you opt in for premium and sports packages.
To get the most savings, you need to negotiate your bill rather than passively accept whatever discount the agent provides to you.
The first deal that the agent provides you won't be the best deal you can get.
How do we know this? Basically, DirecTV's system is structured to provide a $20-$40 discount on your bill if you start the cancellation process.
We don't recommend starting out with this first. First, see how low they can go and get them lower from there.
Tips To Get The Best DirecTV Packages
Unlike many service providers, DirecTV values customer loyalty.
If you've been with DirecTV for a couple of years, they're willing to provide you a $10-$30 monthly loyalty credit. This works especially well if you bring up how long you've been with them on the call.
To DirecTV, you have a customer lifetime value and they're willing to give back some of that to keep you happy.
They've also been losing a lot of customers from cord-cutting like YouTube TV, so they want to make sure you stay.
Another way as a longtime customer to get a deal on your DirecTV package is to switch to a better plan.
DirecTV changes its plans and pricing all the time and we've seen many cases where people are overpaying by $50-$100 a month for a more expensive plan with worse features.
DirecTV is more than okay not rocking the boat and having you pay this higher rate if you don't complain.
But if you notice and want to make a change, they're happy to change your plan, lower their rate, and act like they're doing you a big favor.
That's why bill negotiation services like BillSmart are useful to have on call. They'll negotiate your bill every couple of months to make sure you're always getting the lowest rate.
Other Considerations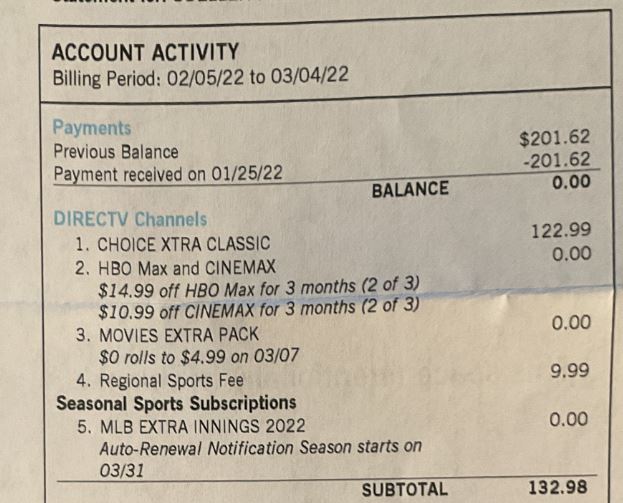 Sometimes the best package for DirecTV is to extend your existing package.
Recently, DirecTV has changed its pricing strategy to be more like Spectrum and Fios where they provide temporary discounts that roll off after 1 or 2 years.
This pricing strategy relies on customers accepting the price increase after the promotion rolls over.
DirecTV doesn't want to lose you. If your promotion is set to expire soon or has already expired, call them up.
They'll give you your discount back or extend it.
We've even found that you can get a discount on your discount that stacks on your existing discount. These extra discounts are usually on the lower end – $10 to $20 a month but every little bit helps.
AT&T DirecTV Promotion For Existing Customers
Getting DirecTV promotions on your AT&T bill as an existing customer has gotten a lot more complicated since ATT divested DirecTV to a private equity firm.
Many customers still have their AT&T and DirecTV accounts linked. It can be confusing whether you're talking to DirecTV or AT&T when you're trying to get a deal and they're trying to separate their systems.
It's important to make sure you're maximizing the discount on both your TV and internet/phone service. You need to call AT&T and DirecTV separately if you're an existing customer to get the lowest rate on your bill.
We've found at this point AT&T is more generous in terms of providing deals for AT&T/DirecTV combo customers because this is set to soon be a discontinued business for them.
Lower Your DirecTV Bill With BillSmart!
Did you get the best deal on your DirecTV bill?
Find out by signing up to BillSmart and having us negotiate your bill.
Our negotiations are free if you don't save money and we save our clients $352 on average.
Get started by clicking the button below.