How To Reach the DirecTV Loyalty Department
If you're trying to save the most money on DirecTV, the best place to start is by calling the DirecTV loyalty department.
Cable companies rely on your laziness to grow their profits but with a short call, you can end up lowering your DirecTV bill by $30-$50 a month.
Spend your time doing something else and just sign up for BillSmart.
Clients save $354 on average and our negotiations are free if you don't save money. Sign up by clicking the button below.
DirecTV Loyalty Department Phone Number
The phone number of the DirecTV loyalty department is (866) 595-2871.
Besides (866) 595-2871, you can also call (855) 235-3982 or (800) 531-5000.
(855) 235-3982 is the phone number for the DirecTV retention department while (800) 531-5000 is the general DirecTV support line.
If you're looking to lower your DirecTV bill but don't want to pretend to cancel your account, your best option is to call the loyalty department at (866) 595-2871.
The best time to call is mid-week around 6-9AM Pacific Time or after 3PM Pacific Time. This will minimize your wait time.
If you call during a busy time, expect a wait time between 5-15 minutes compared to 30-60 minutes for the general customer support line, particularly during peak periods.
DirecTV 2023 Loyalty Discounts
The most common DirecTV loyalty discounts we've seen are getting $30-$50 off a month for your bill or free premium cable channels for 3-6 months.
For the monthly discounts for your bill, they're usually promotions for a year.
To get these discounts, you need to call the DirecTV loyalty or retention department and ask them if they can help you find ways to save on your bill.
The best two strategies are saying that you've had some hardship and you need to save money or you'd like them to match the price of a competitor.
These reasons can be vague. If you've called the retention or loyalty department direct, they know that you're there to lower your bill.
DirecTV offers these loyalty discounts because it's expensive for them to acquire customers and their subscriber rolls have been shrinking dramatically due to streaming and they want to keep who they already have.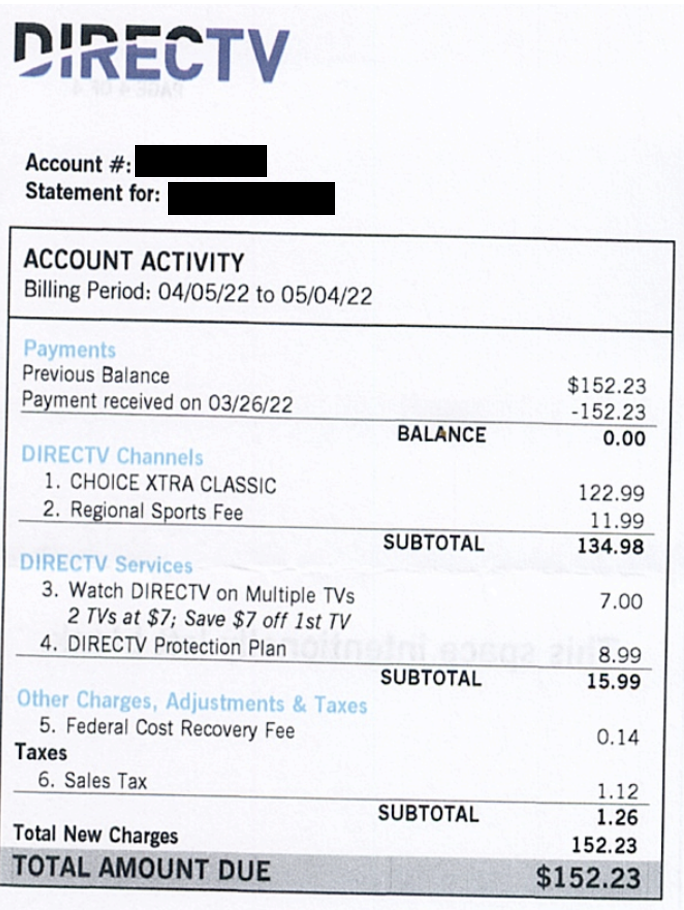 DirecTV Customer Retention Phone Number
The phone number of the DirecTV customer retention department is (855) 235-3982.
Customer retention is the department that you're routed to if you ask a representative to cancel your DirecTV account.
The retention team has access to special offers that are not available to the loyalty and billing department.
If you want to save the most money on your DirecTV bill, this is the place to call.
The downside is that you'll need to have some negotiating prowess and spend a bit more time if you want those extra discounts.
You need to spend time going through the cancellation process to activate the cancel save discounts and along the way, you'll need to listen to the customer support representatives' spiels about why you should stay with them.
We've found you can get about $20 a month more recurring credits by calling customer retention.
Don't worry about accidentally canceling your account. That's the last thing these agents want to happen.
A rep can easily reinstate your account if they or you mess up.
Other Negotiation Tips
If you get an offer for free premium channels like Starz or HBO Max, please note that after the promotional period you'll be charged the full price.
Make sure to cancel before then unless you want to pay full price.
It's important to try negotiating your bill every couple of months. DirecTV constantly has new promotions and we've found that there's a lot of variance in terms of the discounts you're able to get depending on the call center that you're routed to.
DirecTV also has seasonal discounts that you can take advantage of especially during the holidays and during baseball season.
The retention team has special offers that are not offered to the loyalty and billing department.
They might also call you randomly to give you offers to upgrade.
These are generally upsells but you can mention them during your negotiations to turn them to your advantage to get better service for a cheaper price.
Lower Your DirecTV Bill With BillSmart
Follow these tips and save on your DirecTV by up to 30%.
If you're not comfortable trying to lower your DirecTV bill yourself, there's experts that can do it for you.
At BillSmart, we've helped tens of thousands of customers save $1.5mm+ on their phone/cable bills.
Click the button below to get started.