How To Pay Your Dish Network Bill
If you're a Dish Network subscriber, you might be used to paying your bill the same way month after month. But did you know that Dish has 7 ways to pay your bill?
In this guide, we'll focus on the different ways to pay your Dish Network bill and what way is easiest for your situation.
Overpaying on your Dish bill? At BillSmart, we've been able to save our clients $352 on average on their Dish bill.
If you want to join our thousands of happy customers, sign up by clicking the link below.
Ways to Pay Your Dish Bill
Pay online at https://my.dish.com/paymybill
Call 866-595-4587 to pay
Pay with the MyDish app
Mail Dish a check
Text 34741 to make a payment
Pay with cash at select retail stores
Use a hopper/wally receiver to pay
Dish is great among service providers in giving subscribers lots of ways to pay. You can pay your Dish bill with Apple or Google Pay. You can also pay with Paypal and even bitcoin.
Most people however are going to pay with their credit/debit cards or via their bank account.
How To Pay Your Bill Online
The easiest way to pay your Dish Network bill is by paying online at https://my.dish.com/paymybill.
Once you're logged in, the website functions similarly to the MyDish app. You can add or select payment options, make a one-time payment, or schedule Autopay to make automatic payments each month.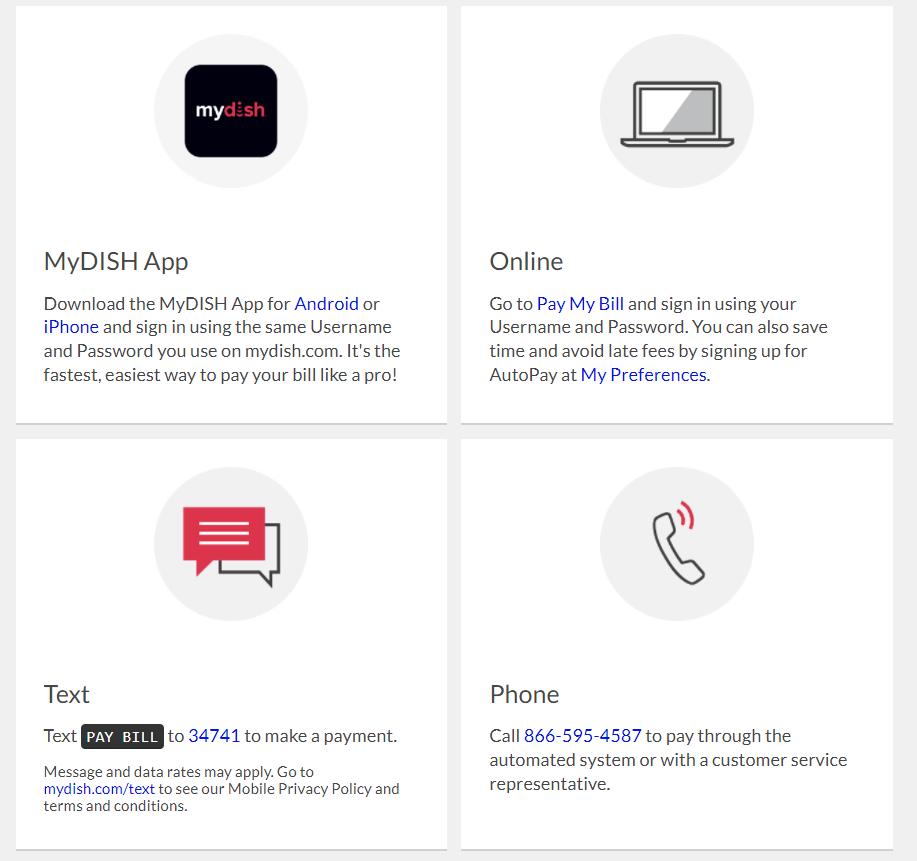 Phone Numbers To Pay Your Dish Bill
You can also pay your Dish bill by phone by calling the Dish customer service number at 866-595-4587 or texting "pay bill" to the number 34741.
If you call 866-595-4587 to pay your Dish bill, you'll have the choice to pay using the automated system or by getting a customer service representative on the line.
If you get a rep on the line, you can also lower your Dish bill while you're at it.
Make sure you're not opted out of Dish alerts if you're going to pay via text. You can opt back in by texting "join" to 34741 if you're blocked Dish texts in the past.
No matter how you pay via phone, make sure to have your Dish Network account number and payment information available before you make the call. And should you need to cancel your Dish account, you will need to do so by phone.
How To Pay With the MyDish App
One of the easiest options to pay your Dish bill is the MyDish app. Start by downloading the app to your Android or iPhone mobile device.
You can then login by using the same username and password that you use on MyDish.com. Once you log in, you can add payment options (such as debit card, credit card, or bank account) or select one you have already added.
It's possible to make a manual payment each month. But the easiest thing to do is sign up for Autopay so you don't need to remember to pay every month.
How To Pay By Mail
Another simple Dish Network bill pay option is to pay by mail.
If you still get your Dish bill by mail, you can tear off the bottom part of the first page of your bill and mail your payment to Dish in the provided envelope. You can also download your bill online to see where Dish tells you to mail your bill to.
Otherwise, you can use the MyDish website and select your state from the dropdown menu under "Mail." This will give you the correct address that you can mail a check in order to pay your bill.
Keep in mind that paying by mail is the slowest option to pay your Dish bill. It may take up to 10 business days for your payment to process, so make sure to mail it out early enough.
How To Pay By Cash
Dish also allows you to pay with cash by paying at MoneyGram, Western Union, or CheckFreePay.
If you are not sure where your nearest participating locations are, use Dish Network's Pay-In-Cash locator.
These locations will charge you a fee to pay with cash but it's up to you to decide if that's the best way to pay your bill.
How To Pay By Receiver
If you have either a Wally or Hopper receiver, you can also pay via the receiver. To do this, simply navigate to the My Account option on the main menu of your receiver.
Once logged in, you can add or select your payment option and then schedule a payment. If you like electronic payments but don't like using the app or navigating the website, this option may be attractive to you.
Understanding Dish Bill late fees
If you do not pay your Dish Bill on time, you'll be charged a $10 late fee. If you pay by check and the check bounces, there will be a $20 fee.
If you go long enough without paying, there may be a service interruption. To keep this from happening, you can request a payment extension under the Bill section of your online account summary.
The extension will give you an additional 9 days to pay your bill and the extension costs $15. If you're having trouble paying your bill, don't forget that BillSmart can negotiate your bill down and save you money each month.
Lower Your Dish Bill With BillSmart
Now you know the different Dish Network bill pay options. But do you the best ways to lower your Dish bill?
At BillSmart, we specialize in negotiating with companies like Dish Network to save customers an average of $352. Click the button below and start saving today!