Dish Network Packages For Existing Customers
If you're an existing Dish customer, we've found that you can get packages applied that can lower your bill $21.89 on average – saving you about 13% a month.
The challenge is that Dish doesn't advertise these discounts and you'd have to negotiate hard to get the full discount.
We'll walk you through the steps you need to go through but if you want experts to handle your Dish bill and save you money, consider signing up for BillSmart.
We've saved our clients $1.5mm+ to date and our negotiations are free if we don't save you money.
You can get started by clicking the button below.
Dish Network Deals For Existing Customers
If you're an existing Dish customer, how much of a deal you're eligible for depends on your current plan price vs what Dish is charging new customers today.
Dish's plan structure is simple. They have 3 plans: America's Top 120, 200, and 250. The base price of these plans is $70, $95, and $105 respectively.
Paying more for your Dish bill than these rates? It's time to call Dish up to get a discount.
You're likely paying a higher rate on your Dish bill because your discounts expired.
That's the essence of Dish's current pricing strategy. They try to match the price of OTT services like fubo and youtubetv but your monthly rate explodes once the discounts run out.
They expect most of their customers to just accept their price increases and do nothing.
In the next section, we'll teach you what you can do to get your Dish bill lower.
Dish Network Promotions For Existing Customers
The best way to get a promotion as an existing Dish Network customer is to get them to apply a loyalty/promotional discount.
They don't advertise these discounts anywhere but giving customers discounts when they call and complain is a commonly accepted practice in the satellite and cable industry.
You can start the process by calling Dish at 1-800-333-3474.
Explain to them that you're upset about how high your bill is. The process will move faster if you explain that you're considering canceling your Dish service.
You're checking if they can offer you any discounts before you leave them forever.
Usually, Dish customer service will find a promotion that's usually around $14 a month.
The discounts will usually be for 12 months but try to get the discount extended to 48 months, so you don't need to call again.
Make sure to confirm with the representative when the discount will be applied and get a reference code.
This will help you if the promotion doesn't go through as well as get you additional one-time credits as compensation for any inconvenience you might have gone through.
Dish Network Upgrades For Existing Customers
Getting the best Dish network package if you're an existing customer might require making a commitment.
That's what Dish calls accepting a one-year contract with them. We've found that there are some discounts that Dish will apply only if you sign up with a one-year contract with them.
Try to get a discount without a contract but you can usually save $5 a month more on Dish with one.
There's an early termination fee if you cancel before your term is up. It's kind of hard to get out of these termination fees compared to cable providers because Dish is available in most areas.
Besides signing up for a 1-year contract, Dish also offers discounts on premium channels like HBO and Showtime.
Usually, these discounts are only for 3 to 6 months but for that time you can watch these channels for free.
Another thing to note is that Dish changes its promotions all the time. If you're not eligible for a promotion today, it's likely that you will be in a month.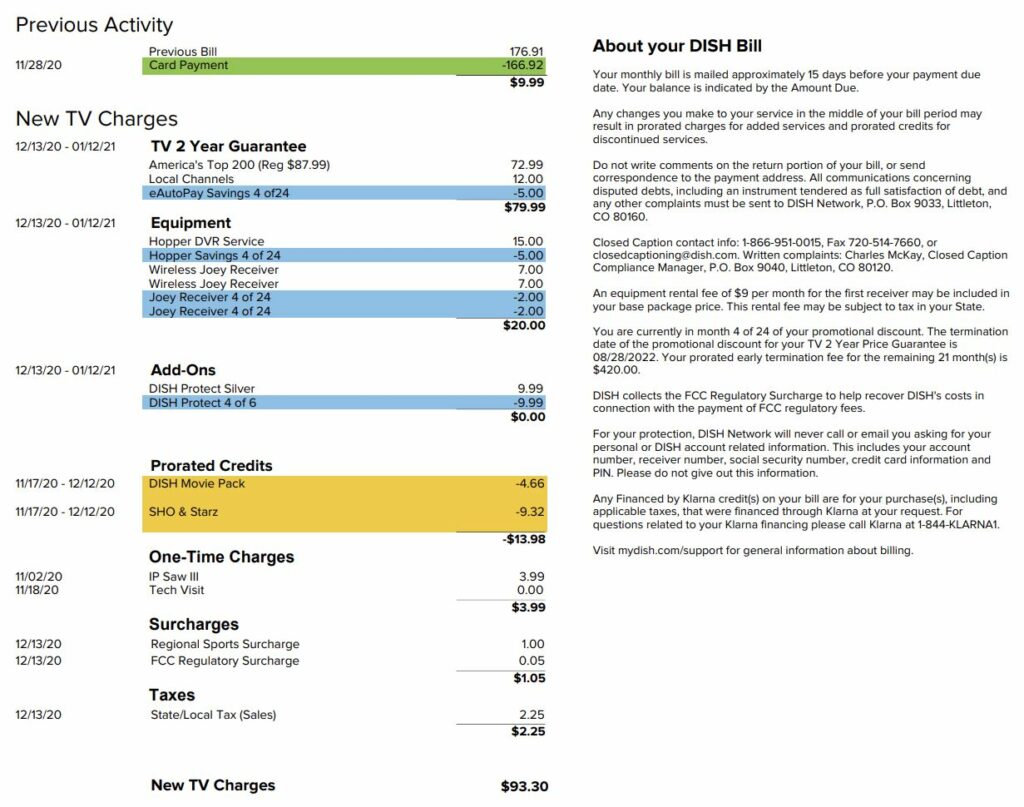 Lower Your Dish Bill With BillSmart!
If you followed the steps we outlined, you should be enjoying a much lower Dish bill by getting better dish packages.
Worried you won't get the best deal or just don't have the time?
Let us handle your dish bill for you.
We save our clients $352 on average and we'd love to be of service to you.
To maximize your savings, sign up by clicking the link below.