How To Pay Your Optimum Bill
by Daniel Smith | Updated 9/20/22
It's annoying but it's important to pay your Optimum bill on time to avoid their world-famous $10 late fees.
We wrote this blog post to walk you through the easiest way to pay your bill and get on with your life.
Tired of paying too much to Optimum every month?
Sign up to BillSmart to save $354 on average. We have an 83% success rate.
Get started by clicking the button below.
Ways To Pay Your Bill
There are 5 ways to pay Optimum.
Ways to Pay Your Optimum Bill
Pay your bill online
Call (866) 213-7456 to pay your bill
Mail a check to PO Box 70340
Pay via the Optimum Support App
Go to an Optimum store
The easiest way to pay your bill is online although if you're more comfortable with paying by phone or mailing a check, options 2 and 3 may be better for your situation.
Paying Your Optimum Bill Online
There are 3 options to pay your Optimum bill online: autopay, one-time payments, and through your bank.
To make a one-time payment or set up autopay, log into your Optimum account.
Select which debit/card you want to use and if you're making a one-time payment and schedule which day you want to be charged on.
For autopay, make sure that you have enough money in your account on the day that you get charged. If not, you'll be charged a late fee unless you fix the issue.
Optimum also allows you to pay through your bank. Just go to your bank's billpay section and select Optimum as a payee.
Put in your 14-digit account number and the following address if requested.
Optimum
PO Box 70340
Philadelphia, PA 19176-0340
We recommend just doing one-time payments. If you have a billing dispute with Optimum, it's a lot easier if they don't have your money already and can just adjust their invoice rather than refunding your money back.
Paying by bank works but is a little clunky.

Optimum Phone Number To Pay Your Bill
You can pay your Optimum bill over the phone by calling (866) 213-7456.
To pay your bill over the phone, you'll need to call between 8am to 8pm Pacific time.
There's an automated system to pay your bill over the phone but you can also talk to an Optimum customer service representative who will help process your payment for you.
If you need a customer service representative's help to pay your bill over the phone, Optimum will charge you $10 as a convenience fee.
In our experience, you can generally get that fee refunded while you're doing the call if you ask nicely.
If you want to lower your Optimum bill the most, you can also call Optimum retention at (877) 936-4778 to get the biggest discounts. Even if you're an existing customer, you can still find deals on Optimum that can save you a lot of money.
Mail Optimum A Check
You can pay your Optimum bill by mail by sending them a check/money order to Optimum P.O. Box 70340 Philadelphia, PA 19176-0340.
This is the standard address for sending in checks. If you're sending your check via UPS/Fedex, use the overnight address
Remitco/Deluxe – Optimum
P.O. Box 70340
400 White Clay Center Drive
Newark, DE 19711
The PO boxes are the same, but the locations are different. Be careful.
For paying your bill by mail, you can pay by check or money order.
They ask that you include your 14-digit account number or payment stub, so they know who's paying.
Make sure your checking account has enough money in it when you mail Optimum a check. If your check bounces, you'll be charged a $20 fee.
If you're ever annoyed by how much you're paying on Optimum, check out ways to make free money online. There's two ways to wealth – saving and increasing your income. You can also check with our friends at ISN about how to save on your utility bill.
Optimum App Bill Pay
You can also pay your Optimum bill with the Optimum app.
Just click the my bill button from the button menu and select which card and how much and when you want to make a payment.
Optimum has both an iPhone and android app so it should work no matter which phone you have.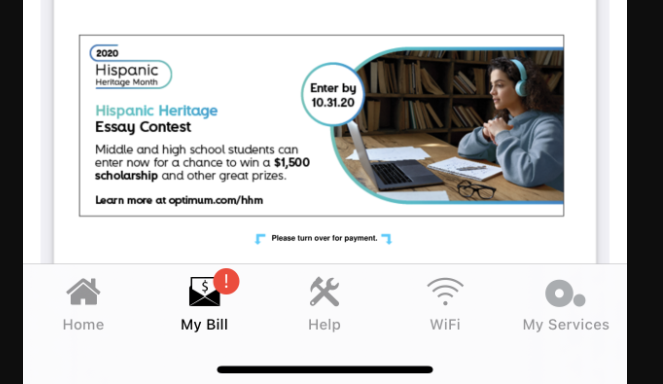 Paying Your Bill In Person
You can pay your Optimum bill in person at Optimum stores and at Western Union and CheckFreePay.
For Optimum stores, you have the option to pay with cash, check, money order, or debit and credit card.
Most Optimum stores also have a drop box where you can deposit your check after hours. They note that dropped payments take longer to process (2-3 business days).
You can also pay your bill in person at authorized 3rd party centers. To pay there, you need to have your 14-digit account number.
If you're paying your Optimum bill in person with a 3rd party, make sure to pay at Western Union or Checkfreepay.
Some grocery stores may claim to accept Optimum payments, but they often charge much higher fees to process these payments and there have been multiple reports of the money actually never getting to Optimum.
Lower Your Optimum Bill With BillSmart!
We hope your crisis has been avoided and you're finished paying your Optimum bill until next month.
Wouldn't it be nice if your bill was 30% lower next month?
To make that dream a reality, sign up to BillSmart by clicking the button below. We've saved our clients $1.5mm+ to date and we're just getting started.