Tmobile Customer Care
While tmobile customer service has a good reputation, that's not saying much considering how terrible other phone companies are.
At BillSmart, we've spent a lot of time with Tmobile customer support. We know the best ways to negotiate your Tmobile bill and save you money.
We've saved our clients $354 on average and our success rate is 83%.
If you'd like us to lower your Tmobile bill, sign up by clicking the link below.
T-Mobile Customer Service Numbers
Based off our negotiations with T-Mobile and additional research, we came up with this list of numbers to reach Tmobile below.
There are differences between the numbers you should call if you're a prepaid or postpaid customer or if you need technical support or are hearing impaired.
If you call the wrong number, the agent will send you to the right department although you'll waste a couple of minutes on hold.
T-Mobile General Customer Care: (800) 937-8997
Tmobile Phone Bill Pay: (877) 453-1304
T-Mobile Prepaid Customer Support: (877) 778-2106
T-Mobile Customer Support: (800) 866-2453
Home Internet Technical Support: (844) 275-9310
International Line: (505) 998-3793
TTY (hearing/speech impaired): (877) 296-1018
Tmobile Customer Service Hours
Currently, tmobile customer service is available from 4am to Midnight Pacific Time 7 days a week.
Tmobile customer service used to be available 24/7 but they changed it to 4am to Midnight for employee safety reasons during the pandemic.
Tmobile has a unique customer service strategy for its postpaid and business subscribers. They call their customer support team your team of experts and have call centers for specific cities and zip codes.
This means that if a lot of customers in your city are having the same problem, your expert is better equipped to solve your problem.
Also, "experts" are trained in both account management and technical support. This leads to fewer transfers to different departments and shorter hold times.
T-Mobile has made the team of expert concept a central part of their marketing. They have photos of members of the customer support team on your account online so you can see who's serving you.
It's good I suppose both for the subscribers and the customer support agents. With this and other initiatives, Tmobile over the years was able to build a reputation for being the most customer-friendly phone company.
Unfortunately, Tmobile prepaid customers don't have access to a team of experts. Prepaid customers have to talk to a more traditional customer service team that has multiple departments you get bounced around to.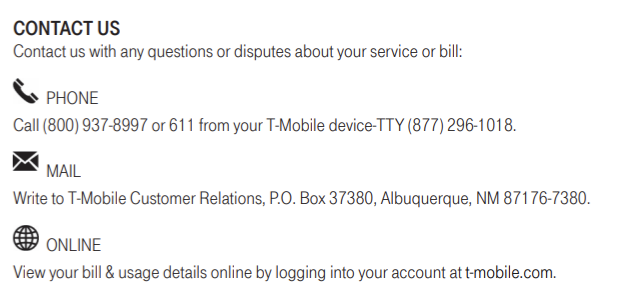 How To Chat With T-Mobile
You can chat with a tmobile representative by clicking chat with an expert at tmobile.com.
If you're not logged in already, they'll ask you to log into your account.
If you ask the bot enough, it'll connect you to a representative without you needing to log in.
Tmobile wants to make things easy for you. We've found that it's easier to call Tmobile to get your problem fixed rather than chat with them.
Use whichever method is most convenient for you!
Tmobile 1800 Number
The 1800 number for Tmobile is 1-800-937-8997. You can also reach Tmobile by dialing 611 on your Tmobile phone.
Tmobile actually has decent customer support. Unlike other providers, they don't make you wait for 30 minutes plus to speak to a representative.
However, things have gotten less convenient for customers since they merged with Sprint.
It seems like they still have the same number of customer support agents for double the number of subscribers.
There's also been a number of network issues during the integration with Sprint that has caused problems for many of our clients.
This is the right number to call if you're trying to get Tmobile existing customer promotions.
Tmobile Business Customer Service
You can reach tmobile business customer service by calling (877) 502-7904. You can also go to tmobile.com/support/business and chat with a T-Mobile Business Expert online.
T-Mobile business experts are available 24/7.
Besides (877) 502-7904, you can also reach customer support for T-Mobile business at (877) 347-2127. Dialing 611 from a Tmobile phone works as well.
The difference between the two numbers is that (877) 502-7904 takes you to your localized team of experts. Calling (877) 347-2127 takes you to a general support line.
You can pay your tmobile business bill at the same number as regular tmobile postpaid customers at (877) 453-1304.
One of the nice things about tmobile is that they allow you to make a lot of changes online. If you need to suspend a line or change a plan you can make the change yourself on the website. This is a lot faster than asking the rep to change your plan.
This saves everyone a lot of time although maybe tmobile doesn't get as much of your money.
You technically can reach tmobile business at their Facebook and Twitter pages. I generally don't recommend that unless you're trying to embarrass them on social media to fix some huge error it's taking too long to fix.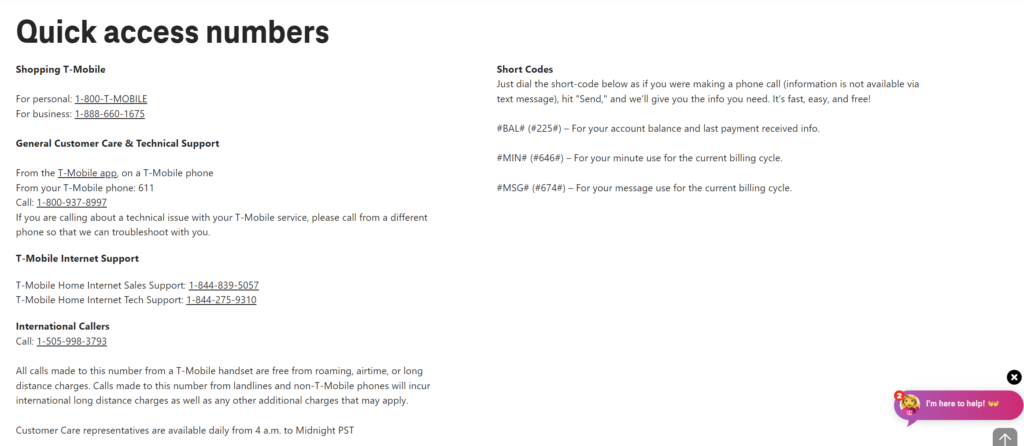 Tmobile Prepaid Customer Service
You can reach customer support for prepaid Tmobile customers by calling (877) 778-2106. You can also chat with a customer support rep at https://prepaid.t-mobile.com/contact-us
For prepaid, customer support and technical support are separate lines.
You can reach customer support at (877) 778-2106 and technical support at (800) 866-2453. This is because prepaid customer support doesn't have access to Tmobile's team of experts.
Overall, tmobile prepaid has similar customer service features as postpaid accounts but with shorter hours and unfortunately worse customer service.
You can pay your tmobile prepaid bill by phone at the same number as tmobile postpaid and business accounts: (877) 453-1304.
The numbers for international callers and TTY subscribers are the same. The hours are just a little shorter.
One funny thing that we found is that the prepaid support number is at the very bottom of the support page. At least for prepaid customers, they really want you to figure out your problem yourself before you bother them.
Lower Your Tmobile Bill With BillSmart!
Don't be fooled by Tmobile's team of experts or by the Uncarrier advertisements you see on TV.
Get what you need done with Tmobile's customer support. If you need help lowering your bill, tag in a friend.
We've saved our clients $1.5mm+ to date. We're so confident in our expertise that if we don't save you money, our negotiations are free.
Get started by clicking the link below.