T Mobile Deals for Existing Customers

Even if you're an existing customer of T-Mobile, you can still get deals on your plan or even on a new Apple or Android phone.
While some of these promotions are available online or in-store, the best discounts are not advertised publicly, and you'll need to trigger the right conditions to get these savings applied.
At BillSmart, we've saved our clients $1.5mm+ on T-Mobile and other phone/cable bills.
If you want to make sure you save the most possible on Tmobile, sign up by clicking the button below.
Our services are free if we don't save you money.
T-Mobile Promotions For Existing Customers
There are 4 main ways to get great promotions from T-Mobile as an existing customer.
If you maximize the potential of these strategies, you can save $29.13 a month on your Tmobile bill.
That's about a 15.8% savings on your plan – less than other service providers. T-Mobile base plans do cost less than comparable Verizon and AT&T plans. The main ways to get existing customers T-Mobile discounts are the following:
Upgrade your plan
Downgrade your plan
Have promotional/loyalty discounts applied
Take advantage of special affinity plans
Let's get started on getting you some great deals!
T-Mobile Upgrade Deals For Existing Customers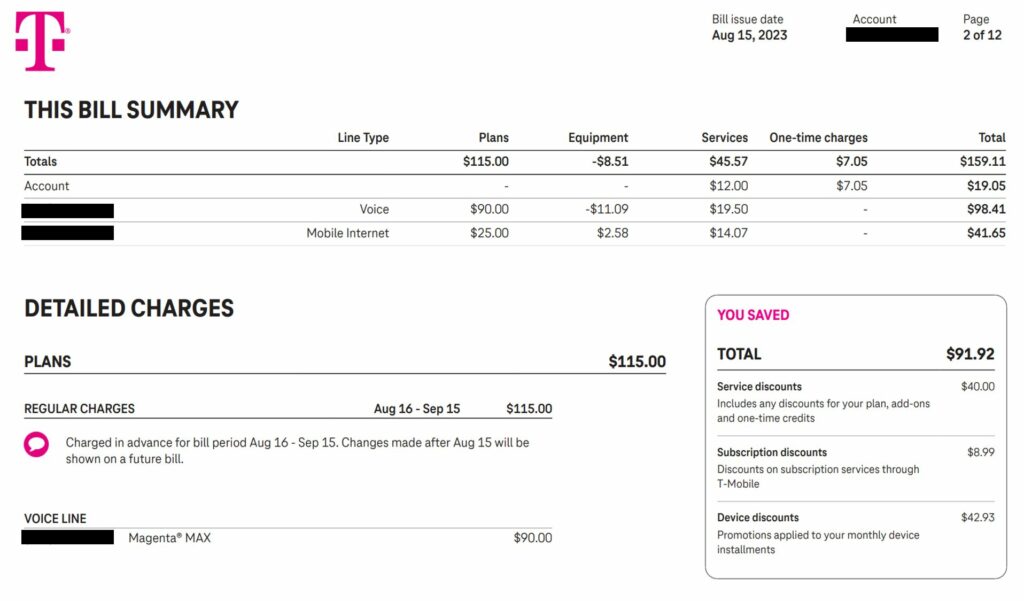 The easiest way to get deals on T-Mobile as an existing customer is to upgrade your plan or switch your plan to a lower-tier one that meets your current plan usage.
To respond to competition from AT&T and Verizon, tmobile constantly changes its plans to maintain and grow its customer base.
Their current regular tier plans are Magenta Max, Magenta, and Essentials.
If you've been with T-Mobile for more than a year, the plan that you're currently on has likely been renamed or changed.
Most of the time, plan prices go down and the number of features go up. Just because that's the case doesn't mean that T-Mobile switches you automatically to a plan that best fits your needs.
You're going to need to do that yourself by calling tmobile customer support at (800) 937-8997.
Once you have someone on the line, ask them if there's any way to save money on your plan.
Before you make the call, check T-Mobile's current plans to see if you would save if you switched to one of them.
The agent will likely move you to one of the plans on the website. While you're on the line, ask their advice on which plan is best for you to move to given your usage.
The difference between many tmobile plans is free Netflix or higher mobile hotspot usage. If you're not using these features, you're wasting your money.
These kinds of deals don't require any negotiation skills or a deep understanding of T-Mobile customer retention practices.
It's basically switching you to current plans or aligning your plan to your actual usage.
Discounts For Existing T-Mobile Customers
Once you've confirmed that you're on the best plan for your current usage, it's time to see if you can get a discount on your current plan even if you're an existing customer.
For this deal, you'll actually need to negotiate to get a discount rather than having the rep just apply a new plan for you.
You'll start by asking the rep if you can get a discount on your existing plan. It's critical that you say that you're thinking of leaving T-Mobile. You want to see if they have a better offer.
If you are a customer in good standing with tmobile, you'll often be given a discount at this time. Generally, they're going to offer you a $10 recurring discount that will be valid for 12 months.
However, you can increase that discount by moving further in the cancellation process.
Ask to be transferred to the T-Mobile retention department. They will give you additional discounts that you can get offered before you leave.
Once you get there, the loyalty department will generally increase your discount. It'll now be called a loyalty discount rather than a promotional discount.
The final and best method to fully maximize the loyalty/promotional discount you can ask for is to speak to a manager on the retention team.
Managers can override some of the system limits on discounts. By speaking to a manager, you'll be able to increase your promotional discount from $10 to as much as $30 to $50 a month.
The discounts generally last for a year but we've found that you can renegotiate after a year and get the discount extended.
Special Tmobile Offers For Existing Customers
The final way to get deals on your T-Mobile account is to see if you qualify for any special plans Tmobile has for affinity groups.
The main offers are 55+ plans, ACP, and military and first responder discounts.
If you're over 55, you can get 55+ plans where you can pay Tmobile $55 a month instead of $100 for a similar plan.
One of the catches about these plans is that you can only have two lines on this plan so you can't sneak your entire family in.
However, if you have multiple seniors in your family, you can save significantly if you have multiple plans! Also, if you just turned 55, move to this plan to lower your Tmobile plan significantly.
It's not specific to tmobile but it's possible to save $30 a month with the Affordable Connectivity Program (ACP) courtesy of the US government.
ACP is a government program started in 2020 to make sure lower-income Americans had continued access to phone and cable service during the lockdowns.
If you are on SNAP or Medicaid, or your income is 200% of the poverty line, you can enroll in this program. Please note that you have to decide whether you want to use the program for your phone or internet service. You can't do both.
Finally, tmobile has discounts for people serving in the military or who are first responders.
The pricing for the military and first responder plans are the same.
You'll need to verify that you're a member of these groups on the Verizon portal using your credentials (generally your military or hospital ID).
The savings for these deals are about 20% but you can have more lines on your T-Mobile plan compared to the 55+ plans.
T-Mobile iPhone Deals For Existing Customers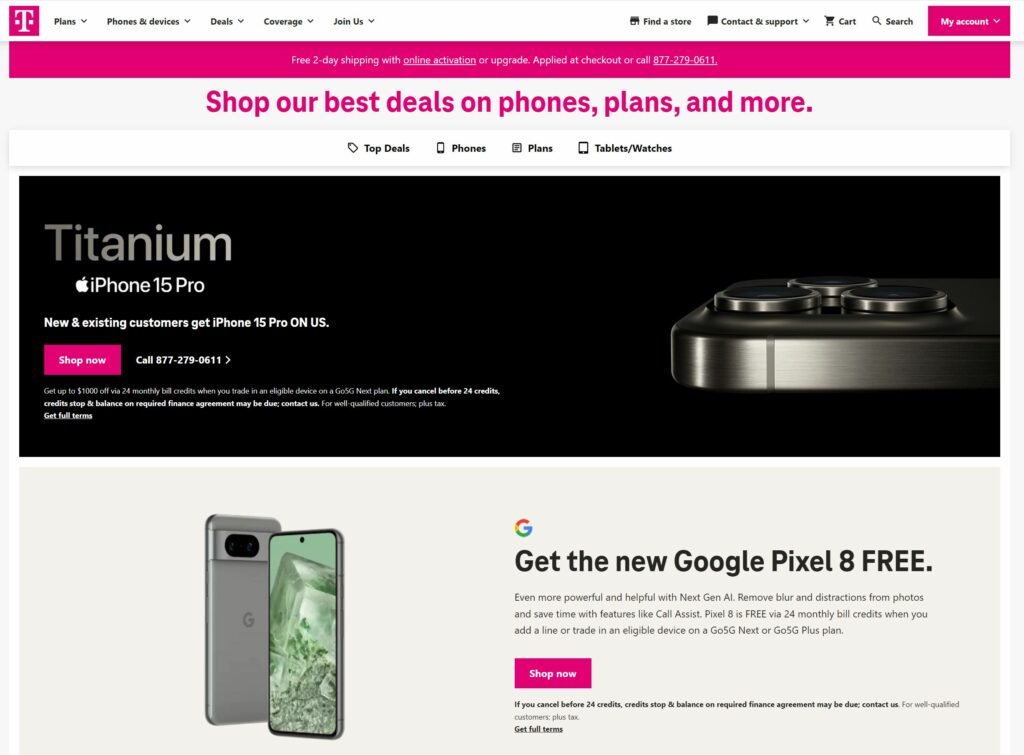 Currently, T-Mobile has 3 iPhone deals for existing customers can take advantage of.
They will give you a free iPhone 15 Pro if you sign up for their new plan Go5G Next. You'll need to provide a trade-in device.
The catch is that the plan is $10 a month more expensive than the similar Magenta Max plan and it's likely to go up by an additional $35 a month.
For upgrading to their new Go5G Plus or Go5G Next, they'll provide up to $830 off and the plan prices are similarly expensive to Go5G Next.
You can get a $350 bill credit over 24 months if you trade in your device. That could be helpful if you're going to upgrade your phone and you don't want to keep your plan the same.
Finally as usual, you can also get up to $830 off if you move or add a new line to T-Mobile.
Existing tmobile customers can get iPhone deals on older and non Pro and Max phones as well.
Over the longer term, you'll save more money by switching to Verizon or AT&T to get a more generous new customer discount on a cheaper plan.
T-Mobile Phone Deals For Existing Customers
T-Mobile also has Android phone deals for existing customers besides iPhone phone deals.
For Samsung phones, they're offering a buy one get one free promotion. You also have a similar option to the iPhone deal where if you upgrade to the Go5G Next plans you can get 24-month credits up to $1,000.
Google phones don't have the buy one get one free deal right now but there's an upgrade option that's the same as Samsung and Apple products.
You also have the option to get a $1,000 discount if you bring a new line to T-Mobile for all Android devices.
One big recent change is that the bill credits are for 24 months instead of 36 months.
Lower Your T-Mobile Bill With BillSmart!
By following this guide, you've hopefully been able to lower your T-Mobile bill by quite a bit.
But if you weren't able to get anything or are unsure if you got all the discounts, let the experts give it another go.
BillSmart clients save $352 on average on their phone/cable bills and our success rate is 83%.
Click the button below to sign up and start saving.