7 Ways To Pay Your Tmobile Bill
T-Mobile is the highest-rated mobile carrier and tries to make it easy to pay your bill. Unfortunately, most users don't know the full range of options they have to pay their tmobile bill.
We're going to walk you through the 7 different ways you can pay your tmobile bill and the little quirks you wouldn't think of at first.
Want to pay less on your tmobile bill? BillSmart can lower your bill up to 30%. Get started by clicking the link below.
T-Mobile Payment Methods
We'll guide you through the different ways to pay your tmobile bill. Here's a quick breakdown of each method:
Pay Online
AutoPay
Use the App
T-Mobile MONEY Card
Phone Pay
Pay By Mail
Pay In Store
Now, let's take a closer look at how you can take advantage of these different payment options!
How To Pay Your Tmobile Bill Online
Generally speaking, the easiest way to pay your T-mobile is by paying online.
There are two basic ways to do so. The first way is to use the online guest pay option. This allows you to make a payment without logging in. It also allows someone else to pay your bill on your behalf.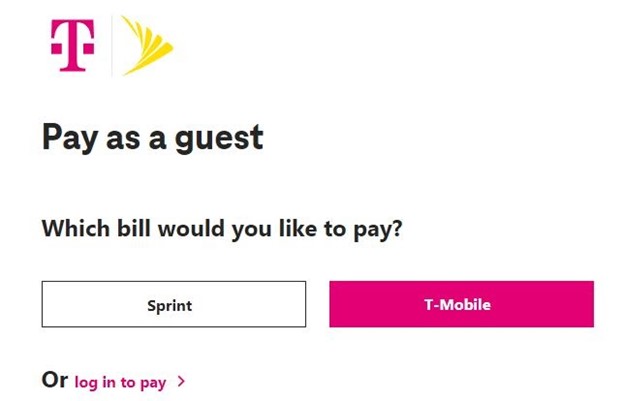 The other method is to register and then log into your My T-Mobile account. You can save and use a variety of payment methods, including debit cards, credit cards, and checking accounts.
One option once you are logged in is to schedule a one-time payment. However, it's easy to forget to make a payment.
To avoid this, consider setting up AutoPay. You can also save on your tmobile bill by setting up autopay!
Tmobile Auto Pay Setup
There are many T-Mobile pay bill methods that involve making one-time payments. But after you have saved your favorite payment methods in My T-Mobile, you can make things much easier for yourself by signing up for AutoPay.
Setting up AutoPay is fairly simple. You specify when you want the payments to come out and how you want to pay. After that, you never have to worry about missing a payment.
And you can always change your AutoPay details or cancel the service at any time.
How To Pay Tmobile By Phone
Do all these online T-Mobile pay bill options make your head spin? In that case, you can keep things simple and pay your bill by phone!
If you don't want to pay online, paying by phone is as simple as calling 1-877-453-1304. From there, you can use the automated system or speak to a customer service representative. As with the online payment options, you can use debit cards and credit cards to make a payment.
Keep in mind that this number is dedicated to paying bills. If you need general customer support from T-Mobile, you need to call 1-800-937-8997 instead.
You can also try to get deals from Tmobile by calling this number even if you've been a long time customer.
Pay Tmobile Bill By Mail
One thing that we like about our T-Mobile pay bill methods is that we have so many to choose from. And if you don't want to fiddle with a computer or a phone, you can always keep things simple and mail your payment directly to tmobile.
After you write a check for the amount of your bill, you need to send your payment to the following address:
T-Mobile
P.O. Box 742596
Cincinnati, OH 45274-2596
While this is one of the simplest payment options, it is also the slowest. That is because T-Mobile advises that the payment you mail may take at least five days to reach them.
If your bank is charging you to write checks, try other checking account options where you can save money or even get a $50 bonus.
There's always a risk of further delays or even lost mail that may keep your payment from getting to the company in a timely manner.
Pay Tmobile Bill By App
At some point or another, "there's an app for that" became a pop-culture punchline. But if you're examining all of the different T-Mobile pay bill options, you should know that there is, in fact, an app for that!
Not everyone can use the app to pay, though. Instead, this option is available to T-Mobile users who also happen to have a T-Mobile branded phone (preferably with the most up-to-date software).
Next, you need to get a T-Mobile ID (the ID is the same as your regular online tmobile account). You can then use the ID to log in to the app. Once you are logged in, you can set up other access methods, including face and fingerprint options.

Once logged into the app, browse over to the Bill tab. Here, you can make a payment by entering a new payment method or using one of the methods you previously saved.
Pay With a T-Mobile MONEY Card
The app is just one example of a payment solution that only certain people can access. The other big example is paying with your T-Mobile MONEY card.
To use this T-Mobile bill pay option, you must have a T-Mobile MONEY account. If you don't already know, tmobile money is an online checking account that has no account fees and gives you access to 55,000 ATMs you can use without paying a fee.
Like other checking accounts, this one offers a debit card. It is known as your T-Mobile MONEY card. You can use this card to pay your bill on My T-Mobile, which isn't really any different from paying with other types of debit cards.
But because a MONEY account offers certain advantages (such as 4.00% APY), using such an account may help you grow your wealth over time.
Pay Tmobile Bill In Store
Want the simplicity of paying by mail but the security of knowing the payment is processed right away? In that case, your best bet is to go directly into the store to make your payment.
First, you need to find a T-Mobile store near you. Once you find a location, you can simply go in, speak with a customer service representative, and pay your bill using a debit card, credit card, or check.
Aside from the need to drive to the physical location, the only downside to this option is that some T-Mobile stores have different hours since the events that happened in early 2020.
Please make sure your local store is open before you travel there to make a payment!
Lower Your T-Mobile Bill Today
Now you know several different ways to pay your T-Mobile bill. Pick the one that's easiest for you!
If you'd like to have a lower tmobile bill, BillSmart can help.
We've saved our clients $1.5mm+ to date. Get started by clicking the link below.