How To Pay Your Verizon Bill
Verizon wants your money promptly each month so they've provided a bunch of ways to pay your Verizon bill.
There are easier and harder ways to pay your Verizon bill and the best way for you to pay depends on how computer savvy you are and how comfortable you are with Verizon having your card on file.
Tired of paying Verizon a boatload every month? We can help you save money on your Verizon bill and save $352 on average.
We've saved our clients $1.5mm+ so far. Sign up by clicking the link below to get started.
Verizon Bill Payment Methods
There are many ways to pay your Verizon bill. Here's the definitive list:
My Verizon
Digital Assistant Tool
Pay My Bill Site
Automated Phone System
Telephone Customer Service
Pay By Mail
Pay In Store
Let's take a detailed look at each option!
Verizon Wireless Bill Pay
The simplest way to pay your Verizon bill is by using the My Verizon app.
You'll need to register a My Verizon account first. You can save and then use a variety of different payment methods.
Should you wish to pay by checking account, you can save up to two accounts. You can also save up to six different cards. This includes ATM cards, debit cards, and credit cards.
Don't forget that you can enroll in autopay using your saved payment methods so you never fall behind.
You can also pay using a Verizon gift card or one of the special Verizon Visa cards that help you earn points that can effectively lower your bill.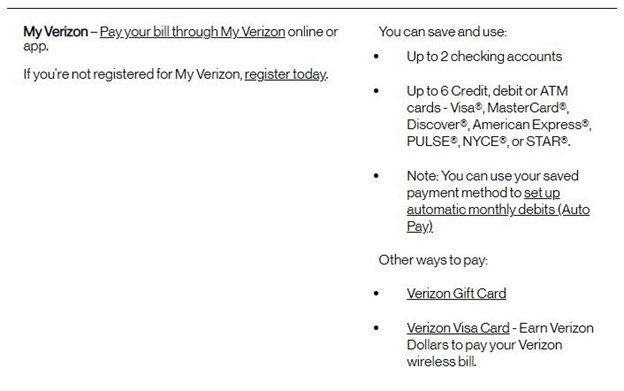 Forrest McCall from Don't Work Another Day recommends paying your bill ahead of time so you don't accidentally forget and get charged a late fee.
Pay With the Digital Assistant Tool
Once you register and save your info, My Verizon is the best way to pay online. But if you don't want to register, or maybe need a bit more assistance, you can always use the Digital Assistant Tool on Verizon.com.
This tool functions as a virtual assistant. If you've ever interacted with a chatbot online before, you'll know how to interact with this one. After briefly chatting with the assistant, you can provide your debit or credit card information and then schedule a one-time payment.
If you're going to regularly pay Verizon bill online, though, we recommend using different methods.
How To Pay Your Verizon Bill Online
Sometimes, online payments can feel a bit like a double-edged sword. Sure, they offer you a convenient way to pay no matter where you are.
At the same time, you must remember details such as your account login and password, and this can get frustrating if you forget this information from time to time.
If you want to enjoy the "best of both worlds," you can always pay without logging on by using the Pay My Bill website. In order to pull up the account, the system will merely need your account number and your zip code.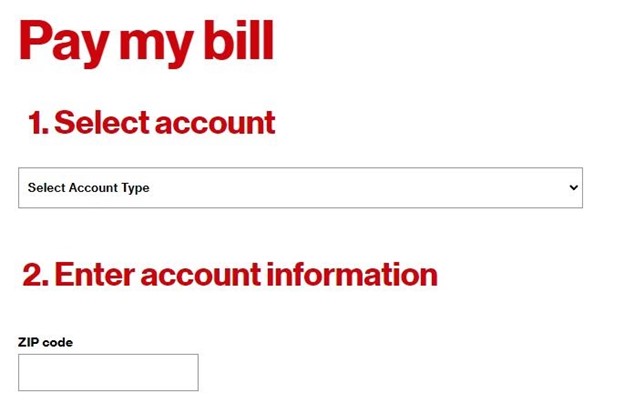 Once your account information is pulled up, you can pay your bill using a debit card, credit card, Verizon gift card, or checking account.
How To Pay Your Verizon Bill By Phone
As you can tell, there are plenty of different ways to pay your Verizon bill where you can use a computer or smartphone to pay. But did you know that you could pay your Verizon bill by phone?
The easiest way to do this is to use Verizon's automated phone system. To access that system, you can use a smartphone to call #PMT. Alternatively, you can simply dial 800-922-0204 from any phone to reach the automated system.
Once you get through, you'll need to provide your PIN number to pull up your account. When your account is pulled up, you can pay using a card or checking account number. If you have any payment methods saved, you can use them to pay.
Have you forgotten your PIN number? You can actually reset that by logging in to your My Verizon account. But by the time you are in there, it would be easier to pay online than dialing the automated system.
Paying Your Vzw Bill By Contacting Customer Support
Our instructions above are designed to specifically help you pay via the automated phone system. But what if you want to speak to a human being instead of an automated system?
After you dial into Verizon, you can tell the system you want to speak to a human customer service specialist. Once you have a person on the line, you can pay your bill via debit card, credit card, gift card, or checking account.
Whenever you do this, you'll have to pay an extra $10 as part of Verizon's "Agent Assist Fee." Unless you want to regularly pay extra each time you pay your bill, we recommend you use the automated system or one of the other methods we have listed.
We've found it's pretty to get these $10 charges waived by Verizon but it's best not to incur them in the first place.
You will need to dial a different number to cancel your bill.
How To Pay Verizon Via Mail
When it comes to Verizon bill pay options, you can still go "old school" if you want. Instead of paying by phone or paying online, you can simply mail your payment in!
Mail your payment by check to the following permanent address:
Payment address
PO Box 408
Newark, NJ 07101-0408
If you still get paper bills, Verizon gives you an envelope where you can mail your check. Tear off the first page of your bill and you won't have to write down the address and Verizon will easily know who is sending them money for their monthly bill.
You may be able to find other payment addresses (perhaps closer ones) by browsing this website.
Before you mail anything off, you should be aware of the non-sufficient funds fee for returned checks. In Colorado, Connecticut, Idaho, Indiana, New York and Utah, that fee is $20. In all other states, that fee is $25.
How to Pay Verizon In Store
It doesn't really get more direct than making a payment at your nearest Verizon store location!
Once inside the store, you have two options. The first is to speak with a customer service representative and pay your bill. But using this option means you will pay an additional $10 for an Agent Assist Fee.
If you'd like to avoid the fee, you can use the bill pay kiosk. Either way, you can pay via debit card, credit card, gift card, or checking account.
Lower Your Verizon Bill Today!
Those are all the ways to pay your Verizon bill. Pick the one that you're most comfortable with and saves you the most time.
At BillSmart, we specialize in helping Verizon customers lower their monthly bills. To get started saving money, sign up by clicking the link below.