Verizon Wireless Customer Service Number
It really seems like Verizon Wireless is trying to hide their customer service number. Clicking their support and contact pages leads you to an endless maze of support pages. Trying to chat with a human online is literally impossible unless you're logged into your account.
At BillSmart, we have years of experience dealing with Verizon. We know the right numbers to call and because of this Verizon can't hide from us.
If you'd like to save time and money and most importantly the brain damage from talking to Verizon to save money on your bill, sign up to BillSmart by clicking the button below.
Our negotiations are free if you don't save and our clients save $352 on average.
Customer Service Number List
Verizon provides basically every telecommunication service under the sun so it's important to call the right number so you can fix your problem and move on with your life.
Here's a comprehensive list of numbers:
Verizon Customer Service Numbers
General Support: (800) 922-0204
Billing: (888) 294-6804
Verizon Business: (800) 465-4054
Verizon Fios: (844) 837-2262
Disability: (888) 262-1999
Prepaid: (888) 294-6804
How To Get To A Human At Verizon
The quickest way to reach a human at Verizon is to log into your account at verizon.com and use the chat with us feature.
Verizon won't let you speak with an agent unless you're logged into your Verizon account. It's just one of those ways they try to minimize their support costs and pay bigger dividends to their shareholders.
The best way to reach a human is to schedule a callback on their contact us form once you're signed into your account.
If you just call their general line, the wait time is usually 30 minutes plus (sometimes 90 minutes plus) but if you ask them to call you, the wait time is usually 5 minutes.
To schedule a callback, you'll need to fill out a form with the reason for the call, what number you want to be called back on and when you want to be called.

Verizon Customer Service Hours
The hours of operations for Verizon customer care are 8am-7pm Eastern Time Monday to Saturday and 8am-5pm Eastern Time on Sunday.
The general Verizon support number is 800-922-0204.
This kind of makes life difficult for you if you're on the West Coast and want to fix something on your bill in the evening after work.
It's also really annoying that before helping you with your account, Verizon will often ask for a one-time pin. If you don't have your phone in your hand, you'll have to wait until you have access – generally after you've spent an hour on the phone waiting to talk to a representative.
If you're trying to cancel your Verizon account, this more detailed guide could be useful.
Although Verizon gives this as the only hours of operations for support, we've found that it's possible to contact Verizon after hours.
Phone service doesn't break on a 9-5 schedule so Verizon technical support is available 24/7 via chat and phone.
Call 1-800-837-4966 and let them know you have a problem. Technical support doesn't have as many permissions as Verizon's general customer support to make changes but talking to them is usually better than nothing.
Verizon Chat Support
One of the more convenient ways to talk to Verizon customer service is by chatting with them online.
Unfortunately, you can only use this option if you're logged into your Verizon account. If you try to chat with them online, they'll only give you access to the Verizon Digital assistant.
You'll need to answer a couple of questions before Verizon will let you talk to an agent. They want you to try to solve your problem on your own instead of talking to a member of their team.
Chatting with Verizon is one of the quickest ways to get a human at Verizon. Sometimes you'll be connected to an agent immediately and the max wait time is usually only five minutes.
However, chatting with Verizon can take more of your time than just calling them over the phone. Chat agents have fewer permissions and often need to put you on hold for five minutes at a time to check if they can do something or not.
You might be okay if this is you're doing something else while you're waiting for Verizon to fix your problem. You'll even get a bell ring notification once the agent has a new message for you.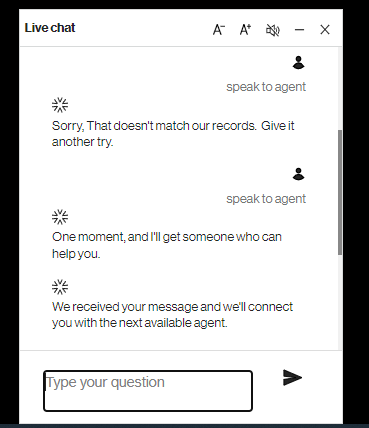 But if you're looking to solve your problem the quickest, phone support is usually your best option.
Want to lower your Verizon bill or Verizon fios bill? Learn the top ways from the links before.
Verizon Business Customer Service
You can reach Verizon Business Customer Service at the following numbers:
Verizon Business Customer Service Numbers
Service: (877) 596-7577
Repair: 1 (800) 837-4966
Registration/Login: (866) 326-7937
Sales: (833) 948-2704
Repair and registration/login help are available 24/7 7 days a week.
Sales and service are available Monday to Friday 8:30am to 5pm EST.
You can also chat with an agent online at https://www.verizon.com/business/support/contact-us/ 7am to 9:30pm EST Monday to Saturday.
It's crazy how much better customer service is for Verizon Business customers than Verizon wireless customers. I guess Verizon feels more comfortable serving fellow businesses than fellow people.
That hasn't stopped us from hearing some real horror stories from customers about their experiences with Verizon Business.
Verizon Prepaid Customer Service
You can reach Verizon prepaid customer service at (888) 294-6804.
Verizon prepaid customer support is available 8am-7pm ET Monday to Saturday and 8am-5pm ET on Sunday.
Verizon does not provide chat support for prepaid customers. You can figure it out on your own or go somewhere else.
Prepaid customer service is separate from regular Verizon customer support. They put these customers in a separate bucket because they're less valuable than Verizon Wireless or Verizon Business customers.
Lower Your Verizon Bill With BillSmart!
Don't waste your time talking to Verizon customer support.
At BillSmart, we've built the best and more comprehensive bill negotiation service in America.
Our success rate is 83% and we've saved people $1.5mm+ to date. Don't wait until your next bill – sign up by clicking the button below.