How To Cancel Your Verizon Service
Verizon doesn't want you to cancel your service with them. That's why they only allow you to cancel your service online or in-store.
We hate it when Verizon wins and takes another month of your hard earned money. We wrote this guide so you'll have all the information you need to cancel your Verizon service painlessly and risk free.
Don't want to cancel your Verizon bill but want to pay less for it every month?
Sign up for BillSmart by clicking the link below. We save our clients $352 on average and our success rate is 83%.
Steps To Cancel Verizon Service
Call (844) 837-2262
Verify that you're the account owner
Decline retention attempts
Verbally accept cancelling your service
Get a reference number
Cancelling Verizon Steps
If you're cancelling your Verizon service by phone, call (844) 837-2262 Monday to Friday 8:00-5:00 pm Eastern Time.
It's pretty funny and a little sad that they don't allow you to cancel on the weekends and the evenings when most people are free. They do this to make it just a little bit harder for you to cancel.
Once you reach them, they won't cancel your account right away. They'll ask you a lot of questions about why you're cancelling your account and give you options that you'll need to turn down before they actually start the account cancellation process.
Some of their tactics include asking if you'd like to suspend your service for a month or two and switching to a lower-priced plan. If those don't work, they'll just flat out ask you to stay if Verizon gives you a deal that lowers the price of your plan by $10-$20 a month.
This process takes about 15 minutes at a minimum. There's no way to skip that; it's what these customer support agents are trained to do.
Once you finally get through their spiels, they'll read out a bunch of legal language to you confirming that you want to cancel your account.
Before you go, ask what date your cancellation will apply (this is important) and for a reference number. Check your account online a couple of days after you cancel to confirm that your cancellation request went through.
You called someone and it's a manual process. They sometimes forget to put your order through. To be honest, it's sometimes malicious.
Verizon Early Termination Fees
You'll only have an early termination fee if you sign up for a 2-year contract with Verizon. These types of plans aren't popular anymore and it's rare to see someone who still has months on their contract.
The max fee is $350, and this fee is prorated for your contract term. For instance, if you cancel a year after you first sign your contract, the fee would be $175.
If you're moving to another post-paid service provider like T-Mobile or AT&T, they will sometimes pay the termination fee on your behalf if you provide them with a receipt.
You can also get the termination fee waived by calling Verizon customer support after your cancellation and asking for the termination fee to be waived.
If you had a buy one get one free offer, cancelling your plan before the promotion ended will result in you having to pay the full fee for the second phone.
The rep that cancels your account will let you know that you'll have to pay this fee to Verizon before you cancel – so you'll have a chance to change your mind.
Your new phone provider might also pay this fee as well.
The final thing to watch is that there are additional fees if you signed up with your Verizon account with a 3rd vendor. If they gave you some discount, you may need to pay it back if you didn't serve out your full term but this is pretty rare.
You can pay these additional fees at the discontinued account page.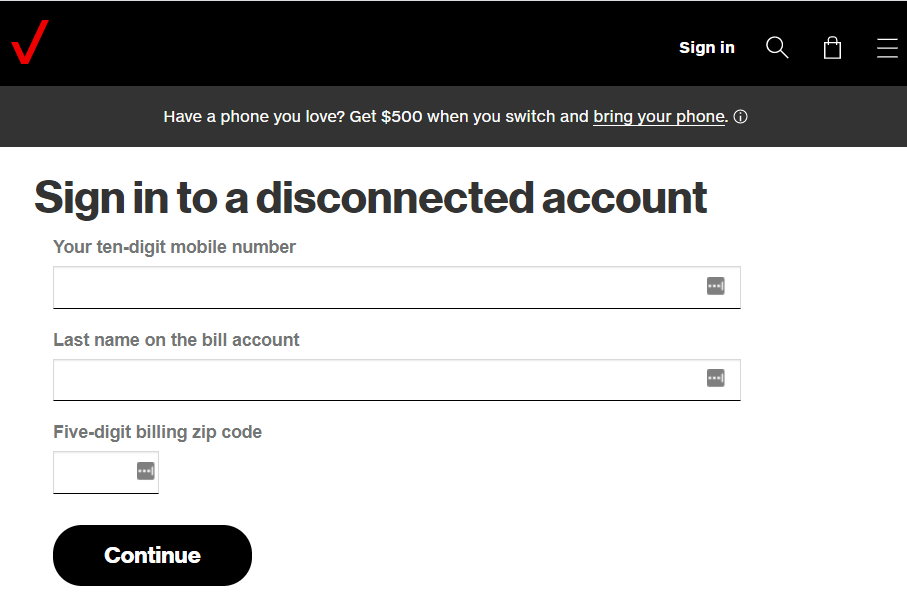 How To Cancel A Verizon Line
You can only cancel a line on your Verizon service by calling customer support. One number you can use is x. Unfortunately, you can't cancel your account by logging into your account.
You need to be an account owner or account manager to cancel the lines. To get verified you'll need the account holder name, phone number and the account pin or last 4 digits of the social security number of the account holder.
It's a lot easier to cancel a line than to cancel the entire plan.
Please note that if you're on a device payment agreement for the cancelled line, you'll need to pay the full balance on the next bill after you cancel the account.
It's disappointing that you can only cancel lines via the phone. Verizon makes it very easy to upgrade your plan to give them more money or to add new lines from other phone providers.
This is just another way that Verizon prefers having more of your money than providing a good customer experience to its subscribers.
If you're looking for ways to lower your Verizon bill, we made this handy guide.
Do you want to lower your boost mobile bill or cut your Verizon fios bill as well? We know the latest strategies and shared it on our blog.
Can I Go Back To Verizon After Cancelling
You can reconnect your service with Verizon whenever you want. If you cancel your Verizon service and want to resubscribe immediately, they'll let you do that.
The only case where you can't go back to Verizon is if you haven't paid your balance in the past and haven't set up a payment arrangement.
Because you were with them and didn't pay them, they don't want you as a customer. However, you could try Verizon's prepaid service which doesn't require a credit check.
If you have a choice, it's better to set up a different account, especially if you are part of a household. As a new vs a returning customer, there are more promotions that you can take advantage of.
Returning to Verizon and reactivating your online account doesn't really have any benefits.
Things To Be Aware Of When You Cancel Verizon
Your Verizon Wireless account is cancelled on the last day of your billing cycle. So if you call 8/14 and your billing cycle began 8/12, you'll have to pay for the entire month.
Verizon does not pro-rate service. They provide and charge for service monthly. So if you're going to cancel your Verizon wireless bill, make sure you call with a comfortable amount of time before your next billing cycle.
Account changes sometimes take a couple of days to apply.
If you're renting equipment from Verizon, you'll need to return it in 30 days. You can even mail your equipment to Verizon or drop it off at the store. It's rare but they sometimes ask you to pay more money if they feel the device is in bad condition or if you're missing the box.
If you overpaid for Verizon or got a credit from Verizon that made your next bill negative, Verizon will pay what they owe you in 60 days. They'll mail you a check to the address that you have on file.
Lower Your Verizon Bill With BillSmart
Verizon really makes it difficult for you to cancel your account easily. At every turn, they focus on what makes more money for them vs how a customer should be treated.
If you're sick of Verizon but don't want to leave, you might as well save some money.
Sign up for BillSmart and save up to $352 by clicking the link below. Our negotiations are free if you don't save money and we promise that we won't take more than 5 minutes of your time.