How To Login Into Your Verizon Account
Trying to login to your Verizon Wireless account can be a frustrating experience.
Verizon's made it a lot more difficult to log in and make changes to your account. They got sued a while back because people lost millions in crypto sim swapping scams.
At BillSmart, we've saved our clients $1.5mm+ to date on Verizon and other bills.
If you want to pay less on Verizon, sign up by clicking the link below.
3 Top Ways to Log Into Your Verizon Account
There are 3 ways to log into your Verizon Wireless Account.
Ways To Log Into Verizon
Provide username/password
Login with your mobile number and zip code
Sign in with Zenkey
The easiest way to login into your Verizon Wireless account is at https://secure.verizon.com/vzauth/UI/Login.
You can sign in using your password or phone.
If you're using your password, you'll need to enter your user id or Verizon cell phone number.
Your user id will be 6-60 characters with no spaces and will not be all numbers. You can also use your email address as your user id.
Your password will be 8-20 characters long. It will contain at least one letter and one number.
If you forgot your password, click the text at the bottom Forgot Your Info. You'll need to enter a code that you'll get via text message if you have 2-factor authentication on.
My Verizon Login
You can also log in to Verizon Wireless using your device and billing zip code.
Once you do so, you'll get a text message from Verizon and be asked to click a link to allow one-time access to your account.
Another way to log in to Verizon Wireless is Zenkey. Zenkey allows you to use your phone and QR code to log into your Verizon account.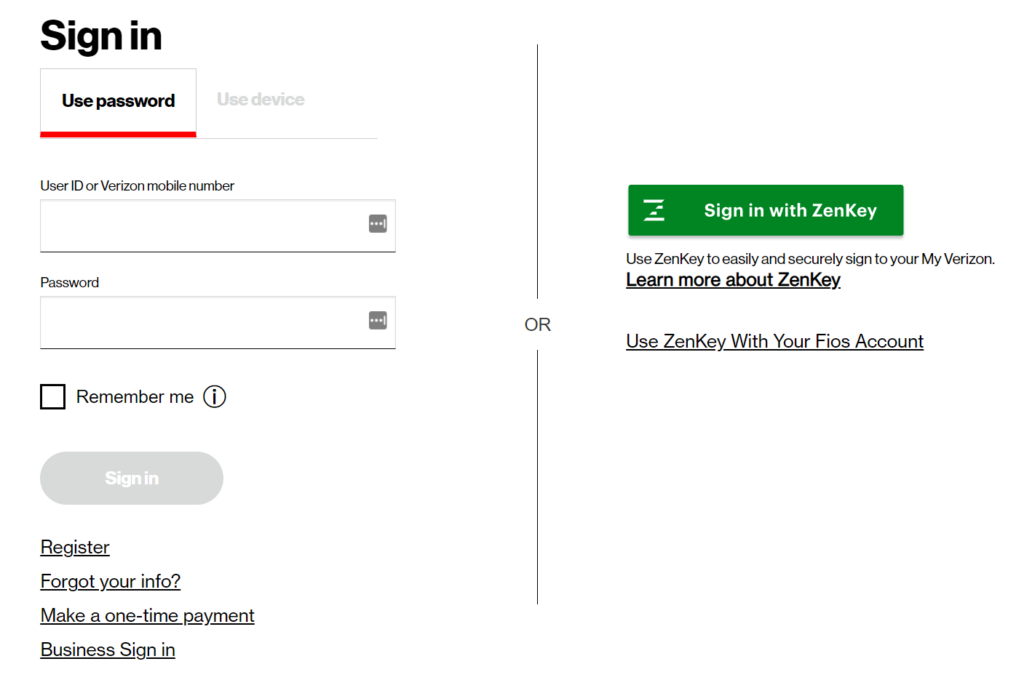 Just open the Zenkey app and point your camera at the QR code on your computer screen.
Zenkey has your unique phone id and will signal to Verizon that you're the owner of the account and should be allowed to log in and make changes to the account.
Verizon Business Login Steps
You can log into your Verizon business account at https://sso.verizonenterprise.com/amserver/sso/login.go.
This is a different landing page from the Verizon Wireless login page.
Unfortunately, you can't log into your Verizon business account with your phone like you can with your Verizon Wireless phone.
How To Register Your Verizon Account
If you don't have an account with Verizon yet, you can register one at https://secure.verizon.com/account/register/start
You'll need to let them know if you have wireless or home service.
If you're setting up your phone account, provide your mobile number. Go through the rest of the steps and create your account.
If you're setting up a Fios account, you'll need to provide your number, email, or account number as well as your zip code.
For both these steps, you'll be directed to set up a password for your account.
Verizon Account Overview
Once you're logged into your account, Verizon will show you what devices are active on your account.
They'll nudge you to upgrade and bring more lines to them.
On your account summary page, you'll the options to pay your bill, manage your plan, view usage, and view other notifications.
To make changes and view information on your account, click account – it has everything you need.
How To Change Your Account Settings
The account settings page is where you can reset your username or password as well as enable Two Factor authentication.
To reset the password on your account profile, you'll need to provide your current password and the new password twice.
You can also change what email you want to be contacted at well as your billing address.
You can also set account managers for specific phones on your account.
Don't want little Timmy to be running up a huge bill playing Roblox!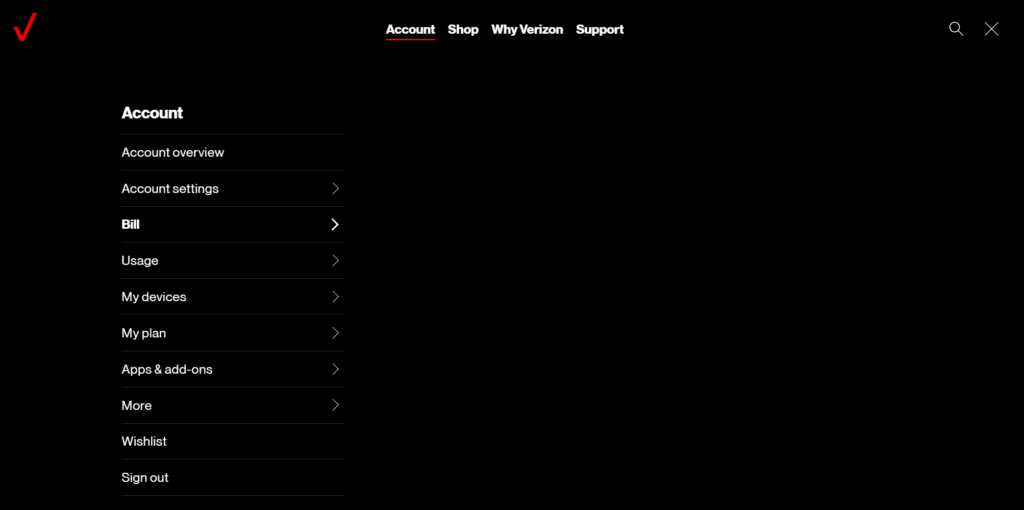 Verizon Bill Section Online
Verizon wants you to enroll in autopay.
If you click the payments option section, they'll give you the ability to split the payment for a fee if the full amount is too much for you to pay by the statement closing date.
The bill section also will have your current bill as well as your projected bill amount for next month.
This section of the Verizon website also has a breakdown of your current bill by device.
If you click the document and receipts section, you can get a pdf of your bills from previous months.
Unfortunately, you can't cancel your Verizon bill online. You'll need to call to cancel service.
Usage Section
If you go to the usage section of the Verizon website, you can view account activity by line.
It will show how many minutes and messages you've used as well as data usage by device.
You can save money on your Verizon bill if you mix and match data usage if there are different levels of data usage in your plan.
You can also find your phone activity on the pdf of your bill.
The device overview section has the same information as the account summary. It does give you a quicker way to make changes to the phones on your account.
In this section, you can activate/deactivate devices or file insurance claims.
This can work for simple things but if you have a more complicated request, we highly recommend calling Verizon customer support and seeing what they can do.
Plan Overview Section
On the plan overview page, Verizon will give you plan change recommendations.
Most of the time, they're going to tell you to upgrade your plan to give them more money and get 5G service whenever it comes out.
Sometimes they have useful suggestions – like suggesting to mix and match your plans if you have heavy streamers and people who barely use their phone on the same plan.
There's also various promotions you can get as an existing customer on the plan overview page. Some offers we've seen include free Disney plus or apple music for a couple of months.
Verizon wants to be a cool company so it has a rewards program called Verizon Up. You can sign up and sometimes companies will give free stuff to Verizon subscribers.
You can also manage international plans here which can be useful if you're traveling soon.
Save On Verizon With BillSmart
Verizon gives you a lot of information when you log in but doesn't do a very good job of displaying it.
We hope that our guide has given you some help in figuring out where you need to go to get what you need.
If you'd like to save on your Verizon bill, sign up for BillSmart by clicking the button below.
We save our clients $354 on average and our negotiations are free if you don't save.