Verizon Military Discount Ultimate Guide
Verizon offers a discount to members of the military for Verizon Wireless, Verizon Fios, and Verizon Business.
These discounts stack on top of your existing plan and can save you up to $100 a month if you have a lot of lines.
In this article, we'll walk you through the eligibility requirements, how much you can save, and how to get your discount applied.
Want to make sure you're getting the lowest rate on your Verizon bill? Sign up for BillSmart by clicking the button below.
We save our clients $352 on average and our negotiations are free if we don't save you money.
Who Can Get These Discounts
If you serve or have served in the armed forces, you'll generally be eligible for Verizon Military discounts.
That's for all branches. This also includes members of the Space Force, the National Guard, Veterans, Gold Star Families, and Cadets.
If you're married to a military member, you're not eligible for the discount. You can become eligible if your partner is set as an account owner or account manager.
There's an exception for Gold Star family members though.
Besides the military, Verizon has discounts for other affinity groups like nurses, teachers, and students.
Unfortunately, the way the system works is that you can only use one existing customer deal with Verizon at a time.
There's a portal where you can decide which discount to use. It's easier to contact Verizon customer support and have them apply the right discount for you.
Verizon Wireless Military Discount Summary
The military discounts for Verizon stack on top of your current plan and lowers your Verizon bill. The amount will vary depending on how many lines you have.
Here's how it shakes out. For single-line plans, it's a $10 monthly discount. The cheapest single-line Verizon plan is $50 a month. That's up to 20% monthly savings.
For 2-3 lines, the discount is $25 a month per line. If you have 4+ lines, the discount is $20 per line.
The more lines you have the better. If you have an older plan like Play More or Do More, you'll need to change your plan to be eligible.
The older and current plans are similar. But if you use your hot spot a lot, you may be better off sticking with an older plan.
Besides applying a military discount, another way to maximize the savings on your Verizon account is to make sure you're not overpaying for plan features that you don't use.
The feature that we find Verizon customers overpay the most for is a mobile hotspot that they end up not even using.
If you don't know what a mobile hot spot is or if your usage is less than 5 GB a month, change from your current plan to the 5G start plan to save up to $30 per month per line.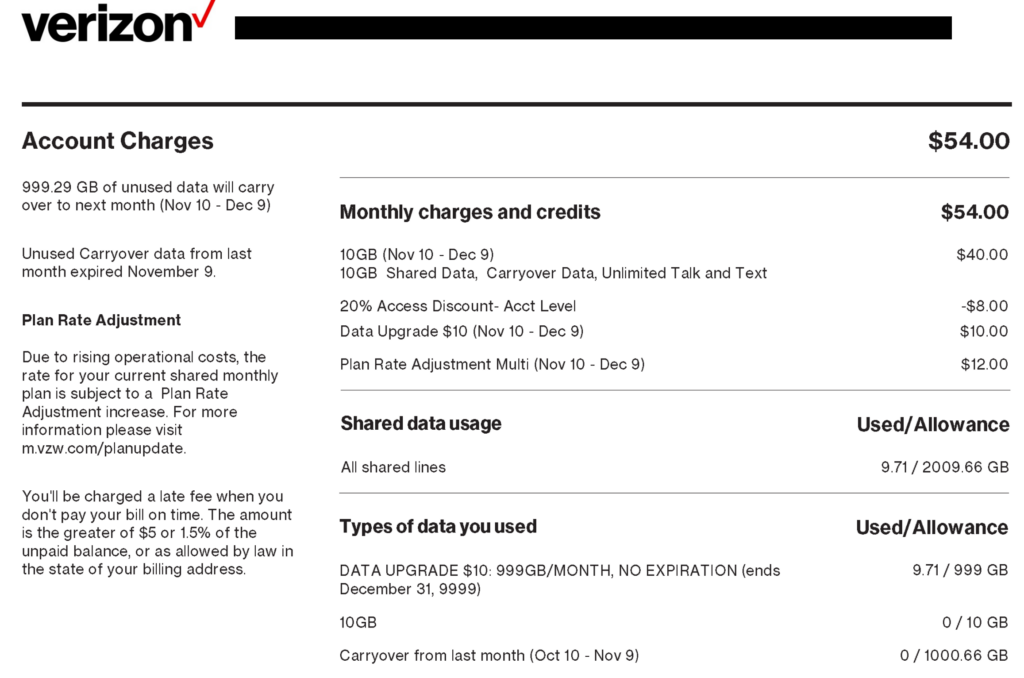 Fios Military Discount
Verizon also provides discounts for military members for Verizon Fios and Verizon business.
There's 3 plan tiers that can get you a lower bill with Verizon Fios. For 300mbps service, the regular price is $24.99 but military members can get plans for $19.99
The 500mbps plan is $44.99 a month and is discounted by $10 a month for veterans and American soldiers.
Finally, the 1gig plan is $49.99 for members of the military compared to $64.99 for non-military members.
The discounts are okay but one of the main benefits is that these discounts don't expire. You won't need to renegotiate this discounts once your promotion period ends.
Basically, for business services by Verizon, they'll give you $5 off per line. They have a special plan called Business Unlimited Essentials where you'll pay $30 instead of $35 a line.
However, that's not a particularly good deal. You can just pay $30 a month with the Business Unlimited Start 2.0 plan.
Other Perks For Customers
Besides providing lower-priced plans for military members, Verizon has other cool perks just for people who serve or have served.
Verizon provides premium customer service for members of the military. If you call from the phone on your plan, you'll skip the queue to speak to a representative.
In a way, it's a similar perk to what military members have when they're allowed to board earlier in airports.
The other interesting perk is $150 a year of store credit for World of Warships and World of Tanks.
I would have preferred money for Call of Duty or League of Legends, but if you need a digital General Patton Sherman tank, now you can get it for free.
Finally, Verizon offers discounts for buying accessories from their store. There's two tiers. It's 25% off if you buy online and 10% off if you buy in-store.
Generally, accessories from Verizon are overpriced and you're better off getting stuff from places like Amazon. But if there's a branded product that you really want, you could get a deal.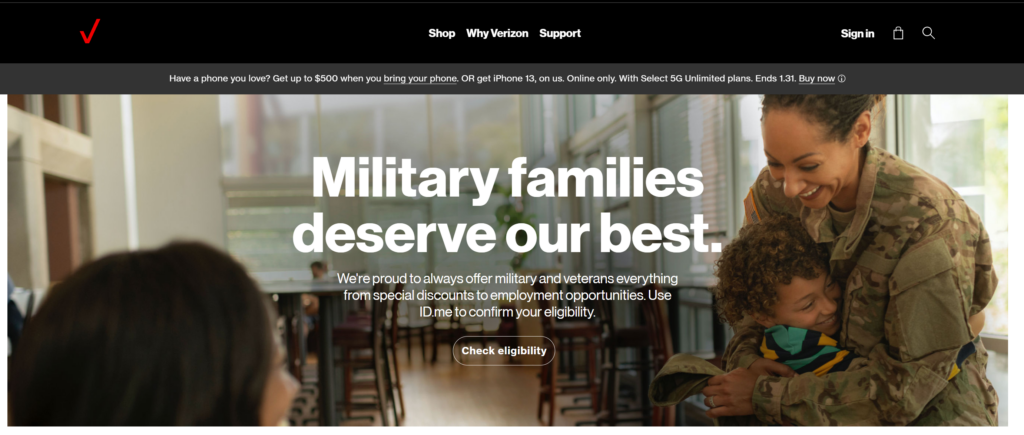 How To Get Your Verizon Veteran Discount Applied
The easiest way to get your military discount is to use ID.me. One thing to note is that the discount will only appear on the final step of your order and not on the items and services that you have in your cart.
Also, it can take some time for your discount to apply. Verizon claims they'll get it done within 1-2 billing cycles, but we've seen multiple cases where their system or agent had problems and you'll need to get the discount reapplied.
Besides id.me, oftentimes you can just use your email from your job with the military because that's a pretty good sign that you're eligible.
Otherwise, there are validating documents that you can use.
For active service personnel, Verizon will accept your pay stub, DD Form 4, or SCRA status report. If you're a Veteran, DD Form 214, your Veteran ID Card, Vetcard or Retirement Account Statement can you verified and start up your discount.
There's always edge cases, especially with the creaky tech system that Verizon is working off. If you're ever having problems, just reach out to customer support and they can fix your problem or at least take responsibility and give you credits if they mess up.
It's the least Verizon can do to thank you for your service.
Verizon Discount For Law Enforcement Agents
Verizon offers discounts to members of law enforcement through their First Responder discounts.
You can get a discount if you're a member of the police, a sheriff's department, or a state trooper. Unfortunately, federal law enforcement agents aren't eligible.
So if you're part of the Border Patrol, CIA, DEA, FBI, or NSA, you're out of luck.
The discounts for police and other law enforcement members are the same as those for the military.
There's a $10 discount for single-line phones, $25 discounts per line for 2-3 phones, and $20 discounts per line for phone plans that have more than 4 lines.
Save On Verizon With BillSmart!
Verizon offers some pretty nice discounts for military members, especially for Verizon Wireless.
But if you want to make sure you get the lowest rate on your bill even with your military discount, sign up for BillSmart.
We've saved our clients $1.5mm+ to date and we could lower your monthly bill by up to 30% a month.
Click the button below to get started.
Articles You May Be Interested In