What Channel Is Fox News On DirecTV?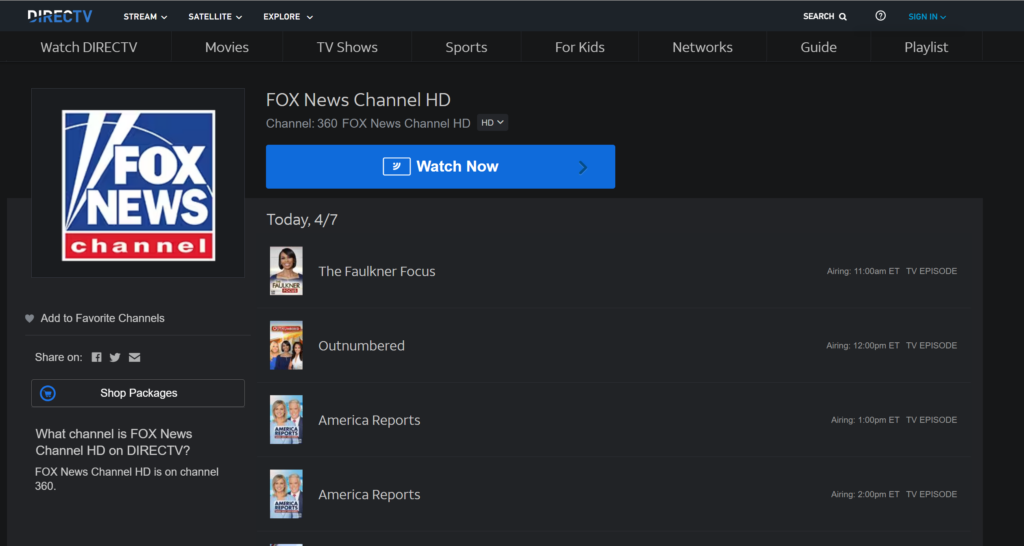 Fox News is on Channel 360 on DirecTV. It will be on Channel 360 whether you live in Los Angeles or New York.
Satellite providers like DirecTV and Dish have the same channel numbers for cable channels like Fox News and the Paramount Channel.
This differs from cable tv providers like Spectrum or Xfinity where Fox News will be on different channels depending on where you live.
For instance, Fox News is on Channel 34 in El Paso but on channels 84 and 352 in Cleveland for Spectrum.
Check out our article below to find when and where you can watch the most popular channels and programs on Fox News.
Want to save money on your TV bill?
Switching to Fubo could save you $200+ a year. The first month is free and you can cancel any time.
Check it out by clicking the link below.
Directv Fox News Channels By City
It's pretty easy to find the right channel for Fox News on DirecTV. It's always on Channel 360.
| | | | |
| --- | --- | --- | --- |
| Fox News On DirecTV | | | |
| Location | Channel | Location | Channel |
| San Diego | 360 | New Orleans | 360 |
| Sacramento | 360 | Boston | 360 |
| Los Angeles | 360 | Baltimore | 360 |
| San Francisco | 360 | Detroit | 360 |
| Denver | 360 | Minneapolis | 360 |
| Washington DC | 360 | St. Louis | 360 |
| Orlando | 360 | Charlotte | 360 |
| Tampa | 360 | Omaha | 360 |
| Miami | 360 | Albuquerque | 360 |
| Atlanta | 360 | Las Vegas | 360 |
| Honolulu | 360 | New York | 360 |
| Chicago | 360 | Columbus | 360 |
| Kansas City | 360 | Oklahoma City | 360 |
| Seattle | 360 | Portland | 360 |
| Dallas | 360 | Philadelphia | 360 |
| Austin | 360 | Nashville | 360 |
| El Paso | 360 | Memphis | 360 |
| Houston | 360 | San Antonio | 360 |
Watching The Fox Business Channel on DirecTV
Besides watching Fox News on Directv on Channel 360, you can also watch Fox Business on directv on Channel 359.
Fox Business has great shows like Barron's Roundtable and programs with Maria Bartiromo. It's a nice touch that these channels are so close together.
It's a bit harder to find the right channel for the Fox Broadcast Network on directv. The reason for this is that Fox is on different channels in different parts of the country.
Broadcast channels came first when TV was starting out and each Fox station is a little different because they have local programming.
If you're trying to find the Fox channel on DirecTV, we researched 50+ cities to find out all the places where you can watch.
Where To Watch Tucker Carlson & Hannity
Some of the most popular shows that directv customers like to watch on the Fox News channel include Tucker Carlson, Hannity, and the Ingraham Angle.
Each of these shows is hosted by strong personalities that provide commentary that tells it like it is in terms of what's happening in America.
To watch shows like Hannity or Tucker Carlson, the first thing you need to do is to go to Channel 360 on your directv tv guide.
You can watch Hannity at 8 PM or at 1 AM Monday to Friday. He takes the weekend off.
Tucker Carlson Tonight airs on 7 PM and 12 AM Monday to Friday as well.
For the Ingraham Angle, tune in at 9 PM or 2 AM. She doesn't have any shows on the weekend.
The weekend is the time to spend with your family or go to church.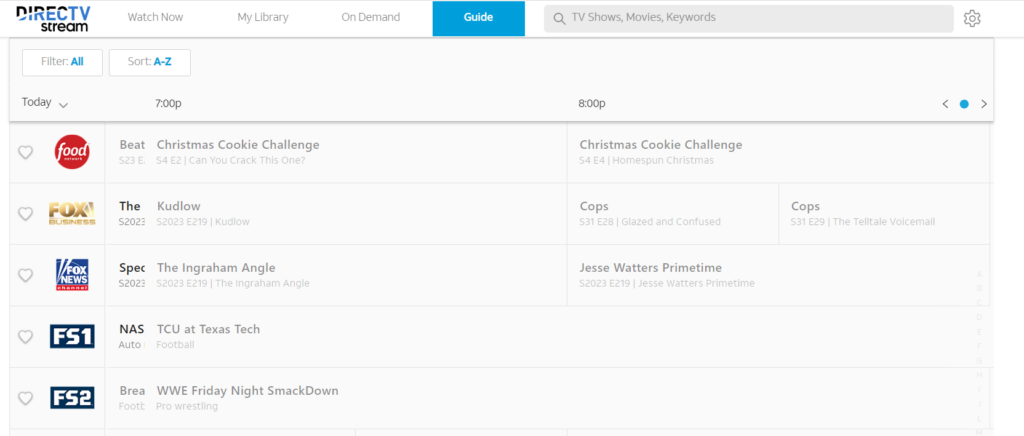 Los Angeles/Chicago Fox News DirecTV Channel
The right channel to watch Fox News on Directv in big cities like Los Angeles and Chicago is Channel 360.
It's ironic that the channel number is 360 because Fox News really does provide a 360-degree view of what's happening in the nation.
If you have time to watch Fox News on the weekend, you can check out great shows like Fox and Friends and Life, Liberty & Levin.
The weekday Fox lineup is pretty good but they don't slouch during the weekends either.
Lower Your TV Bill With Fubo!
Fox News is one of the most popular channels on American TV and for good reason.
It has great news shows and documentaries about the most important current events that are happening in this country.
As one of our favorite channels, we hope that this article helps you find where Fox News is on DirecTV and your favorite programs.
If you forgot, we'll remind you again – the right channel for Fox News on DirecTV is Channel 360.
If you want to save money and get more channels, try out Fubo.
They have channels like NFL Network and GAC that aren't in all DirecTV packages.
Click the link below to get started.
Related Articles
Fox News Channel On Spectrum
Xfinity Fox News Channel
Fox News On Dish
Ultimate Fox News Channel Number Guide