How To Lower Your Cspire Bill
Based on our experience, there are 5 main ways to lower your Cspire bill.
We'll walk you through the most impactful things you can do as well as how you can optimize the chances of getting the biggest discount on your C spire bill.
At BillSmart, we've negotiated thousands of Cspire bills for our tens of thousands of customers.
We've saved our clients $1.5mm+ to date and are just getting started.
Save on C spire without doing any work by signing up by clicking the button below.
Savings On Your C Spire Bill
The easiest way to save on your C Spire bill is to make sure you're not being overcharged on your service.
Cspire gouges their customers by keeping your rates high while they drop prices for new customers and by putting you on plans with a bunch of services that you don't need.
The good thing is that whether you're a new or existing customer, C spire will honor their new customer pricing for existing customers and put you on the current rate if you were on a higher-priced plan.
You'll need to put in the work to lower your bill though.
Negotiating Your Cspire Bill
To negotiate and lower your Cspire bill, you'll need to talk to customer support via chat or call.
You can call c spire at 1-855-927-7473 and chat with them at cspire's wireless virtual assistant.
Phone support is open 8am to 8pm Monday to Friday and Saturday 8:30am to 5pm. Sunday is a day of rest so you're out of luck if you're trying to get to anyone then.
For online chat, just shout at the bot enough and you'll be directed to a human agent eventually.
To start, get them to pull your account information and tell them you're looking for ways to save money.
They'll look in their system to see what promotions they can offer you but it's important to look at your bill and Cspire's current plan to keep your agent honest.
If they provide you with options that are worse than what see on the website, mention the name of the cheaper plan to put them on the right track.
Generally, if you've been a long-time customer you can usually get a $20-$40 a month loyalty discount.
They know that there are better and cheaper phone providers and they want to keep you.
Make sure that these discounts are for the length of your service with Cspire rather than set to an expire after a year. That's generally the default but it's important to check.
Besides these loyalty discounts, you can often get one-time credits for your next bill.
Cspire is generous with their one-time discounts and on the lower end they're around $50. We've seen discounts of $200+ though.

2023 Cspire Deals
C Spire prominently advertises their Everybody deals but hides their more affordable plans deeper on their website.
The major Cspire deals are the Everybody plans, Real Deal plans, and the talk and messaging plans.
For the Everybody plans, there are the Everybody Deal, Everybody Deal Plus, and Everybody Deal All In.
Here's the cost for each plan depending on the lines you have:
The primary difference between the plans is how much high-speed data you have a month before cspire starts throttling you.
For Everybody, it's 25gb a month while for Plus and All In it's 75gb and 100gb respectively.
Other features in the Plus and All In plans are calls to Mexico.
Cspire Real Deal & Real Deal Unlimited
Cspire's Real Deal and the Real Deal Unlimited plans are significantly cheaper.
The major difference between the Real Deal and Everybody plan is that Real Deal plans don't have a mobile hotspot.
For customers who don't use a lot of data, the Real Deal (not the unlimited one) is going to be the cheapest and best plan Cspire plan for you.
It only has 10gb of data but if that's all you use, you can save $40 a month moving from the Everybody All In to the Real Deal plan.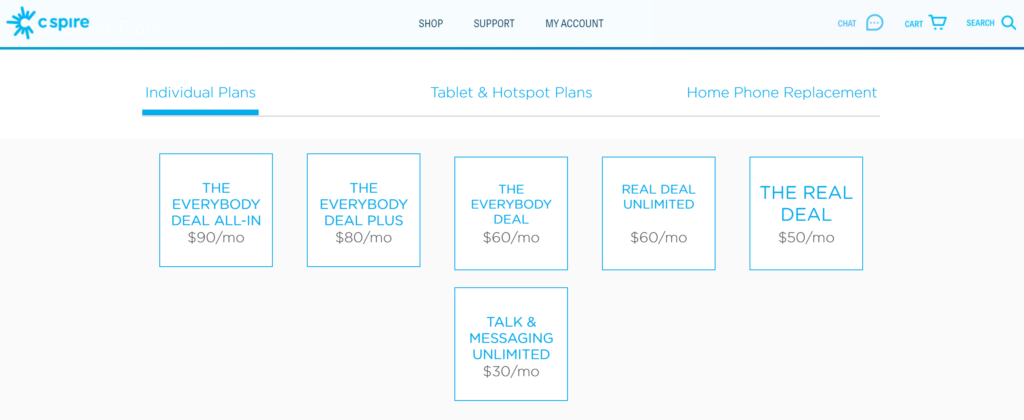 Real Deal plans are also better if you have internet with Cspire. You can get a $10 a month discount when you have these plans vs the Everybody plans.
Finally, there's the talk and messaging plans which are only $30 a month.
The major downside with this plan is that it doesn't have data or mobile hot spot but if texts and calls are all that you need, this is going to be the cheapest plan for you.
Cspire Discounts For 2023
Two major ways to get discounts on your Cspire bill is to enroll in autopay and to bundle your phone and fiber service.
For the Everybody Plus and All-In, the autopay and paperless billing discount are $10 a month.
On the Everybody deal, it's $5 per line so you can pay a lower price with the Everybody deal vs the more premium Everybody plans if you have a lot of lines.
For the Real Deal Plans, it's $5 savings per line for the Unlimited plan and $5 per month for the 10GB plan.
Another benefit of the Real Deal plans is that there's a $10 per month bundling discount if you have Cspire fiber service.
Switch To A Different Carrier
Compared to the major phone companies like Verizon, T-Mobile, and AT&T, C Spire has comparable pricing.
C Spire is $5 a month more expensive than T-Mobile for a single line and $5-10 cheaper to AT&T and T-Mobile.
You'll need to decide on your own whether it's worth it to keep cspire vs these bigger companies.
Besides the big 3, there are several independent providers who provide much lower plans with similar levels of service.
Some of the notable ones include Visible and Mint Mobile.
Visible is a sub-brand of Verizon and if you fulfill certain requirements, you can get service for $25 a month which is less than half what you'd pay on cspire or the big phone companies.
Mint Mobile is another good option as well. It's $15 a month for its prepaid service but you need to prepay for 3 months at a time.
These services are cheap so you may have problems here or there but you'll need to decide whether the savings is worth it for you to switch.
Lower Your Cspire Bill With BillSmart!
Follow the advice that we've given, and you should be able to cut your Cspire bill by at least 20%.
Want the avoid brain damage and have the experts fix your C spire bill for you?
Sign up for BillSmart by clicking the button below.
Our negotiations are free if you don't save money and we save our clients $352 on average.
Related Articles
How To Lower Your MetroPcs Bill
Negotiating Your Boost Mobile Bill
How To Lower Your Consumer Cellular Bill
Lower US Cellular Bill