How To Lower Your Boost Mobile Bill
It's possible to lower your Boost Mobile cell phone bill even if you're on a prepaid plan paying only $35 a month.
At BillSmart, we've negotiated many Boost Mobile bills over the years and know the latest ways to maximize your savings.
Our clients save $352 on average and our success rate is 83%. If you'd like us to negotiate your Boost Mobile or other phone/cable bills, just click the button below.
Getting The Best Boost Mobile Deal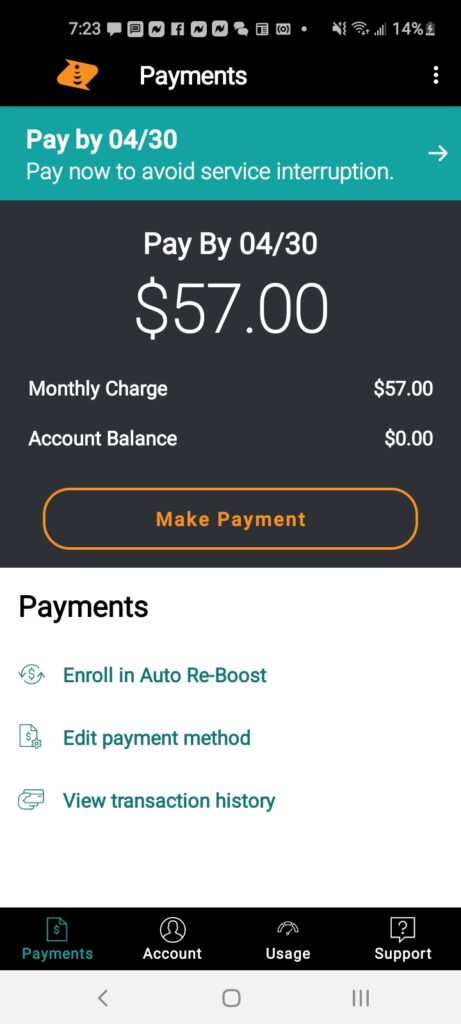 Boost Mobile is now owned by Dish. Previously, it was owned by T-Mobile.
The best way to save money on your My Boost bill is to reduce how much you pay a month.
We've been able to get a lot of savings for our customers by reducing their monthly rate.
You can do this even though Boost is a prepaid bill. The reason why is because you're probably not on the best plan that meets your needs.
When you go to the Boost Mobile store, the salesperson tried to upsell you on the more expensive plan. They said you needed all these features while you really don't.
Also, Boost doesn't advertise their cheapest plans much because they don't make as much money on them.
You can knock off 30% on your bill by figuring out how much hotspot coverage you really need.
We've negotiated many Boost Mobile bills where the way to save $25 a month was to switch your plan from an Unlimited Plan with 35GB of hotspot data to an Unlimited Plan with 6GB of hotspot data.
We've found that most customers don't even know they have a mobile hotspot and those that do use far less than the 6GB limit.
If you're willing to forgo your hotspot, you can go from paying $60 a month to $35. That's almost a 50% reduction.
Boost doesn't have many different plans and options. It's a simple and affordable service for those who don't want to pay too much for their cell phone service.
The best way to save is to figure out if your plan is right for your current level of hotspot usage. Once you figure that out, you can be assured that you're getting one of the lowest rates for phone service in the country!
If you're looking to go for a more traditional postpaid plan, we've made the ultimate guide on how to save on your ATT bill and lower the rate you're paying on Verizon.
Boost One Time Credits
Besides lowering your monthly rate on your Boost bill, you can also get credits on your next statement even though Boost is a prepaid cell phone service.
Boost's one time credit policy has changed over the years.
In 2020, we were able to get many customers their next bill for free or 50% off due to what happened in 2020. Even though the impact of what happened in 2020 has died down a bit, you can still get these large credits.
Large credits are generally processed in the case of hardship/emergencies. For instance, during the Texas power outages, Boost gave out one-time credits to help people dealing with that disaster.
If you'd had a hard time with job loss or health issues, we've found that Boost often will give you a $25 credit if you call them and ask for a break.
Natural disasters are not the only way to save and get one-time credits from Boost.
You can also get one-time credits from Boost just by asking. All you need to do is call them and ask if there's a way you can save on your bill. These one-time credits will generally be between $10 to $15 but if you're paying $35 a month, $15 a month can help a lot
Lower Your Boost Bill With BillSmart
We hope these tips were helpful for your goal to lower your Boost Mobile cell phone bill.
If you'd like the experts to take care of your Boost Mobile or other phone/cable bills, we're happy to help.
Click the button below to start saving. Best of all, the negotiation is free if you don't save.
Related
How To Lower Your MetroPcs Bill
Negotiating Your Cspire bill
How To Lower Your US Cellular Bill