What Channel Is The Paramount Channel On Dish Network?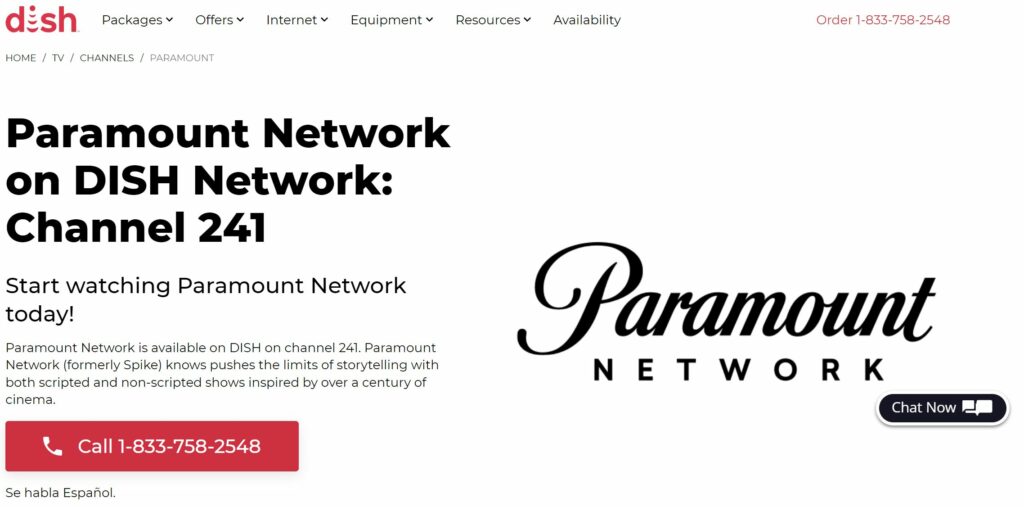 Channel 241 is the right channel for the Paramount Channel on Dish. Interestingly enough, it's also the right channel for Paramount on DirecTV.
It's nice that it's so easy to find the Paramount Channel for satellite providers – it's a lot harder if you have cable TV.
In this guide, we'll walk you through the channel schedule and the channels for Paramount on Dish as well as all your options to watch your favorite shows like Yellowstone and Bar Rescue.
If you'd like to get exclusive original Yellowstone shows and other content from Paramount, sign up for Paramount+.
You'll be able to watch even more Yellowstone shows and it's free for the first 7 days.
Click the button below to sign up.
Paramount On Dish
Here are the channels where you can go to watch the Paramount Channel on Dish Network.
| | | | |
| --- | --- | --- | --- |
| Dish Paramount Channels | | | |
| Location | Channel | Location | Channel |
| San Diego | 241 | New Orleans | 241 |
| Sacramento | 241 | Boston | 241 |
| Los Angeles | 241 | Baltimore | 241 |
| San Francisco | 241 | Detroit | 241 |
| Denver | 241 | Minneapolis | 241 |
| Washington DC | 241 | St. Louis | 241 |
| Orlando | 241 | Charlotte | 241 |
| Tampa | 241 | Omaha | 241 |
| Miami | 241 | Albuquerque | 241 |
| Atlanta | 241 | Las Vegas | 241 |
| Honolulu | 241 | New York | 241 |
| Chicago | 241 | Columbus | 241 |
| Kansas City | 241 | Oklahoma City | 241 |
| Seattle | 241 | Portland | 241 |
| Dallas | 241 | Philadelphia | 241 |
| Austin | 241 | Nashville | 241 |
| El Paso | 241 | Memphis | 241 |
| Houston | 241 | San Antonio | 241 |
Paramount Plus On Dish
It's a common question but Dish doesn't have a dedicated channel for Paramount Plus.
Paramount Plus is the streaming service of Paramount and you need to sign up separately in order to watch their original content like Star Trek Picard and Yellowstone 1883.
You can still watch Paramount+ on your Dish TV.
How you'll do that is by casting the shows on Paramount Plus on your TV. To do that, you need to sign up for Paramount+.
You can do that here.  It's only $4.99 a month and you can try it free for a week.
Download the app or go to Paramount+ on your computer. Cast/connect the show you want to watch to your TV.
Most TVs at this point are smart TVs and casting is available as a feature but if it's not you can always buy a Roku or Chromecast device.
Current Programming Schedule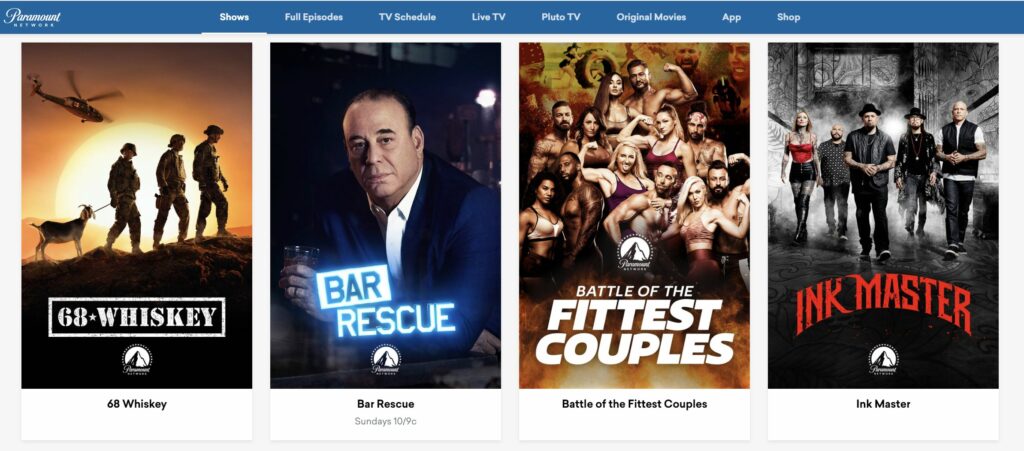 The Paramount Channel is still a great place to binge-watch on Dish, especially if you like shows like Ink Master and Bar Rescue.
Bar Rescue has new episodes on Sundays at 10/9 central. Ink Master will be back in a couple of months as well.
Looking at the recent schedule for the Paramount Channel, it's mostly reruns of Bar Rescue and Two and A Half Men.
In the evenings, the Paramount Channel plays old movies Like Twister and Top Gun.
What Channel Is Yellowstone On Dish
When they come out, the new episodes of Yellowstone on Dish will be on Channel 241.
Season 5 Part 2 is scheduled to be released in Summer 2023 but there could be delays because there are currently creative disputes between the show creator Taylor Sheridan and the lead actor Kevin Costner.
With Dish, you can watch old episodes of Yellowstone by going to paramountnetwork.com
There you'll need to sign into your Dish account to authenticate that you're a current customer to watch online. Right now, only the current episodes of Season 5 are available on their website.
To watch past seasons, you'll need to sign up for Comcast's Peacock streaming service. Paramount sold the streaming rights to Yellowstone before they knew what a big hit the show would be.
Fortunately, you can usually watch Yellowstone on Peacock without having to pay for the service.
Another annoying thing is that reruns of Yellowstone are rarely available on the Paramount Network on Dish.
It's their most popular show and they really should really be playing it all the time.
Lower Your Dish Bill With BillSmart!
With the help of our guide, we hope you were able to find where the Paramount Channel is on Dish and what show you wanted to watch. The answer is 241 by the way.
We love shows like Yellowstone and really hope that they make 6 seasons and a movie.
If you really need to scratch your Yellowstone itch, sign up for Paramount Plus.
They have more of the Dutton Family saga with actors like Harrison Ford and Matthew McConaughey
Click the button below to get your first seven days free.
Related Articles
What Channel Is Paramount on Spectrum
Cox Paramount Network Guide
The Paramount Channel on Xfinity
Spectrum Yellowstone Channel
Where To Watch Yellowstone on Comcast