Spectrum Payment Methods
Spectrum only highlights two ways to pay on their paper billing statement but there are actually 5 ways you can pay your Spectrum bill.
These less covered ways could be more convenient or secure for you depending on who you are.
Want to pay less on your Spectrum bill? Click the link below to sign up for BillSmart.
We save our clients $352 on average and our success rate is 83%.
Spectrum Billing Options
Pay on Spectrum.net

Call (833) 267-6094

Go to a store and pay in person

Mail Spectrum a check

Use My Spectrum App
Steps To Pay Your Spectrum Bill Online
The first step is to go to Spectrum.net and sign in to your account. To pay, you'll need to be a primary account holder or admin on the plan.
Then, go to the billing tab which is between the Account Summary and Your Services tab.
Once there, click Make a Payment and go through the steps. You'll need to select a payment amount and a payment date. After you've selected those, you'll need to add a card if you haven't previously saved a payment method.
You can pay by credit/debit card, checking account, and savings account. There are no additional fees for paying via credit card vs your checking account.
On the billing tab, you also have the option to enroll in autopay and paperless billing. You don't need one to have the other.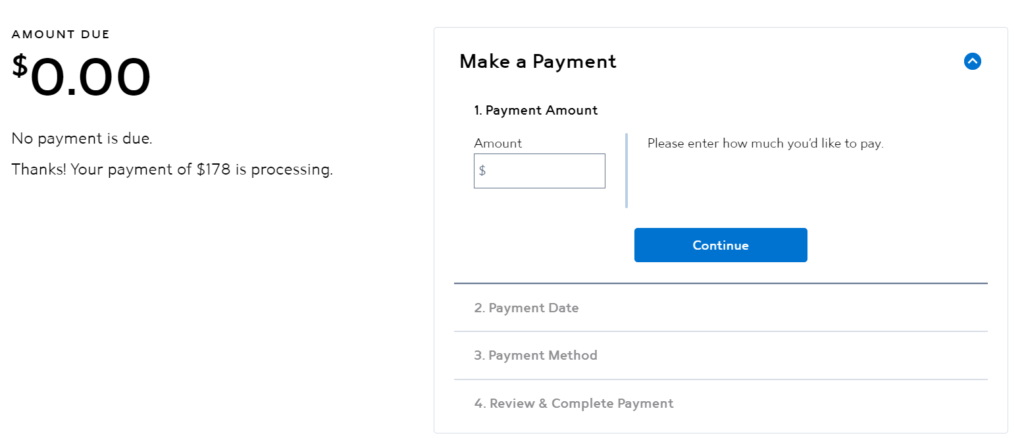 Spectrum doesn't provide paperless or autopay discounts. Only sign up for autopay if it's more convenient for you. One issue about autopay is that it reduces the amount of time that you have to dispute billing errors with Spectrum.
It's much easier to correct your bill before Spectrum takes your money.
If you want to learn how to lower your Spectrum bill, this guide is handy. We also made a Spectrum tv guide as well.
How To Make Spectrum Payment by Phone
You can pay your Spectrum bill by phone by calling (833) 267-6094.
You'll be fast-tracked to the phone payment phone tree if you're calling with a phone associated with your Spectrum plan.
If not, they'll ask you to provide a phone number associated with the account or your account number.
Once you're authenticated, the IVR will read out how much your outstanding balance is and when your due date is. They'll then ask you whether you'll like to pay some or all of the bill.
The system will warn you that you'll be charged $5 if you talk to a Spectrum customer service representative.
You'll need to provide your 4 digit security code before you pay. This 4 digit code is available on your Spectrum billing statement.
Tell the system how much you want to pay and when. Key in or read out the payment information you want to give.
Spectrum's phone payment system is much clunkier compared to Sprint's or AT&T.'s The voice/key system is weird. It's easy to make a mistake and get sent to a representative where you'll be billed an additional $5. It's a lot easier to pay online or by check.
Looking to cancel your Spectrum internet? This article shows you how.
Spectrum Billing By Check
You can also pay your Spectrum bill by mail via check or money order. If you get a paper bill, Spectrum provides an envelope that you can use to mail your check.
Tear the bottom half of the first page of your paper bill and put it in the provided envelope. If you do this, you won't need to write down where the mail needs to be sent to.
Before mailing your check, make sure that it has postage.
If you don't get a paper statement, check your paper bill to see where Spectrum wants you to mail the check.
The most common address is PO Box 60074 City of Industry CA 91716-0074.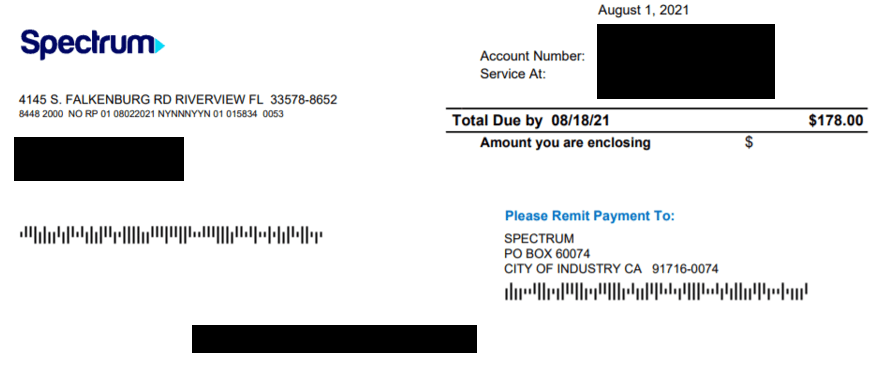 Make the check payable to Spectrum. They ask that you include your Spectrum account number on the memo/description portion of the check.
Mail takes a couple of days to send. Make sure that you leave enough time before the due date to send the check.
We also wrote a guide on how to pay your Dish bill here.
Paying Your Spectrum Bill In Store
You can also pay your Spectrum bill by going to a Spectrum store and paying at the counter.
There's no additional processing fee when making a payment in store.
You can pay via checking/savings account, debit/credit card, and cash/money order if you pay in-store.
This could be a good option for you if you don't have a bank account and cash and money order is the only payment method available to you.
Have an Xfinity bill? Learn how to lower your Comcast bill or cancel Xfinity service here.
My Spectrum App Bill Pay
The final way to pay your Spectrum bill is with the My Spectrum app.
There's not much difference between the My Spectrum App vs Spectrum.net. The My Spectrum App is basically an app version of the website. The Spectrum app is more mobile-optimized.
Download the My Spectrum app and log into your account. Your account information will be the same info as what you use to sign in to Spectrum.net.
Once you're inside the app, go to the make a payment section. You'll then need to add a payment method – this can be your checking/saving account information or your debit/credit card information.
Once they've verified your payment method, a calendar will show up and you'll be asked what payment date you want to choose.
Choose what works for you and then click pay now.
Having trouble paying your bill? Consider cash advance apps like Albert to spot you in a tough spot.
Time Warner Cable Bill Pay
At this point, Time Warner Cable and Spectrum are fully integrated. You can pay your Time Warner Cable bill with the same method as people pay with their Spectrum bills.
Time Warner Bill Pay Options:
Pay on Spectrum.net

Use My Spectrum App

Call (833) 267-6094

Go to a store and pay in person

Mail Spectrum a check
Lower Your Spectrum Bill With BillSmart
If your Spectrum bill is late, there's a $4.75 late fee. Online is really the easiest way to pay.
Want to pay less for Spectrum? Sign up to BillSmart to save up to $354 by clicking the link below.
We've saved our clients $1.5mm+ to date and our negotiations are free if you don't save.
Related Articles
https://getbillsmart.com/lower-spectrum-bill/
https://getbillsmart.com/cancel-spectrum-internet/
https://getbillsmart.com/spectrum-customer-service-number/
https://getbillsmart.com/login-spectrum-account/
https://getbillsmart.com/spectrum-router-blinking-red-light/
https://getbillsmart.com/spectrum-retention-department-phone-number/
https://getbillsmart.com/pbs-channel-spectrum/