Where Can I Pay My Sprint Bill?
by Daniel Smith | Updated 9/20/22
It's important to pay your Sprint bill on time to avoid late fees. Sprint has provided 4 easy ways for you to pay.
We prepared this guide so you can pay your Sprint bill as quickly and painlessly as possible.
If you think your Sprint bill is too high, BillSmart can help you save money. We save our clients $352 on average and our success rate is 83%.
To get started, click the button below.
Ways To Pay Your Sprint Bill
There are 4 ways to pay your Sprint bill:
Pay online at

sprint.com/mysprint

Call 1-800-784-2608
Mail a check to Sprint
Pay via QR code on your mailed statement
Paying Your Bill Online
To pay your Sprint bill online, go to sprint.com/mysprint.
Log into your account or set up your account if you haven't already.
From your home page, select Pay Bill. Once you're there, confirm your payment method and authorize the payment.
You can actually pay your bill without logging into your account here.
All you need to do is enter your phone number or account number, the amount to pay, and your card information.
I've shared the screenshot of the express payment page below.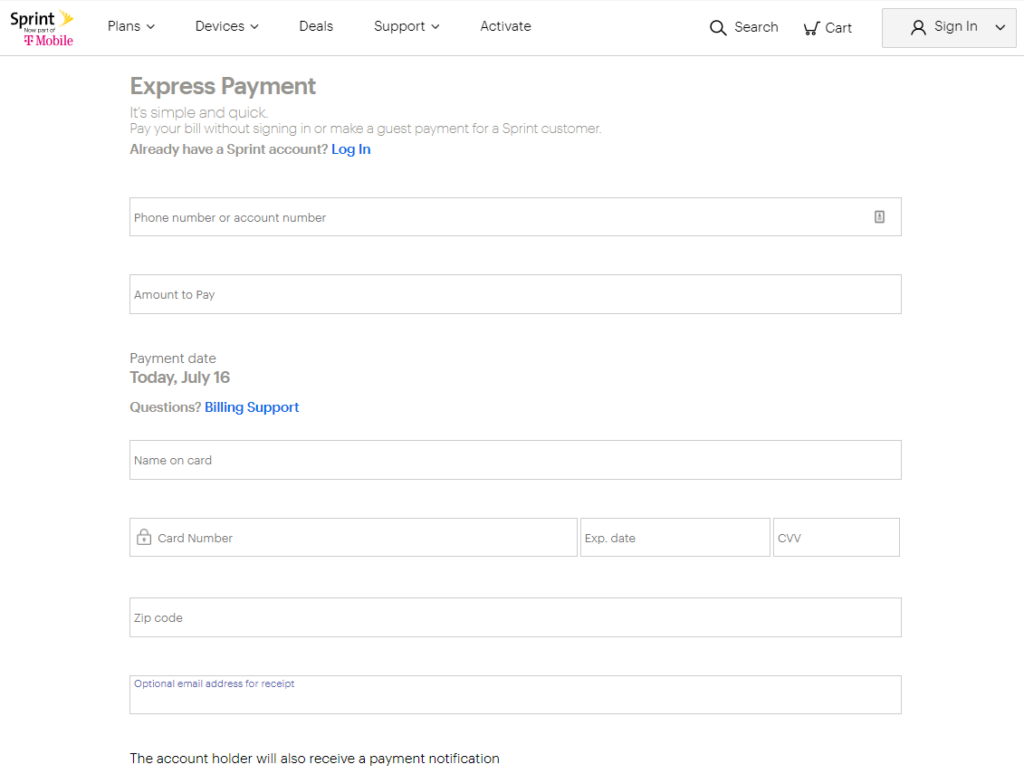 Just looking to cut your Sprint bill? We wrote a handy guide on that. If you've already been migrated to T-Mobile, you can learn how to lower your Tmobile bill here.
We've also provided useful tips on how to reduce your ATT bill and save on your Verizon bill.
Sprint Bill Pay Via Phone
You can also pay your bill by calling Sprint at 1-800-784-2608. You can also reach Sprint by calling *3 on the phones under your Sprint plan.
Once you call them, you'll be sent to an IVR.
You'll be asked for the phone number on your account and zip code in order for them to identify your account.
They'll then give you the total amount due and when you need to pay by.
Then, they will ask for permission to charge the card you have on file for the total amount. The last 4 digits of the card on the card that you have on file will be read out.
Press 1 if you want to pay the full amount. If not press 2 or hang up.
If you're having difficulties paying with the automated system, you can ask to speak to a representative.
They can help you set up your bill payment as well as arrange any payment plans that need to be set up if you have unexpected expenses. It takes time for your payment to go through so don't wait until the last day to pay your bill.
Pay By Check
You can also pay Sprint by check. If you get your bill in the mail, there will be a free envelope that Sprint provides every month which you can use to mail your check.
You can tear the bottom half of the first page of your bill so you don't need to write down the address your check will be sent to.
If you don't have a paper bill but still want to pay by check, just pull up your latest statement online and see what PO box they ask you to send it to.
The most common Sprint PO boxes are PO Box 4191 Carol Stream, IL 60197 and PO Box 54977 Los Angeles, CA 90054.
I think one is for the East Coast and one is for the West Coast. Check your bill to make sure you're sending it to the right PO box.
To pay your bill via mail you need to make your check payable to Sprint.
It takes a couple days for the mail to be delivered especially if you mail in the afternoon or on the weekends. Leave at least ten days before your due date to mail the check.
Pay By QR Code
You can also pay your Sprint bill via QR code.
If you get mailed Sprint bills, there will be a QR code on your bill that you can scan and pay.
These QR codes are not available on bills online, just paper bills.
Just turn on your phone camera and scan the QR code. You'll be sent to a page to authorize the payment to Sprint with a card you have on file.
It's one of the easier and most painless ways to pay.
Lower Your Sprint Bill With BillSmart
Sprint has provided a lot of ways to pay your bill. Go with whatever is most convenient for you.
If you feel you're not getting the lowest rate on your Sprint bill, we can help.
Just click the button below to sign up. Our negotiations are free if we don't save you money.
Related Article
Sprint Discounts For Existing Customers