How To Get The Spectrum Military Discount
Spectrum offers a military benefit but does not have a specific Spectrum Military discount.
Unfortunately, that's common among cable providers like Xfinity and Cox. Phone companies like AT&T and Verizon are much more generous with America's heroes.
Even if there's not a specific discount for service members, there's plenty of ways that you can save.
We know because we've saved our clients $1.5mm+ to date on Spectrum and other cable/phone bills.
We'll walk you through the ways to save as a member of the military. If you'd like our team of experts to lower your bill for you, click the button below to sign up.
Our negotiations are free if we don't save you money and we can save you up to 30% on your bill.
Spectrum Military Benefit Overview
The only benefit that Spectrum provides to members of the military is the ability to reserve your phone number. You can reserve your number for 3 years after you cancel your Spectrum service.
It's not particularly useful because most people use Spectrum for their internet and cable service.
Spectrum isn't even providing this benefit out of the goodness of their hearts.
There's actually a law called the Servicemembers Civil Relief Act (SCRA) that mandates that they provide this service.
Something to note is that when you get your old phone back, reconnection and other Spectrum fees will be waived.
We've found generally that Spectrum will waive those charges even if you're not a member of the military.
How To Apply The Discount
Only active-duty service members are eligible for the Spectrum military discount.
This doesn't apply to veterans, and you'll need to have relocation orders or a deployment letter to get this benefit.
To get the Spectrum military discount, you can either fill out a form online or mail Spectrum a letter.
For both methods, you'll need to submit your deployment documentation.
The correct address to mail your request is the following:
Spectrum Military Leave Program – OCS
4145 S. Falkenburg Road
Riverview, FL 33578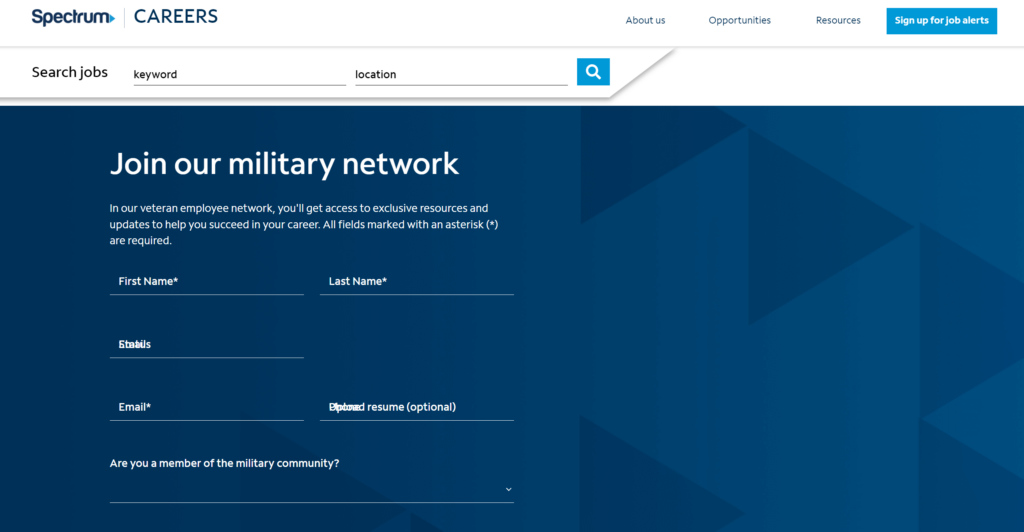 Actual Spectrum Internet Military Discounts
The best way for members of the military to get a discount on their Spectrum bill is to negotiate a promotion on their bill.
Spectrum's pricing strategy is to give you a discount rate the first year you sign up and jack it up by $30-$50 after your promotion expires.
As there's more competition in the cable space from fiber and from wireless internet, Spectrum is more and more willing to give vigilant consumers discounts for staying with them.
By calling up Spectrum and asking them to give you a discount on your bill, you can get your discount back or get an even higher one of $10-$50 a month.
We'll walk you through the steps that you need to follow to get these savings below.
How To Negotiate Your Bill
To negotiate a promotion with Spectrum, you'll need to call or chat with them over the phone.
We're introverts but you'll get better results if you call them and are able to speak to the retention team.
Call Spectrum customer service and get through verification. Basically, you just need to tell them who you are and give them the 4-digit security code on the first page of your bill.
Ask nicely and tell them that you're looking for ways to save on your bill. They're used to this request so they'll look at your system and see what they can do for you.
Usually, they'll come up with a nominal discount like a $30 one-time credit or $10 recurring credit on your account.
If you're unhappy with the discount that they provide or really want to maximize your savings, it's time to tell them that you're thinking of canceling Spectrum.
That unlocks a lot of doors. Your rep will look at their system to find you additional savings or pass you off to the Spectrum retention team.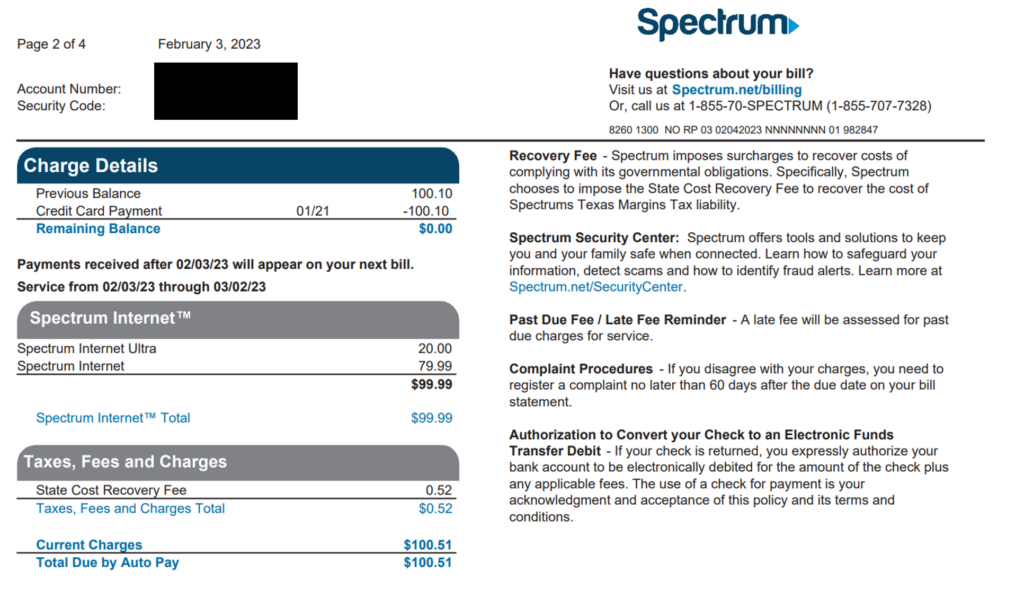 Closing Things To Think About
The best way to really maximize the savings you can get on Spectrum is to speak with a manager on the retention team.
You really need to say that you're planning to cancel and are leaving the service.
If you don't get the discount that you're happy with the first time, try again in a week or two because Spectrum's system and the discounts that they're able to offer change all the time.
Once you get your discount, make sure to get a reference code and the date when the discount will be applied.
If there's a problem with your discount, you'll know when you should contact Spectrum and they'll be able to locate the changes that have been made to your account.
Consider Another Cable/Internet Company
If you're done with Spectrum, another way for members of the military to save money on their bills is to leave for another service provider.
Where I am in New York, I get constantly bombarded with ads for Astound and Verizon Fios.
Oftentimes, their intro deals are cheaper than Spectrum's and can save you some money every month.
If you're willing to change cable/internet provider every year or two, you can keep on getting discounts although you may get a little inconvenienced because you're changing so often.
Make sure to use different names if you're re-upping your service on Spectrum or another service provider that you were with before.
They may try to take away your new customer discount if they know you used to be an existing Spectrum customer.
Another interesting opportunity is to sign up for fixed wireless service from phone companies like Tmobile and Verizon.
Many times their services are bundled and will be less than what it'll cost for Spectrum.
Spectrum is trying to do the same with phone companies with Spectrum Mobile and you'll save money with these services although your internet may be a bit slower.
Lower Your T-Mobile Bill With BillSmart!
By following our guide, military members should be able to lower their Spectrum bill even if there's not a specific plan for them.
If you didn't or need more help, we're here for you at BillSmart.
We save our clients $352 on average and we treat your bills like our own.
Click the button below to sign up and we'll do the rest for you.
Also written by
Military Plans For Xfinity Customers