6 Ways To Pay Your Xfinity Bill
Paying your Xfinity bill every month can be a pain when you have a lot of things going on in your life. Fortunately, Xfinity gives you a lot of ways to pay your bill although they don't publicize some of the most convenient ways to pay.
At BillSmart, we've helped thousands of clients with their Comcast bills. We prepared this guide to make it just a little bit easier for you to pay your Comcast bill and move on with your life.
And if you're surprised by how much your Xfinity bill is, we're happy to help to lower it for you. We save our clients $352 on average on Comcast. Click the button below to get started.
Comcast Bill Pay Methods
Below, the rest of our guide is going to walk you through the different ways you can pay your Xfinity bill. But here is a brief overview of your different Xfinity payment options.
Pay Your Xfinity Bill Online
Set Your Bill To Autopay
Pay Online Without Logging In
Pay Via Phone
Pay By Mail
Pay In Person
How To Pay Your XFinity Bill Online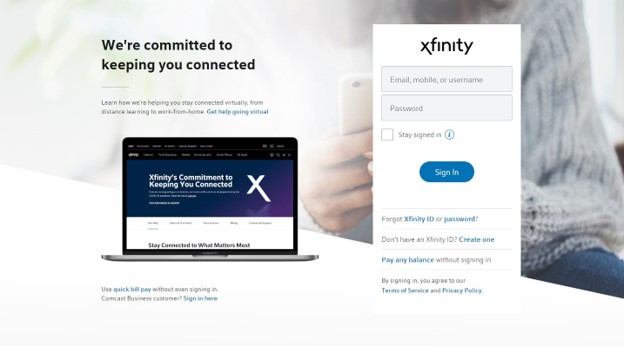 For many users, the simplest way to pay your Xfinity bill is to make a payment online. You'll need to set your account up on the Xfinity website and log in. From there, you can make a one-time payment to pay off your monthly bill.
When you go to pay your Xfinity bill online, you can pay by using a credit card. Alternatively, you can pay via a checking or savings account. Keep in mind that these payments usually take one full business day to process, so don't wait until the last minute to schedule your payment!
While you're at it, check their site for any special promotions you may qualify for. You can even save as an existing Xfinity customer.
While you are logged in, you can activate paperless billing and stop getting bills by mail. But if you struggle to remember your payments are due, the best option is to enroll in automatic payments.
Xfinity Autopay Setup
Are you interested in setting up automated monthly payments for your bill? If you are already logged in, then setting up this option is only a click away!
First, you need to click on My Account Automatic Payments. Sign in if you have not already done so and then select your chosen payment method.
You can enter new payment info in or just use one of the Xfinity bill pay options (such as your checking account) that you have saved into the system.
Next, read the Automatic Payments Terms & Conditions and then click Set Up. At this point, you should be good to go.
But to make sure you successfully enrolled in automatic payments, you can always visit the My Account home page, click on Billing, and check out the Automatic Payments section of your Settings. If you now see a scheduled payment, you know that have enrolled successfully.
How To Pay Your Comcast Bill Without Logging In
While the ability to pay Xfinity bill online is convenient, it can be a little annoying to sign in each time you need to make a payment. This has caused many Xfinity customers to ask themselves: "Could I actually pay my bill without logging in?"
The short answer to this question is "Yes!" The only "catch" is that you'll need to have an Xfinity Mobile phone number.
If you have an active Xfinity number, you can simply visit the Quick Bill Pay website. From here, all you have to do is enter your phone number and zip code, enter payment info and amount, and select whether you want a digital receipt of your payment.
This is a convenient way for Xfinity Mobile users to pay without logging in. And if you have generous friends or family in your life, they can also use that Quick Bill Pay option to make payments on your behalf!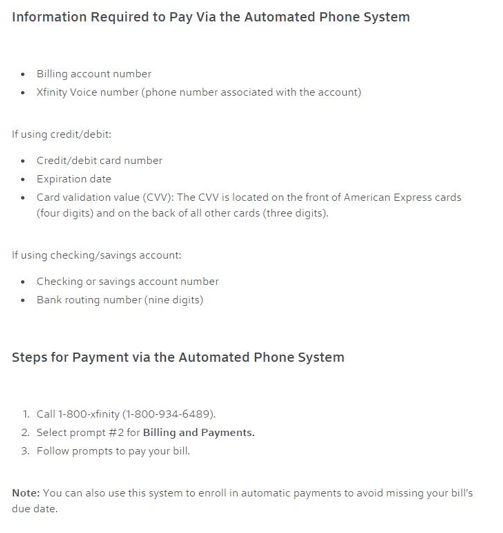 How To Pay Your Comcast Bill Via Phone
We have focused quite a bit on online Xfinity bill pay options. But what if you're in a hurry and don't necessarily want to fiddle with logging into a website?
In that case, the easiest way to pay your bill is through the phone. You can begin by dialing 1-800-XFinity (1-800-934-6489). You'll need to press #2 to select Billing and Payments.
From here, the system will prompt you for information such as your Billing Account number and Xfinity Voice number. After that, enter your payment info (once again, you can pay by credit card, checking account, or savings account) to complete your payment.
While you're there, you can negotiate your Comcast bill to lower it.
How To Pay Your Comcast Bill Via Mail
Some users are understandably worried about paying online using their checking or savings accounts due to data breaches in recent years. If you want a safer (albeit slower) way of paying with these accounts, you can simply mail a payment in.
So long as you haven't opted out of getting physical bills, each month's bill should have an insert for you to mail a check back in. Use this insert to pay your bills, but don't forget to account for the potential delays in Post Office delivery!
Please remember that if you don't pay Comast in time, you'll need to pay Xfinity a $10 late fee.
How To Pay Your Comcast Bill In Person
Our solutions so far have had one thing in common: they are all ways to pay your bill without leaving the house. But if you don't mind in-person Xfinity bill pay options, you have two easy options available.
The first is to simply walk into your nearest Xfinity store location. There, you can pay your bill by check or credit card when you speak to a customer service representative.
Alternatively, you can save some time by using an Xfinity Self-Service Kiosk located inside the store. And if you ever get completely fed up with Xfinity, visiting them in-person is one of the best ways to cancel your service.
The second method is to visit a Western Union Quick Collect location. As long as you have your account number with you, it is possible to pay your bill at these locations using either cash or a money order.
How To Pay Comcast Business Bills
Another thing we have focused on so far is individuals paying for their personal Xfinity bills. But if you have a business account, what are your Xfinity bill pay options?
Here's some good news: all of the payment methods we outlined above work for business accounts just as well as they work for personal accounts.
So you can pay online, enroll in auto-pay, and pay using Quick Pay. You can also pay your business bill by phone, mail, or visiting either a store or a Western Union Quick Collect location.
Lower Your Xfinity Bill Today
Now you know all about your different Xfinity bill pay options. But do you know how you can lower your bill as early as today?
Here at BillSmart, we specialize in helping Xfinity customers just like you pay less on their monthly bills. To start saving money, all you have to do is sign up for our services today!